David Carradine's Family Says They Are 'Profoundly Disturbed' by Death Photo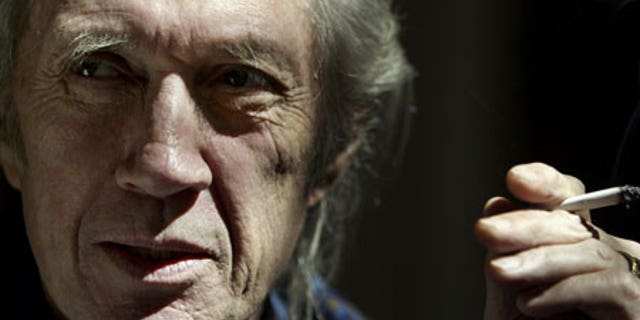 David Carradine's family members, dissatisfied with Thai investigators and "profoundly disturbed" by the publication of a forensics photo in a Bangkok tabloid, are seeking help from the FBI and an independent pathologist and have threatened legal action against any media outlet that reprints images of the actor in death.
Keith Carradine has filed reports with the FBI that could lead to the agency's involvement, said Mark Geragos, attorney for the "Kung Fu" actor's half-brother. The FBI confirmed that Carradine's family had contacted the agency.
The family will also seek an independent autopsy by famed forensic pathologist Dr. Michael Baden to determine whether another person could have been involved, Geragos said. Results of an autopsy performed Friday in Bangkok were not expected for at least three weeks.
PHOTOS: Click for photos of David Carradine.
A chambermaid found Carradine's body Thursday at Bangkok's Swissotel Nai Lert Park Hotel. Thai authorities said they have all but ruled out foul play, based on surveillance footage and interviews with hotel staff that indicate no one was in Carradine's room before he died, said Col. Somprasong Yenthuam, who is heading the investigation.
A grainy photo published on the Saturday cover of the tabloid Thai Rath shows a naked body suspended from a clothes bar in a hotel closet, hands apparently bound together above the head and feet on the floor. The face is blacked out and other areas are obscured.
The paper did not indicate the source of the image, but Thai police said they believed it was a picture of Carradine's body taken by a forensics team.
Keith Carradine said in a statement that the family was "profoundly disturbed by the release in Thailand of photographs taken at the scene of David Carradine's death," and threatened legal action against further distribution.
"The family wants it understood that, per attorney Mark Geragos, any persons, publications or media outlets will be fully prosecuted for invasion of privacy and causing severe emotional distress if the photos are published," the statement read.
The actor's family hopes the body will arrive in Los Angeles by Monday, Geragos said, but he did not give specifics.
Geragos said the family decided to intervene because of conflicting information about Carradine's death and a lack of direct information from Thai authorities.
"All we really know is not much more than what the public knows, and that's disturbing," Geragos said.
Agents were checking with the FBI's legal attache at the U.S. Embassy in Bangkok to see if Thai authorities "are requesting or would welcome FBI assistance in this matter." FBI spokeswoman Laura Eimiller said the agency generally only gets involved in death investigations overseas if a crime is suspected.
Investigators initially said Carradine's body was found "naked, hanging in a closet," causing them to suspect he had taken his own life. But his family, friends and representatives have said they doubt the 72-year-old actor would have killed himself.
Police later said the actor may have died from accidental suffocation or heart failure after revealing that he was found with a rope tied around his wrist, neck and genitals — leading to speculation that Carradine may have engaged in a dangerous form of sex play known as auto-erotic asphyxiation.
But Geragos said he expects the examination by the New York-based Baden, a celebrity among forensic pathologists who frequently consults on high-profile cases, will clear up many unanswered questions.
"It's an amazing thing what a good pathologist can accomplish," Geragos said.
Carradine flew to Thailand last week and began work on a film titled "Stretch" two days before his death. His friends and associates told CNN's Larry King he had a happy marriage, recently bought a new car, and had several films lined up after he finished work in Bangkok.
A martial arts practitioner himself, Carradine was best known for the U.S. TV series "Kung Fu," which aired from 1972-75. He played Kwai Chang Caine, an orphan who was raised by Shaolin monks and fled China for the American West after killing the emperor's nephew in retaliation for the murder of his kung fu master.
Carradine also appeared in more than 100 feature films with such directors as Martin Scorsese, Ingmar Bergman and Hal Ashby. He returned to the top in recent years as the title character in Quentin Tarantino's two-part saga "Kill Bill."
Funeral arrangements have not been announced.