'Dancing With The Stars' recap: 'Switch Up' Week sees season's first perfect score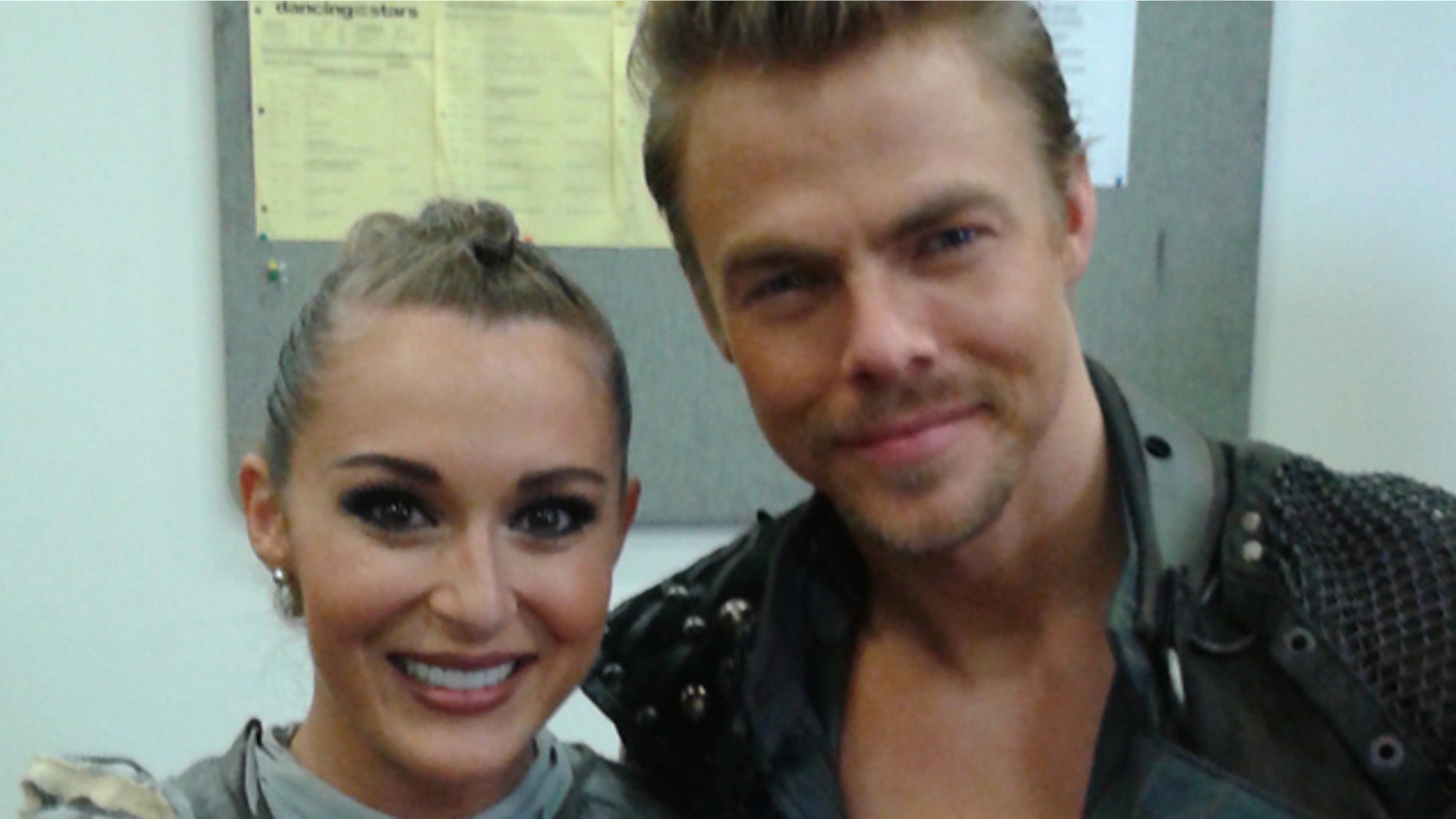 Switch Up Week on "Dancing With The Stars", in which all the celebrities must change to a different partner, was golden for Alexa PenaVega and her husband Carlos.
The first married couple to compete against each other on "DWTS" finished first and second Monday night, with Alexa receiving the first perfect 40-point score of the season.
Alexa, who competed with Derek Hough instead of regular partner Mark Ballas, impressed all the judges with a "Game of Thrones" style tango.
And Carlos wasn't far behind as he threw down an energetic quickstep for a score of 39 with partner-for-the-week Lindsay Arnold.
After the show, Alexa told FOX411 that before Monday, "I never had that confidence to be able to go, 'I can get that perfect score.' I'm like, 'I'm a fine dancer, I guess.' Derek unleashed something new in me this week. He's very reassuring ... I'm going to take those tools back with Mark and I so we can just 'bring it' in the weeks to come."
Alexa was a big fan of the week's partner switch theme, saying, "I think everybody needed this refresher. We've all been dancing together for a while now. This just gave us a new perspective and it makes you appreciate dance that much more. So now, when we go back to our [regular] partners, we have ... a whole new outlook and it's fresh and exciting."
Meanwhile, Carlos, whose regular partner is Witney Carson, told FOX411 of his Monday dance with Arnold, "I am so thrilled ... she's a joy to work with [and] my wife's amazing, I'm so proud of her. We should probably play the lottery because this night was incredible."
Crocodile kid Bindi Irwin danced a cha cha with Val Chmerkovskiy instead of her usual pro Hough and garnered 37 points. She told FOX411 backstage, "It was my first real Latin dance so it was completely different and I had such an incredible teacher."
Chmerkovskiy even played along as Irwin brought a 13-foot long Anaconda to rehearsal. "He's really good with snakes," Irwin revealed.
Internet sensation Hayes Grier (who usually dances with Emma Slater), performed a Viennese waltz with pregnant Allison Holker for a score of 30 and said, "I gave it my best effort."
Unfortunately, chef Paula Deen received the lowest score of the night (26) for a hilarious jive with Mark Ballas in which he played a milkman who picks up one of his customers.
This week, Deen and Ballas hung out together in her native Savannah, Ga., where she gave him a cooking lesson. "I learned how to fry chicken, bake biscuits, mac and cheese, succotash, rice, and gravy," he laughed.
Deen, who lost 40 pounds before joining "DWTS," told reporters backstage she hasn't taken off much more than that: "I stopped by the doctor's office because that's the only scale I weigh on -- and I had lost but two pounds."
She wants to lose an additional ten to 15, but noted, "Today I had three meals before 12 o'clock. I had a bagel, an egg and cheese croissant, salmon, and a baked potato."
Monday night's show also featured former "DWTS" pro dancer Maksim Chmerkovskiy making a return trip to the ballroom, this time as a guest judge.
Working alongside regulars Bruno Tonioli, Carrie Ann Inaba, and Julianne Hough, Maksim didn't hold back.
He bluntly told Backstreet Boy Nick Carter and partner Carson that their dance was "not my type of Paso [Doble]." They wound up with a score of 36.
Carson told FOX411 after the show, "I thought he would be a little more lenient because he's been in our shoes ... but hey, they all have a job up there and are trying to help."
And Hough commented on Maks, "He's going to say whatever's on his mind. There was no bias."
Chef Deen joked about the bad boy judge, "He's tough. I tried to give him a cookie and he said 'I don't eat cookies.'  He can't be bought. I tried!"
Next week, Olivia Newton-John will be a "DWTS" guest judge in a night paying tribute to music videos.