'Dancing with the Stars' recap: Keyshawn Johnson and Bill Engvall struggle in the bottom two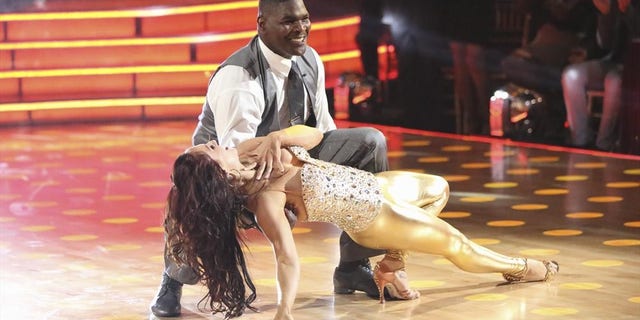 After one non-elimination episode, it's down to business in Week 2 of "Dancing with the Stars," with the first couple of Season 17 being shown the door. Who got the axe? Keep reading to find out. But first — check out the individual scores from this week's routines.
Elizabeth Berkley & Val Chmerkovskiy: Samba
Hooray for the Lady in Red! I'd like a dose of whatever Elizabeth took between last week and this week. After seeming a little unsteady and nervous in last week's premiere, she takes the stage this Monday ready to roll (or samba, as it were). Wearing a cherry red dress and bow to match, Elizabeth seems more authoritative and confident this week, and it pays off. Len calls the routine "absolutely fantastic," while Bruno gushes: "I think I'm coming down with scarlet fever."
Score: 25
Total: 49
Christina Millian & Mark Ballas: Paso Doble
Channeling their inner Lady Gagas, Christina and Mark offer an inspired performance to "Applause," looking like gothic toreadors as they work the stage. Also most impressive: that Christina was able to maintain her balance with that massive shoulder piece on her dress. As far as the paso doble goes, they've set the bar high. Len praises them for "maintaining the character of the dance" while giving it "a little bit of a contemporary twist."
Score: 25
Total: 47
Bill Engvall & Emma Slater: Jive
Bill says he feels like the judges' comments didn't translate to his and Emma's low score last week, so they're seeking redemption tonight. Bill looks a little stiff at first, and it doesn't help that Emma's extra bouncy and vivacious. But he eventually gets into it. Carrie Ann calls it the "most entertaining" routine of the night, but notes that the footwork was "a little spunky." (That's not a compliment in this case.) On the heels of Christina and Elizabeth, who are looking more and more like professional dancers, Bill still has a little bit of an "awkward dad at a wedding" thing going on.
Score: 21
Total: 39
Jack Osbourne & Cheryl Burke: Rumba
During rehearsals, with his mom Sharon looking on, Jack tells Cheryl of this week's "dance of love": "I feel like I'm making a porno." But in actuality, the performance is a lot more tasteful and refined. Bonus points for Jack's near-split during the routine! Though Jack initially protests that he got stuck at the shallow end of the gene pool in his family, Carrie Ann tells him he brings a "cultivated nobility" to the ballroom.
Score: 24
Total: 47
Keyshawn Johnson & Sharna Burgess: Samba
Poor Keyshawn. He's a bit improved from last week, but still looks the most uncomfortable out of all the contestants we've seen so far, and nearly drops Sharna as he tries to dip her on their final stance. His bulky size may serve him well on the football field, but it looks like he has too much body to work with on the dance floor. "I think you got overwhelmed by the occasion," Bruno said. Keyshawn accounts for some of his stiffness by explaining, "I don't even bob my head in the freakin' car."
Score: 18
Total: 35
Nicole "Snooki" Polizzi & Sasha Farber: Rumba
Snooki says during rehearsals that she's worried about how her fiancé will react to her dancing such a sensual routine with Sasha — and she may have a point. The two display undeniable chemistry and have no problem mirroring each other's moves. Plus, the audience eats it up when she slides through Sasha's legs. The judges are less impressed, with Carrie Ann telling Sasha to tone down the lifts, and Len calling it too "sharp." Snooki Nicole looks pissed. Well ... to a non-expert's eye, it looked good.
Score: 20
Total: 43
Leah Remini & Tony Dovolani: Samba
Here we go. Remini finally brings up the elephant in the room — her recent decision to leave the Church of Scientology — citing it as both a motivation and a distraction for her stint on "Dancing." Her pink dress this week is eye-catching and appears to have some moves of its own, but at times it seems like Leah's head isn't in it. The rest of her body is though, with Len complimenting her hand movements and Bruno praising her "flair." Carrie Ann tells her, "You unleashed your samba goddess."
Score: 24
Total: 45

Bill Nye & Tyne Stecklein: Paso Doble
"We're taking all of the negative comments that the judges gave us, and we're using that to drive us for Week 2," Tyne explains during rehearsals. Bill had promised "a show" this week, and they delivered. Donning a Beethoven wig and with members of Mensa in the audience cheering him on, the Science Guy brings a sense of drama to the routine, and it serves him well that the moves are intentionally jerky. All the judges agree that Bill has some room for improvement where his footwork is concerned, but applaud his effort. "You stepped it up, definitely," Bruno tells him. Len admits that he might have "slightly undermarked" the pair last week.
Score: 17
Total: 31
Corbin Bleu & Karina Smirnoff: Jive
Corbin has the idea to make this performance a throwback to his "High School Musical" days, complete with an impressive jump at the beginning. It's a brilliant move, and his professional background really shines through in this performance. I'm exhausted just watching him and Karina as they leap around the stage looking like a two-person cheerleading squad. Best performance of the night? The judges seem to think so.
Score: 26
Total: 50
Valerie Harper & Tristan MacManus: Paso Doble
Valerie has a strained knee this week, and my entire body cringed seeing her miss a step and fall down during rehearsals. She bounces right back though — seriously, can nothing keep this woman down? — and is steadier during the actual performance. She also looks great in a flowing black and red gown. Carrie Ann points out that she feels conflicted about criticizing Harper, keeping in mind her "struggle" with cancer, but doesn't hold back from noting that she looks like she forgot one-third of the routine.
Score: 19
Total: 40
Brant Daugherty & Peta Murgatroyd: Rumba
What is it with all the couples being apprehensive about the sexiness of the rumba? Brant says he's worried about his mom needing to cover her eyes during the dance — and I'll be honest, there are several moments during this routine where I feel like I'm intruding on a private moment between a couple. Yay for chemistry! Their dancing is pretty decent too, I guess. I wonder what Brant's mom is thinking.
Score: 23
Total: 45
Amber Riley & Derek Hough: Jive
Fresh off of Derek's Emmy win 24 hours prior, the frontrunners in the competition tackle the jive this week, which Amber is apprehensive about. Derek definitely shows her up as far as spunk is concerned during the high-energy performance, but Amber holds her own, and the sassy faces she makes during transitions are great. The judges love it, even in spite of some noticeable "technical difficulties" including flat footwork.
Score: 24
Total: 51
After factoring in the audience votes from last week, it's finally results time. Amber and Derek are at the top with 51, with Bill Nye and Tyne still bringing up the rear with 31. Votes from tonight will count towards next week's elimination.
First safe couple: Corbin and Karina. Also safe: Leah and Tony. Also safe? Bill Nye and Tyne. This could get interesting.
Couples in jeopardy: Keyshawn and Sharna; Bill Engvall and Emma.
At the end of the night, it's Keyshawn and Sharna who are eliminated. "I don't really care at this point about whether we win or lose," Johnson says. "It's just the fact that I had the opportunity to learn from her. ... I wish I could have done more to help her out."
Click here for more from TVGuide.com