'Dancing with the Stars': Peta Murgatroyd wanted to put her wedding to Maks 'on hold'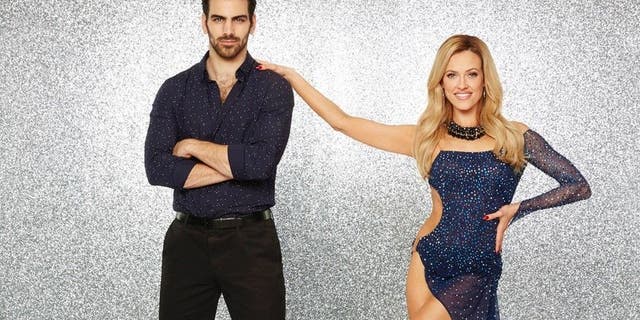 They welcomed a beautiful baby boy together in January, but "Dancing with the Stars" pro Peta Murgatroyd has admitted she wanted to stall her wedding to fellow dancer Maksim Chmerkovskiy.
After Monday night's live taping of the hit ABC reality show, Murgatroyd (who dances with "The Bachelor" star Nick Viall) admitted to reporters her upcoming July 8 wedding wasn't always a sure thing.
"I tried to put it on hold, to be honest with you," Murgatroyd, 30, smiled backstage about walking down the aisle with Chmervkovskiy.
"I said, 'Baby, let's just drop it for a second. We have a child already. Let's just maybe cool it.'
"But he was like, 'No. I want to marry you,' and it was really funny, actually. He had to sort of coax me back into being ready to get married and do all of this stuff because there's so much to do."
Popular "DWTS" professionals Murgatroyd and Chmerkovskiy were thrilled to bring son Shai into the world on Jan. 4 -- and it's been hectic ever since as both have been juggling baby watching duty while competing on the show.
While her fiancé Chmerkovskiy, 37, has a lot of family and friend connections in New York, Murgatroyd is trying to plan their wedding "from over here in L.A. so it is a little bit more stressful but I have got somebody helping me do it so I hope it all comes together in time. I know that sounds really corny and stupid, but I really do," she said.
While Murgatroyd and Viall scored 25 out of 40 together for their foxtrot on Monday night's show, Chmerkovskiy couldn't perform at all as he suffered a calf injury that left him wincing in pain on camera.
Rehearsal footage showed Maks, whose partner is former "Glee" star Heather Morris, swearing and saying, "It's not good! Worst case scenario, I'm never coming back."
Morris danced with fill-in Alan Bersten and they got 30 points.
Chmerkovskiy will have his calf examined by a doctor on Tuesday and his status on this season's "DWTS" is up in the air.
When asked if he'd be able to stand with her at the altar this summer, Murgatroyd joked, "I hope so! I don't want to be jilted. Runaway bride type of thing? No! It's going to be fine."