Dancing With the Stars: J.R. Martinez's Pink Panther Romp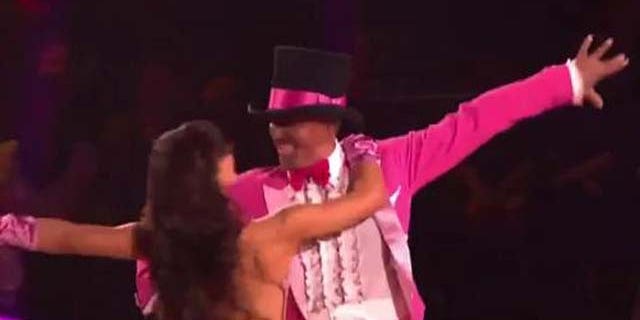 With an eye catching pink ensemble, perfectly attuned to breast cancer awareness month, and flashlights to light up the ballroom, J.R. Martinez wowed yet again as he danced a funky rendition to the classic Pink Panther tune Monday night on Dancing With the Stars.
The overall performance scored Martinez and dancing partner Karina Smirnoff a solid 26 points (out of 30) putting them in second place to Ricky Lake and Derek Hough.
"This is fabulous," DWTS judge Len Goodman said excitedly. "Great technique! Lovely hold!"
"This was the best male dancer of the night," he added.
Fellow judge Bruno Tonioli praised Martinez for his natural abilities to shake things up on the dance floor.
"What more do you want -- You're great," Tonioli said. "You are a dancer of great ability and versatility."
Last week, Martinez brought the ballroom to tears dancing a rumba to Karina Smirnoff to Tim McGraw's "If You're Reading This," a song dedicated to the wives of fallen military men.
He also jumped and jived and waltzed his way to being a top contender during the first two weeks of the reality competition.
Despite the good comments from the first two judges, Carie Ann Inaba felt the routine was nothing extraordinary.
"For some reason, this performance fell a little flat for me," Inaba said.
"You didn't need the humor," she added. "I thought it was OK."
DWTS is a weekly dance competition and reality show in which celebrities are paired with professional dancers and compete for the opportunity to win the coveted disco ball-shaped trophy.
Past winners, such as Nicole Scherzinger from the X Factor, Olympic gold medal gymnast Shawn Johnson and singer Donny Osmond, have taken their careers to the next level after winning the competition.
You can reach Alexandra Gratereaux at: Alexandra.Gratereaux@foxnewslatino.com or via Twitter: @GalexLatino