'Dancing with the Stars': Donny Osmond makes triumphant return to show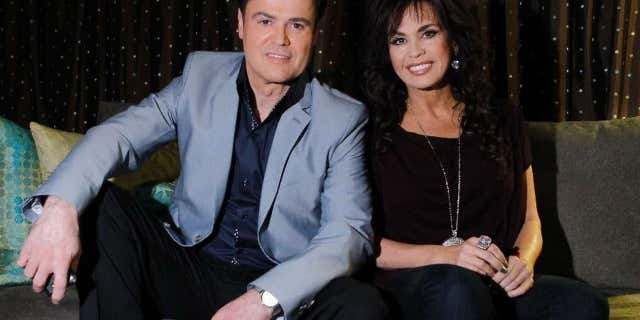 NEWYou can now listen to Fox News articles!
Entertainment icon Donny Osmond returned to "Dancing with the Stars" on Monday night for a live singing performance—and then revealed how he will be celebrate his 60th birthday milestone later this year.
After Osmond, who won season 9 of "DWTS," sang "I'll Make a Man Out of You" for Fifth Harmony singer Normani Kordei's Disney "Mulan" dance, he told FOX411 about marking the milestone.
The star who has been in the public eye since he was a kid, will turn 60 this December 9, and plans to go on a trip "around the world" with his wife of nearly 39 years, Debra.
"We're going to see places we've never gone before and I'm not going to disclose where we're going to be.
"That's the big 60. It's scary. I'm scared," he admitted.
But the star, who began entertaining with the famed Osmond family and had a TV show with his sister, Marie Osmond, has no reason to fear. He never stops working. He and Marie have done their show in Las Vegas for the past nine years. Osmond's dancing skill won him the "DWTS" mirror ball trophy in 2009 with partner Kym Johnson. And he just released his 60th album, "The Soundtrack of My Life," before his 60th birthday.
"I've done it all, baby," he smiled to reporters. "And I thought, where do I want to be for my 60th—do I want a big hoopla? And [I decided] I just want to be with my wife some place where nobody knows me, just the two of us, on an island someplace, maybe….on certain South Pacific islands."
Family man Osmond said he and Debra can now travel because they are "empty nesters" as their five sons have all left home.
Still, the boys are always in their hearts. "Our youngest son is on a mission for the Mormon Church in Italy and he said, 'This is going to be hard learning Italian.' And I said, 'Son, if you have to learn Italian, so will I.' So I'm learning Italian."