'Damn Yankees!' star Tab Hunter dead at 86
Tab Hunter, the 1950s Hollywood heartthrob who appeared in "Damn Yankees!" and also made a name for himself in the music industry, has died. A rep for the actor told The Hollywood Reporter that Hunter died three days shy of his 87th birthday.
Producer and spouse Allan Glaser said Hunter died Sunday of a blood clot in his leg that caused cardiac arrest. Glaser called the death was "sudden and unexpected."
A Facebook page for the star announced his death and asked fans to "honor his memory by saying a prayer on his behalf." The post added, "He would have liked that."
With no dramatic training, Hunter was cast in a minor role in the 1950 drama, "The Lawless." The fuss over the young actor began two years later when he appeared bare-chested opposite Linda Darnell in the British-made "Island of Desire." Soon his handsome face and muscular build appeared on magazine covers. Warner Bros., alert to the increasingly important youth market, signed him to a contract.
Hunter made a flurry of movies in the latter half of the 1950s, aimed at capitalizing on his popularity with young girls. The films included such war dramas as "Battle Cry" (with Van Heflin) and "Lafayette Escadrille" (Clint Eastwood in a small role). He made the Westerns "The Burning Hills" (Natalie Wood) and "They Came to Cordura" (Gary Cooper, Rita Hayworth). And he made romantic comedies like "The Pleasure of His Company" (Fred Astaire, Debbie Reynolds.)
A highlight was the 1958 "Damn Yankees!," an adaptation of the hit Broadway musical with Gwen Verdon and Ray Walston in their Tony-winning New York roles and the original director, George Abbott, sharing direction with Stanley Donen.
Besides the movies, he displayed his athletic skills — he had been a figure skater as well as horseman — in a TV special, "Hans Brinker, or the Silver Skates."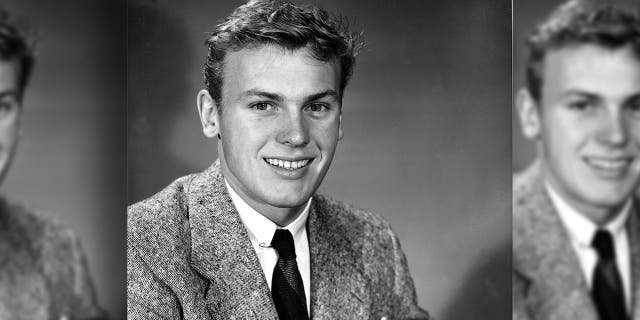 As with so many pop idols, his fans grew up and a new generation sought other favorites. His slide followed the classic pattern: to a television series ("The Tab Hunter Show," on NBC, 1960-62); European films ("The Golden Arrow") and cheap kid flicks ("Ride the Wild Surf.") In his memoir, he took pains to note that "Ride the Wild Surf" was his only beach-party movie; his "Operation Bikini," despite its title, was "yet another war movie."
Over the years, he also played small roles in "The Loved One," ''The Life and Times of Judge Roy Bean" and "Grease 2."
In the 1980s, he won new fans by appearing in cult movies with Divine, the 300-pound transvestite, notably John Waters' 1981 "Polyester" and Paul Bartel's 1985 "Lust in the Dust," co-produced by Hunter himself.
Of "Polyester," Hunter wrote: "Everybody got the joke. ... For both John and me, our collaboration paid huge dividends: I'd helped 'legitimize' his brand of movie, and he made me 'hip' overnight."
Hunter appeared on Broadway in 1964 in Tennessee Williams' "The Milk Train Doesn't Stop Here Anymore" opposite the formidable Tallulah Bankhead. The play closed within days, and he said it was "completely buried under Tallulah's offhanded trademark campiness."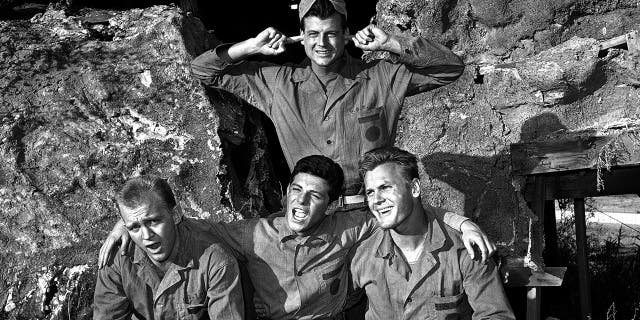 He also had a successful singing career with hit songs like 1957's "Young Love."
The star revealed he was gay after decades of speculation in his 2005 autobiography "Tab Hunter Confidential: The Making of a Movie Star."
Hunter was prompted to go public about his sexuality after his publicist and partner of more than 30 years, Allan Glaser, told him someone was writing a tell-all book about Hunter.
"I thought, 'Look, get it from the horse's mouth and not from some horse's ass after I'm dead and gone,'" Hunter told The Hollywood Reporter's Scott Feinberg in 2015. "I didn't want someone putting a spin on my life."
At the height of his popularity, Hunter was plagued by rumors that he was gay.
"I never mentioned my sexuality to Warner Bros. at all and they never mentioned it to me, thank God," the actor said in 2015.
Hunter's biography was turned into a documentary, which received critical acclaim.
The New York City native found himself becoming a symbol of the gay rights movement but Hunter was uncomfortable with the role.
He told Slant in 2015: "I just have never been comfortable talking about my sexuality. I think it was easier with [the documentary] because it was quite a few years later after the book. But it's still not my comfort zone. I was just brought up that way. I'm very old-fashioned."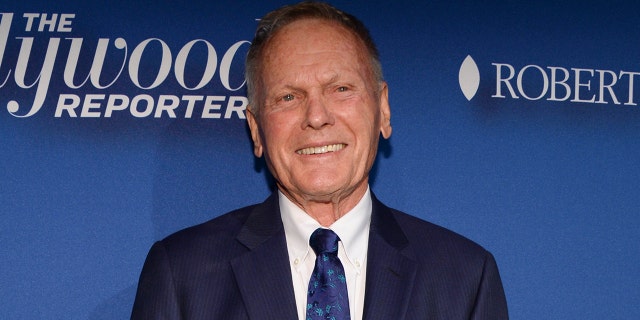 Hunter had romances with psycho actor Anthony Perkins and figure skater Robbie Robertson. His romance with Perkins is the subject of a recently announced film, "Tab & Tony," starring Zachary Quinto. It is being produced by J.J. Abrams, according to The Wrap.
Hunter was born in 1931 in New York City, the second son of a mechanic and his German immigrant wife. His father left the family two years later and the boy took his mother's name, Gelien. Young Arthur Gelien grew up in San Francisco and Long Beach, California, and joined the Coast Guard at 15, lying about his age.
Hunter had been less active in Hollywood in the past couple of decades but told THR in 2015, "I have a wonderful life."
"I don't care about being in the public eye," he said adding that even an invitation to act again by famed director Martin Scorsese could bring him out of retirement.
"I've been there, done that, thank you very much, next case," he said noting that surviving a heart attack and stroke several years ago made him realize that "every day's 'a thank you day.'"
"I'm very grateful for this road that I've been on — it's been a good one," adding with a laugh, "It's been a tough one, at times, too," he said in 2015.
The Associated Press contributed to this report.