Crisis at ABC News as net scrambles to explain false Manafort slur, Trump slams 'Fake' network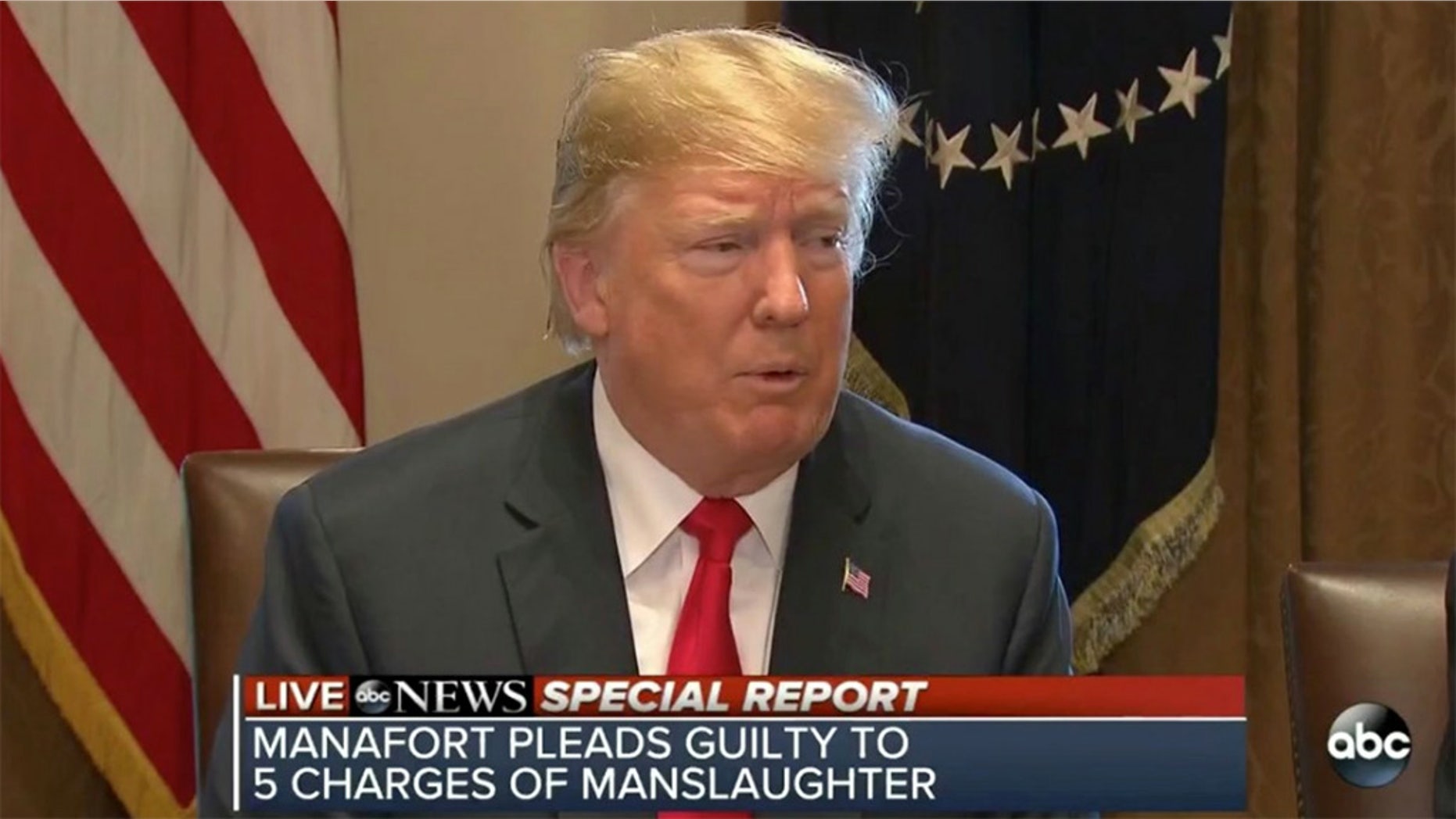 ABC News apologized Wednesday after airing a graphic that falsely stated former Trump campaign manager Paul Manafort pleaded guilty to five counts of manslaughter -- but the network would not reveal how the embarrassing mistake happened.
During a live ABC News special report on President Trump discussing plans to sign an executive order regarding the ongoing immigration issue of separating families, ABC's on-screen graphic said, "Manafort pleads guilty to 5 charges of manslaughter."
The inaccurate graphic was on air for roughly 5 seconds.
The network said it was investigating how the mistake happened, but got into no more detail.
Trump himself fired back Wednesday afternoon in a tweet: "Look what Fake ABC News put out. I guess they had it prepared from the 13 Angry Democrats leading the Witch Hunt! #StopTheBias"
Manafort, 69, was sent to jail on Friday after U.S District Judge Amy Berman Jackson revoked his $10 million bail, citing new witness tampering charges brought by the special counsel probing Russia election meddling, Robert Mueller. Manafort is not accused of manslaughter.
"We regret and apologize for the false lower third graphic that aired during our special report. We are investigating how incorrect information was in our system and how and why it was allowed to air," ABC News tweeted. "We apologize to our viewers and to Mr. Manafort. There simply is no excuse for this sort of mistake."
Manafort's trial before Jackson in Washington, D.C., is expected to begin in September. He has an additional federal case pending in Virginia, and analysts say the bail revocation may complicate his ability to coordinate with his attorneys on both cases.
The blunder is the latest setback for ABC's troubled news division, which has struggled for identity in recent years as the TV news spotlight has shifted to cable and the Internet. Disney is selling the New York City buildings that currently house ABC News HQ to a developer who's expected to demolish them and build luxury condos.
ABC has been under fire for paying the stars of its news division big bucks in a phenomenon one ABC insider called "excess amid rot and decay."
Falsely claiming that Manafort pleaded guilty to manslaughter is not the first high-profile mistake directed at former or current Trump surrogates. ABC correspondent Brian Ross famously crashed the financial markets with an inaccurate report about the special counsel looking into Russian meddling in the 2016 presidential election.
Earlier this year, "The View" co-host Joy Behar was slammed for making offensive comments about Vice President Pence's Christian faith. Further, President-elect Trump accused ABC's chief foreign affairs correspondent, Martha Raddatz, of crying on the air on election night (she denies this).
In addition to the various liberal bias controversies swirling around ABC News, Disney also has faced criticism over anti-Trump comments by ESPN stars, as well as by ABC's late-night comedy star Jimmy Kimmel, who has at times used his program as a vehicle for attacks on the president and White House policies.
Fox News' Gregg Re contributed to this report.