Courtney Stodden's TV Series Tackles Shocking Love Triangle Involving Mom and Husband Doug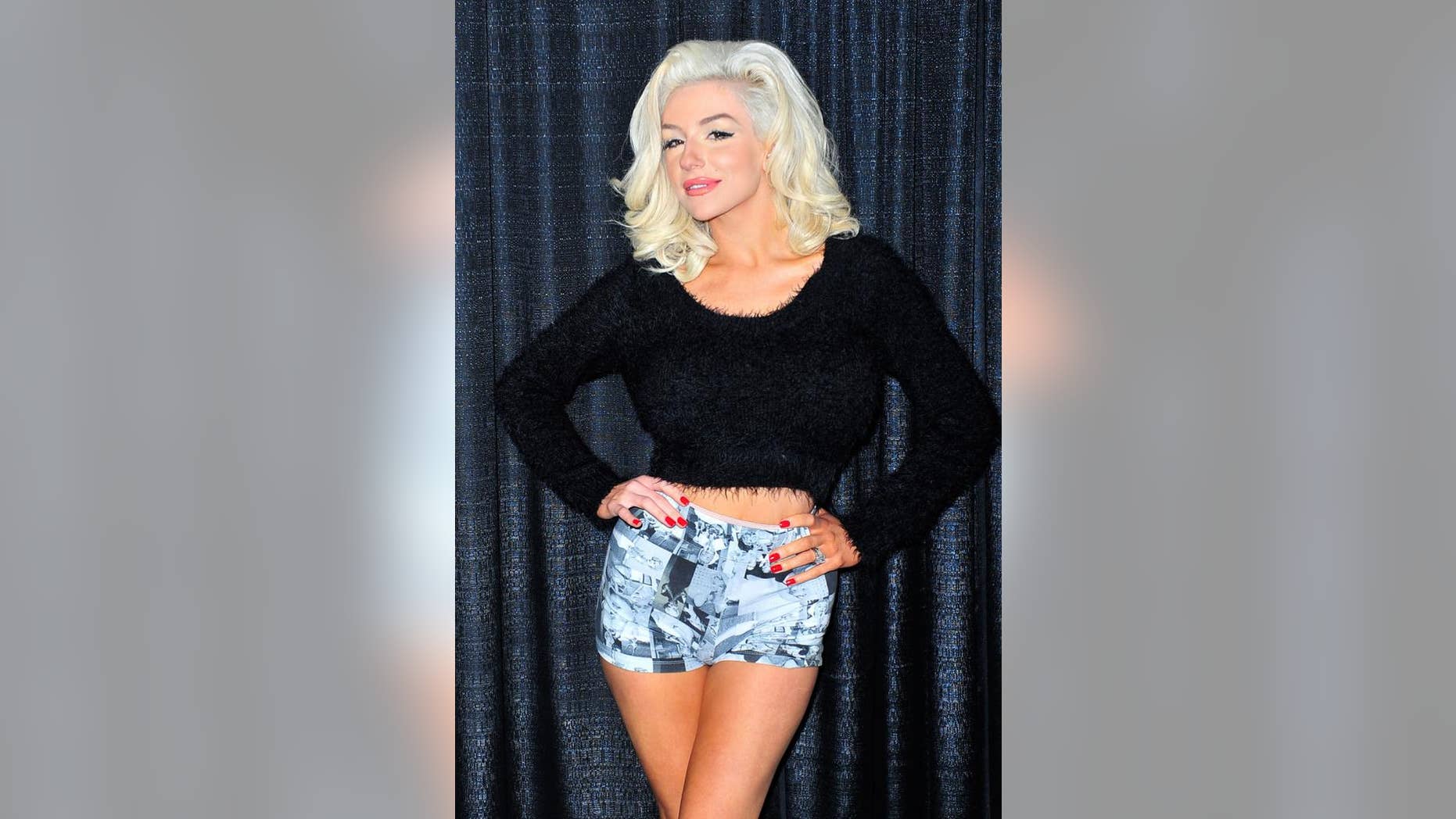 Former "teen bride" Courtney Stodden knows a thing or two about shocking people.
In 2011, the 16-year-old married 51-year-old actor Doug Hutchison in Las Vegas — a marriage that was approved by Stodden's mother Krista Keller, who also became the aspiring singer's manager. Then, after two and a half years of marriage, the couple separated around the time of Stodden's tenure on the U.K. reality show "Big Brother." A year later, the controversial couple reunited, and this was soon followed by Keller's resignation as Stodden's manager due to "creative differences." Taking all this into account, it's no wonder that Stodden and Keller's rocky relationship is now on full display on Lifetime's news series "The Mother/Daughter Experiment: Celebrity Edition."
In this latest reality series, six mother/daughter pairs air their dirty laundry in front of the masses, while Dr. Debbie Magids attempts to help them repair their broken relationships. And while Stodden and Keller both agreed to appear after not seeing each other for six months, the now 21-year-old is making the shocking claim that mother allegedly fell in love with Hutchison.
Fox News Magazine spoke exclusively with Stodden about "The Mother/Daughter Experiment," as well as her surprising claims against her own mother, and what her marriage with Hutchinson is really like:
FNM: What made you want to do a series like "The Mother/Daughter Experiment"?
CS: Well, I really love Lifetime [laughs], so I thought it would be awesome to work with them. And it just kind of fit with my life at the time, because my mom and I have been estranged for almost a year, but we agreed to participate in this show. We reunited in the series. My mom and I have a rocky relationship, so we felt that the show could potentially help us in the long run.
FNM: Why were you two separated for such a long time?
CS: There were many factors at play, but she was my manager for quite some time, and I think that had a huge hand in why we were estranged. It started to affect our personal relationship as well as our professional one. There were also some inappropriate boundaries being crossed on her end. I was just beginning to feel very hurt and betrayed.
FNM: Why did you choose to get help from a therapist and share your story with the world in front of cameras?
CS: Well, for one, I'm a really honest and open person, and this relationship with my mom is a deep, emotional one. I thought this would be a good opportunity to allow myself to be vulnerable and share my experience with other people. I know there are many people who have issues with their parents, and so I wanted to share my story with people. My mom was also actually really excited about being in front of the cameras. I'm not too sure if my mom would have wanted to do therapy if the cameras weren't around. I did want to save the relationship, so honestly I just jumped at the chance, because I do love my mother so much.
FNM: You claimed that your mother may have fallen in love with your husband Doug. Could you tell us more about that?
CS: Well, you'll have to watch the show to get the full scoop on the situation, but basically my mom has always been very close to me, and I think there weren't any healthy boundaries in our relationship. I feel like at some point, throughout my teenage years, she started to live vicariously through me. She would always say, 'What my daughter feels, I feel.' My friends suddenly started becoming her friends, and my thing started to become her thing. I feel like somewhere down the line, when I fell in love with my husband, she would tell me, 'I feel that love for him as well.' So in her mind, she allowed herself to fall in love with my husband. Dr. Debbie kind of helped me understand it a little bit better. I don't want to call her delusional [laughs], but I do feel like a lot of her actions were really inappropriate, especially as a mother. I was very hurt by some of her attempts, including her falling in love with my husband.
FNM: How has this affected your relationship with Doug?
CS: My husband and I have remained really strong in our marriage. We did have a brief separation, and that had nothing to do with my mom. It actually had to do with, simply, that I was 16 when I married him and I just felt like I didn't get the chance to go around and be a normal teenage girl — you know, having fun and dating. But when we reunited, our relationship has just been really strong. We're looking forward to celebrating our fifth wedding anniversary in May, and we're going to renew our vows. But honestly, my relationship with my mother has affected all of my relationships with people. Doug has been very supportive and, of course, a lot of this stuff has really angered him. He has been very angry with my mother in the past and it has continued on. But through it all, he's been so supportive and I really couldn't ask for a better husband.
FNM: In terms of renewing your vows with Doug, what made you say yes again?
CS: I love him, so that [played] a huge part, but I also wanted to be able to make this decision 110 percent on my own. I had my mother involved when we first got married and she had to sign off on it because I was 16, [so] I wanted to start fresh in my marriage and say "I do" on my own, without having someone sign off on it.
FNM: People, to this day, are still shocked by your marriage to Doug. Now that you're 21, how do you feel about marrying someone much older?
CS: You know, I completely understand the controversy [but] I'm happy. I love my husband so much. I just don't have any regrets. I went through that separation period when I did need to relive some of the years that I felt like I didn't get a chance to experience, but in the end I'm so happy now. I don't have any regrets about marrying him at such a young age. I actually learned a lot from it.
FNM: Last year, your mother told the press that your husband may have gotten between you two. How did you feel about this?
CS: It's interesting because, if you look back in the beginning, my mother was nothing but positive about my marriage. And then, after I was feeling like her management was actually ruining our personal relationship, I asked her to step down. That's when she got vicious and completely did a 180. [She] started telling the media all of these negative comments, [and did] an interview on my 21st birthday, which was really hurtful for me. You can kind of do the math.
FNM: What are three wonderful things you've learned about marriage?
CS: [Laughs] Oh my gosh … just being able to compromise! In a marriage, you definitely need to learn to compromise, and that's not easy. At the core of all of us, we're kind of selfish in our own way. I think compromising is a huge thing that I've learned and it has bettered me as a person. [Also], having a sense of humor to tackle all the things that come in any relationship. And just to be happy. I'm incredibly happy in my marriage and I think that has a lot to do with the person you choose to be with. I've learned a lot. I could probably sit here all day long and share with you the positive things that I've learned with my marriage.
FNM: What about some maybe less-than-wonderful things you've learned about marriage?
CS: Doing too much for me? I know it sounds so crazy, but he does everything. He cooks, cleans, takes out the trash — he literally does everything to the point that it's actually kind of irritating. When I try to go and do the dishes, they're already done. I would actually like to play that wife role a little bit more, but he really takes care of me so much. Maybe it would be nice if he backed up just a little bit to let me do some of that stuff on my own [laughs]. He takes care of me so much that I don't even have my license yet. He drives me around everywhere! But I'm actually getting ready for my license now, so I'm pretty excited about that. Maybe he shouldn't be such a good husband. He's too good!
FNM: A lot of people have compared your look to Marilyn Monroe. How do you feel about these comparisons?
CS: I find the comparisons to be really flattering. I love Marilyn Monroe and all the blonde bombshells from the past. I love Mae West, Jean Harlow, Jayne Mansfield, and even the late Anna Nicole Smith. I find beauty in all of these women, and Marilyn Monroe was so intelligent. She played up the role of the dumb blonde, but behind the scenes she was so smart and I really love that about her.