Country music's biggest feuds
1. Zac Brown vs. Luke Bryan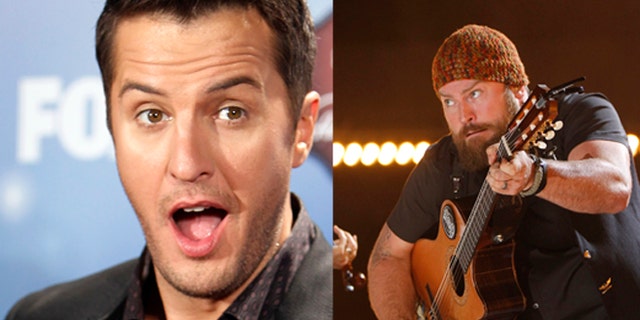 The Zac Brown Band lead singer of the same name called Luke Bryan's single "That's My Kind of Night" the "worst song I've ever heard." Harsh.
Brown didn't stop there. "There's songs out there on the radio right now that make me be ashamed to be even in the same format as some other artists."
Bryan's superstar friend Jason Aldean quickly came to his defense.
"To those people runnin' their mouths, trust me when I tell you that nobody gives a s— what you think," Aldean wrote on Instagram.
The two eventually made up when at the 2013 CMA Awards Carrie Underwood told the singers had nothing to fight about.
"You both made great records and you're both millionaires," she sang to the tune of "Why Can't We Be Friends."
2. Eric Church vs. Miranda Lambert and Carrie Underwood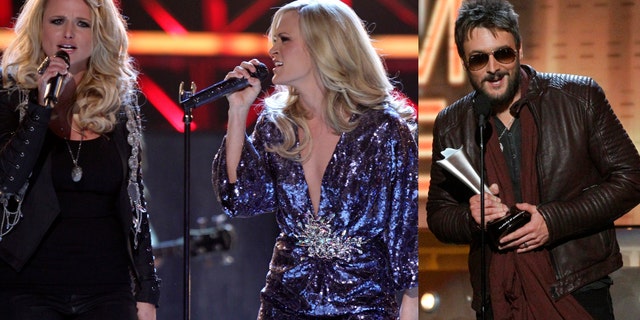 Doesn't Eric Church know not to start a fight with a girl who uses a shotgun as a mike stand?
When Rolling Stone asked Church how he felt about reality singing competition shows, "The Outsiders" singer responded, "Honestly, if Blake Shelton and CeeLo Green f---ing turn around in a red chair, you got a deal? That's crazy. I don't know what would make an artist do that. You're not an artist."
Shelton's then-wife and former Nashville Star singer fired back at Church saying, "Thanks Eric Church for saying I'm not a real artist. Or Kelly Clarkson, Carrie Underwood and Keith Urban."
Church quickly issued an apology, "The comment I made to Rolling Stone was part of a larger commentary on these types of reality television shows and the perception they create, not the artists involved with the shows themselves. The shows make it appear that artists can shortcut their way to success."
Lesson learned: Don't cross this feisty country chica.
3. Dolly Parton vs. Porter Wagoner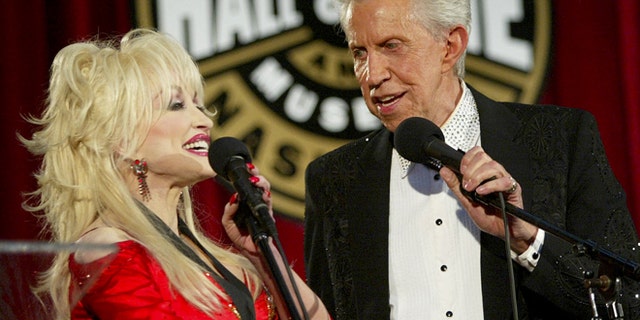 Parton may have written "I Will Always Love You" for fellow country artist Porter Wagoner, but things were not always civil between the two.
Parton left Wagoner's band in 1974 and he subsequently filed a breach of contract suit against her.
"I don't mean this in a bad way, but he was very much a chauvinist pig," she told the Los Angeles Times.
Is there a nice way to call someone a "chauvinist pig"?
4. Charlie Rich vs. John Denver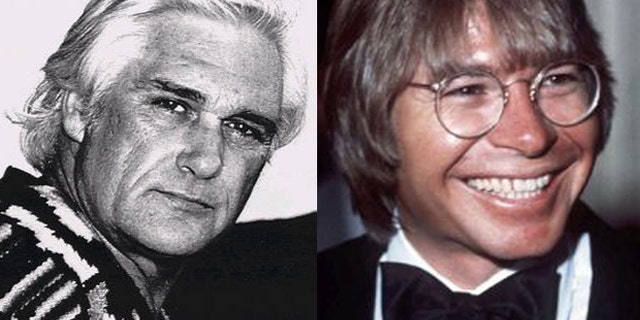 Before there was Kanye and Taylor, there was Charlie Rich and John Denver.
When Denver was announced as the 1975 CMA Entertainer of the Year, a drunk Rich set fire to the piece of paper naming his fellow singer the winner.
That almost makes what Kanye did seem not half-bad. Almost.
5. Gary Allan vs. Taylor Swift and Carrie Underwood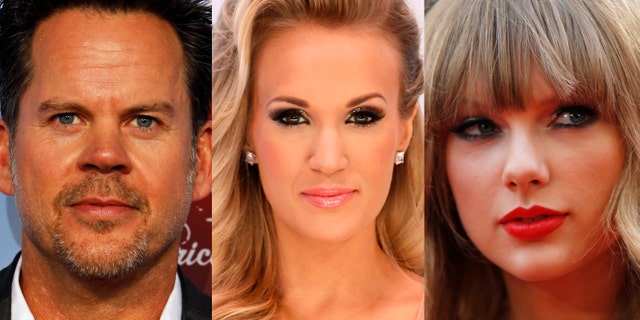 During an interview with Larry King, Gary Allan was caught calling fellow singers Taylor Swift and Carrie Underwood "pop artists making a living in the country genre."
Underwood and Swift fans rushed to their defense and Allan issued a clarification on his Facebook page.
"Country music has changed," Allan wrote. "During the interview I made it a point to say that my own music has changed over the years. I used to make very different music 10, 15 years ago."
"You used to be able to turn on the radio and you knew instantly it was a country station, just by listening to it," Allan explains. "And now you've got to leave it there for a second to figure it out."
We wouldn't quite call that an apology, but it's a start.
6. Toby Keith vs. the Dixie Chicks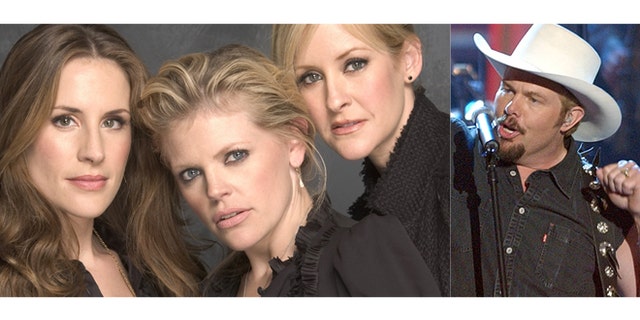 The Dixie Chicks and Toby Keith are no strangers to feuds. So what happened when the two butted heads?
The lead singer of the girl band was the first to take aim when she was asked how she felt about Keith's "Courtesy of the Red, White and Blue."
"It's ignorant, and it makes country music sound ignorant," Natalie Maines said.
Keith responded when he started using a picture of Maines with Saddam Hussein while on tour in 2003.
The feud ended when a member of Keith's band lost a two-year-old daughter to cancer.
"A few days after I found she didn't have long to live, I saw a picture on the cover of Country Weekly with a picture of me and Natalie and it said, 'Fight to the Death' or something," said Keith. "It seemed so insignificant. I said, 'Enough is enough.'"
7. Travis Tritt vs. Billy Ray Cyrus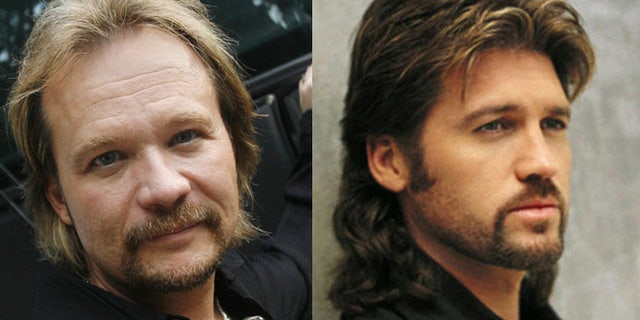 In 1992, Travis Tritt called Billy Ray Cyrus' "Achy Breaky Heart" "frivolous" and said the song "doesn't really make much of a statement."
Things might have ended there had Tritt not added that the music video was an "a-- wiggling contest."
Cyrus had his chance to fire back at Tritt when he won an AMA award for Favorite Country Single of the year in 1993.
"As far as I'm concerned, to those people who don't like 'Achy Breaky Heart,' here's a quarter, call someone who cares!" he said as he accepted his award.
8. Blake Shelton vs. Ray Price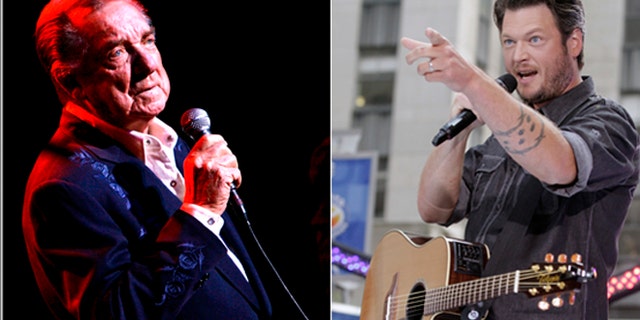 Blake Shelton is used to getting into trouble for his not-so-PG remarks. But one time he crossed hairs with the wrong country singer.
"Nobody wants to listen to their grandpa's music," the singer said during his GAC 'Backstory' interview. "And I don't care how many of these old farts around Nashville going, 'My God, that ain't country!' Well, that's because you don't buy records anymore, jacka---. The kids do, and they don't want to buy the music you were buying."
Country legend Ray Price took offense to Shelton's words and fired back at the "Boys Round Here" singer.
"It's a shame that I have spent 63 years in this business trying to introduce music to a larger audience and to make it easier for the younger artists who are coming behind me," he responded on Facebook. "You should be so lucky as us old-timers. Check back in 63 years ... and let us know how your name and your music will be remembered."
Shelton took to Twitter to apologize.
"Whoa!!! I heard I offended one of my all time favorite artists Ray Price," he tweeted. "I hate that I upset him.. The truth is my statement was and STILL Is about how we as the new generation of country artists have to keep re-inventing country music to keep it popular. Just EXACTLY… The way Mr. Price did along hid journey as a main stream country artist."
Country Weekly reported that Shelton and his then-wife Miranda Lambert were welcome guests of Price at his show in their home state of Oklahoma. Price died in 2013.
9. Johnny Cash vs. Grand Ole Opry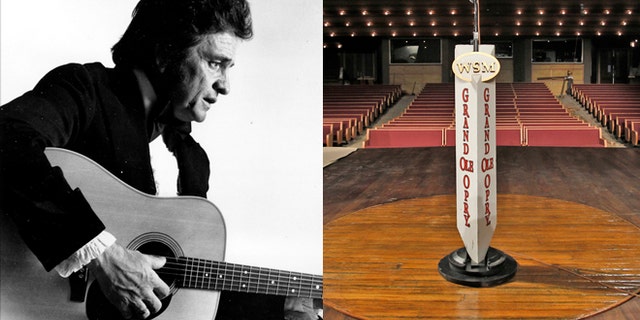 Believe it or not, but The Man in Black was once banned from the Grand Ole Opry.
In 1965, Cash broke the floor lights on the Opry's stage and let's just say the country music venue was not too pleased.
"I don't know how bad they wanted me in the first place," said Cash. "But the night I broke all the lights on the stage with the microphone stand they said they couldn't use me anymore."
The two eventually got over their riff and Cash was once again allowed back to the Opry before his death.