Cooking with 'Friends': Melissa Francis' Fish Fry Sides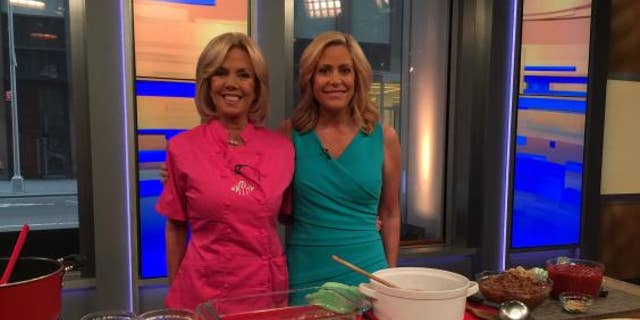 NEWYou can now listen to Fox News articles!
MELISSA FRANCIS' FISH FRY SIDES
SAUSAGE BAKED BEANS
Ingredients:
3 packages of ground hot sausage
1 large onion, chopped
3 (24 oz.) B&M original baked beans
16 oz. dark brown sugar
1 tbsp. prepared mustard
92 oz. Hunt's Ketchup
Instructions:
Preheat oven to 350°F.
In an extra-large casserole dish, cook sausage and onions in oven using spoons to break up sausage. Leave sausage a little chunky. Drain the grease.
Add baked beans, brown sugar, mustard and ketchup. Bake for one hour. Let stand for about 15 minutes before serving. These are great made the day before.
-----------------------
CHEESE GRITS
Ingredients:
1 rounded tbsp. salt
7 c. of water
2 c. uncooked stone ground white grits
1 lb. Mexican Velveeta cheese cut into cubes
1 c. melted butter
4 eggs, beaten well
½ c. milk
Salt and pepper to taste
3 c. grated sharp cheddar
Instructions:
Preheat oven to 350°F.
Add salt to boiling water and cook grits covered on low heat for about 35 minutes until done, stirring occasionally. Stir in Velveeta cheese, butter, eggs, milk, salt and pepper. Line 3-quart Pyrex dish with 2 cups of grated cheddar cheese. Pour in grits, and top with remaining cup of cheddar. Bake for one hour.