Company's PR stunt causes panic at exclusive hotel near Cannes Film Festival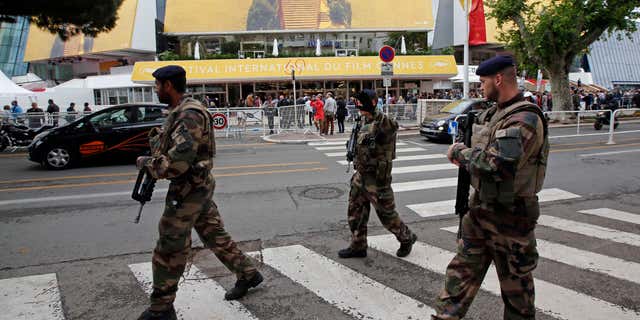 NEWYou can now listen to Fox News articles!
A French internet company's PR stunt, that featured a group of fake commandos approaching a historic celebrity-filled hotel near the Cannes Film Festival, caused a panic Friday.
According to The Hollywood Reporter, a group of six men in the militia-style gear approached the Hotel du Cap Eden-Roc where Vanity Fair editor Graydon Carter was hosting an exclusive party on the property. One of the men stormed the stairs leading up to the resort.
"We were all caught off guard," publicist J.R. Savet told The Hollywood Reporter Saturday. "And then someone screamed and people jumped out of their chairs and started moving quickly to the swimming pool area. It was pretty scary. The fact that the men appeared to be (dressed like) an ISIS-like militia group was quite shocking."
Savet said security was quickly called to address the issue, while the hotel staff continued to serve food to the guests without showing signs of panic.
The whole incident turned out to be a publicity stunt for a French "global marketplace" called Oraxy, which the company says is "reserved exclusively for (Ultra High Net Worth Individuals)." The group of men also sped by a few large yachts owned by Steven Spielberg, Ronald Perelman and Roman Abramovitch, according to The Hollywood Reporter.
"It was not a terrorist attack. It was a communication effort and publicity for an internet site," French National Police said in a statement. Officials described the incident to The Hollywood Reporter as "just a bad joke – a really bad one."
An Oraxy spokesperson confirmed to The Hollywood Reporter the incident was a publicity stunt and that it was coordinated with maritime authorities. The spokesperson said the unidentified owners feel "really bad" about scaring people on the hotel property.
The Cannes Film Festival remains on high alert after an audit was conducted following the Paris terror attacks. The Interior Ministry conducted terror drills in preparation for the star-studded festival.
Click for more from The Hollywood Reporter.