CNN's Jim Acosta sends expletive to ex-Melania Trump staffer in private message, apologizes
CNN's Jim Acosta apologized Thursday for saying 'f-ck you" to a former Melania Trump staffer in a private Twitter message after the chief White House correspondent was widely criticized for the vulgar attack.
Ex-Trump aide Justin Caporale mocked Acosta by writing, "Dear Diary," after the CNN reporter sent a lengthy tweet complaining about the volume levels at President Trump's Montana rally.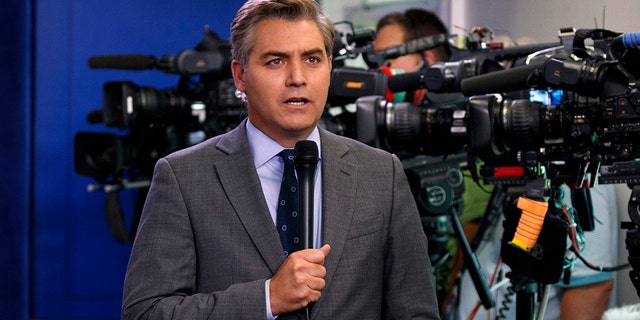 Acosta – who recently noted that rapper Kanye West used profane language in the Oval Office – sent Caporale a private message in response.
"F-ck you," Acosta wrote, according to a screen grab tweeted by Caporale, however the CNN White House reporter did not edit the language.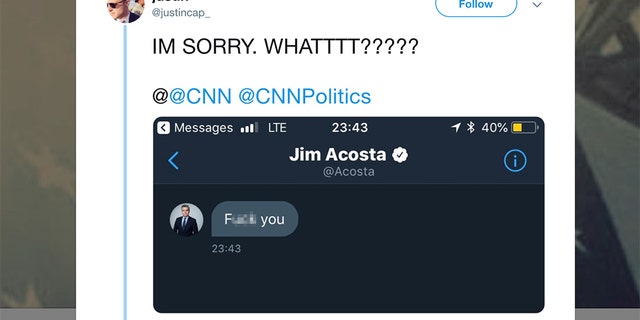 The Daily Wire first reported that the tweet was authentic and that Caporale is a former Melania Trump official. Caporale then announced that Acosta had blocked him on the social media platform.
After tweeting a screen grab of Acosta's vulgar remark, Caporale returned to Twitter and demanded an apology.
"Hey buddy I thought you were an old friend from the campaign days. I'm so sorry. Hope I didn't offend you. Have a good night and take care," Acosta wrote.
CNN did not immediately respond to a request for comment.
Acosta – who is frequently mocked by Trump supporters – was widely criticized on social media for the comment.
"Just wondering why CNN's chief WH Correspondent would send a message like this to an employee of the administration he covers," Daily Caller's Benny Johnson wrote after pondering what would happen if a Fox News staffer said something similar to an Obama aide.
Sinclair chief political analyst Boris Epshteyn called it 'a very sad way for a member of the WH Press Corp to behave."
Others pointed out Acosta's hypocrisy, as he often complains about bullying and using bad language.
As a result of Acosta being agitated by Caporale's initial tweet, critics of the CNN star are now mocking him by responding, "Dear Diary," to other tweets he sends.
Acosta has made a habit of grandstanding and interrupting when Trump and members of his administration are available to the media. Earlier this year, Trump even kicked the CNN star out of the Oval Office after Acosta badgered the president with racially charged questions.
Trump has famously dubbed CNN "fake news" and pointed directly at Acosta, calling him by that disparaging moniker in the past. Acosta has also gotten into combative arguments with other members of the administration including former Press Secretary Sean Spicer, Management and Budget Director Mick Mulvaney, Press Secretary Sarah Sanders and Senior Policy Adviser Stephen Miller.
Meanwhile, The Daily Wire's Ryan Saavedra pointed out that Acosta isn't the first CNN employee to use profane language on Twitter.