CNN, NBC pull the plug on Hillary Clinton projects: Did the RNC trump Hollywood?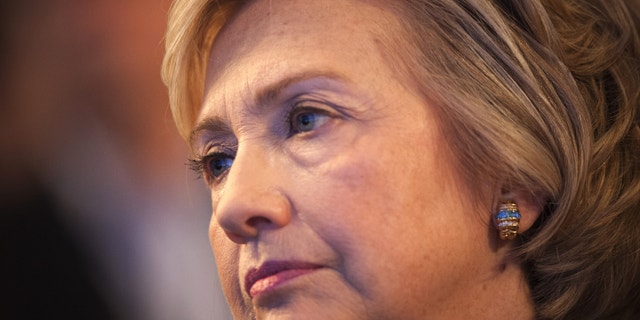 LOS ANGELES – It was announced Monday that CNN Films' planned documentary on Hillary Clinton had been abandoned, with director Charles Ferguson insisting it wasn't due to issues with the network, but rather it was the former Secretary of State and her aides' refusal to participate that led to the project's demise.
Just a few hours later NBC declared that they too were abandoning plans to produce a four-hour miniseries based on Clinton.
"After reviewing and prioritizing our slate of movie/miniseries development, we've decided that we will no longer continue developing the Hillary Clinton miniseries," NBC said in a statement.
So did the quest for a balanced political playing field actually trump Hollywood?
"This was only the first step in the Republican Party taking control of our debate process. The purpose of our party's debates is to better inform our grassroots and those participating in Republican primaries and caucuses," Republican National Committee (RNC) spokesperson Kirsten Kukowski told FOX411. "Now that CNN and NBC have canceled their Hillary Clinton infomercials, we will work on developing a new debate model that will address the timing, frequency, moderators and venues that will come in the next few months. Any media organization looking to be part of the debate process will have to comply with the new system."
The announcement of both Clinton projects earlier this year sparked immediate political outrage, with many concerned that the projects would function as puff pieces for Clinton's presidential aspirations. The RNC voted in August to boycott both NBC and CNN during the 2016 presidential primary debates, which then also raised concerns from Democrat supporters and political figures at NBC as to whether it could harm the potential candidate in the end.
"Nobody in Hollywood expected RNC chairman (Reince) Preibus to flex his muscles like this and threaten CNN and NBC over these two movies. This is a clear result of that. The networks simply cannot countenance being excluded from debates and no single project is worth that access being cut off," noted Hollywood producer, Mark Joseph. "Preibus is part of a new generation of GOP leaders who are playing by a different set of rules than their predecessors. He played hardball and he won big time."
Other critics are not convinced that Clinton didn't have some personally vested interests in silencing the entertainment productions.
"The Clintons are very concerned with any large books or film projects that focus on them. They're control freaks who expect all their press to be glowing," said Tim Graham, Director of Media Analysis for the Media Research Center. "The Clinton's worry about the new scandals the most – the Benghazi debacle and the swirling conflict of interest known as the Clinton Foundation. How did Hillary serve as Secretary of State for four years without reporters suggesting that nations may have funded the Secretary's husband's charity to curry favor with the Secretary?"
A source with connections to the Clinton camp said that Hillary doesn't have any "secrets" to hide and likely didn't block the projects for fear of scandals being rehashed, but she probably didn't want to be in the middle of a media and political firestorm. There was apparently also mounting concern that if the film and/or series were Clinton "infomercials" – as worded by the RNC – then filmmakers from the other side of the political spectrum could come out with a "counter piece" that would trash the high-profile figure.
And John Ziegler, director of the documentary "Blocking the Path to 9/11" about how the Clinton's allegedly censored an ABC mini-series in 2006, concurred that it seems like a situation where no one had an incentive to move forward.
"The filmmaker and CNN would have been in a no-win situation and have saved themselves a massive headache. From a filmmakers perspective, it sounds like they had little choice, but the whole situation is a damning indictment of our broken media and politics," he added.
And according to Washington D.C. attorney Margaret Cone, the axing of the projects speaks to how snarky politics has become.
"I'm sure Mrs. Clinton was flattered that her life as a First Lady, a Senator and Secretary of State would have been showcased in a movie. She has been an extraordinary spokesperson for children, women and the voiceless," she said. "And through her very public struggles and setbacks, she taught us the power of perseverance… Would this have happened to Jackie Kennedy or Nancy Reagan?"
Reps for CNN, Ferguson and Clinton did not immediately respond to a request for further comment.
Danielle Jones-Wesley contributed to this report.