Clinton crony George Stephanopoulos slashes vacation mansion price amid pressure over lavish ABC salary
NEWYou can now listen to Fox News articles!
"Good Morning America" star and Clinton crony George Stephanopoulos has slashed the price of his Hamptons mansion as the liberal ABC newsman faces increased pressure over his lofty salary.
Stephanopoulos and his wife, the socialite and actress Ali Wentworth, have re-listed their summer vacation home on Long Island's ultra-exclusive East End, shedding almost $1 million off the 2016 listing price, the New York Post reported, citing Realtor.com.
Stephanopoulos' spokesperson did not respond to requests for comment as to the reason for selling the home, or the price cut.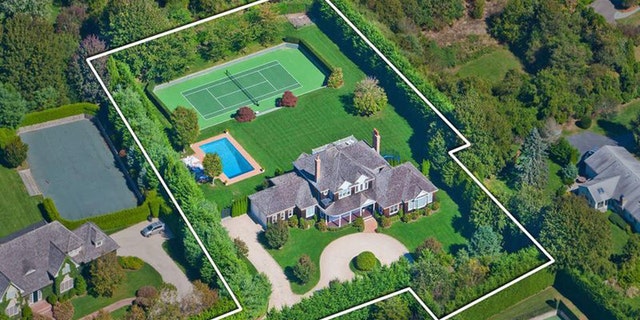 The dramatic price reduction comes as the "Good Morning America" co-host faces increased pressure at ABC now that morning-show competitors Matt Lauer and Charlie Rose have been kicked to the curb over sexual misconduct allegations. ABC's chief anchor Stephanopoulos' eight-figure salary increasingly stands out as an anomaly as NBC rolls out a fun-loving and far less expensive team during the first two hours of arch-rival "Today."
Stephanopoulos is a former top aide to the Clintons and close friend of Obama Chief of Staff Rahm Emanuel. He is believed to earn roughly $15 million a year at ABC, according to Business Insider.
Stephanopoulos' outsized income is especially notable as "GMA" co-stars Robin Roberts and Michael Strahan have become increasingly popular while the former Clinton aide's signature "hard news" role has been increasingly reduced as the morning show often focuses on topics such as weather and pop culture.
Media analyst Jeff McCall recently told Fox News that NBC's success in recent weeks proves that the high-paid Lauer wasn't necessarily the reason people tuned in to the "Today" show.
"I think a similar case could be made now for George Stephanopoulos at 'GMA.' The show can be successful whether George is on the set or not," McCall said. "'GMA' is really not a serious news program anyway, and George's supposed D.C. insider persona just isn't that essential for a show that wants to focus on fads, entertainment and emotion."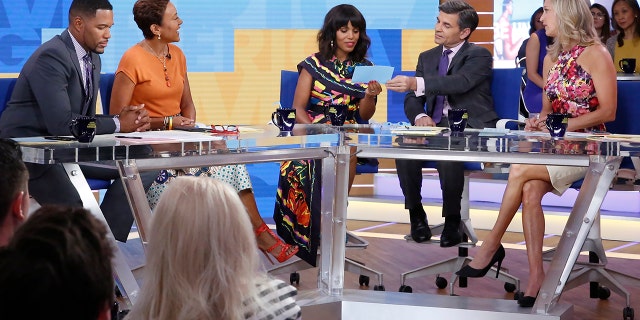 The five-bedroom, 4,800-square-foot posh Southampton estate was listed for $7 million as recently as May 2016, but the former Clinton adviser is now seeking roughly $5.9 million. The lavish home features a tennis court, over-sized pool, soaring coffered ceiling, elaborate kitchen, wet bar, 1,000 bottle wine cellar, personal gym, game room and trees that "ensure complete privacy, " according to Realtor.com.
The listing even seeks to capitalize on Stephanopoulos' star power in an effort to move the property.
"It's regularly the site of the kind of dinner parties that make the Hamptons… the Hamptons," the listing states. "Be prepared to be inspired by the towering 'Library Wall' befitting the media luminary for whom it was designed and built."
Stephanopoulos and Wentworth purchased the home in 2013 for $4.5 million, according to the Post. They also own a luxury apartment on Manhattan's exclusive Upper East Side that they initially purchased for $6.5 million in 2010. Four years ago they bought the apartment upstairs from their residence for $2.2 million, presumably with the intent to combine the homes into a larger, more lavish abode.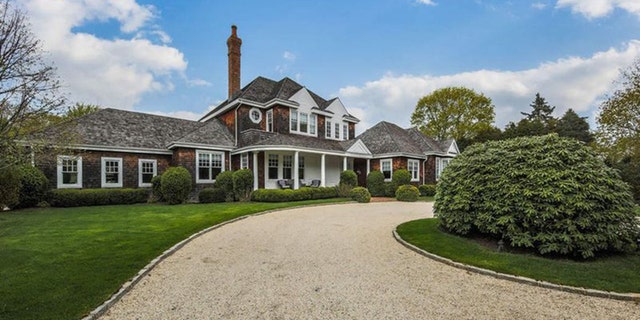 Beleaguered ABC News is making a major publicity push for its coverage of the 2018 midterm elections, with Stephanopoulos expected to be the face of the team, though it's unclear how much airtime this coverage will actually get. ABC's Sunday public affairs program "This Week," which Stephanopoulos has hosted from New York for the last several years, allowing his family to enjoy their weekend Hamptons lifestyle. Sunday morning shows are otherwise hosted from Washington, D.C., and ABC insiders tell Fox News that the New York location has hobbled the program's ratings.
"He should be off GMA and doing 'This Week' from DC for a lot less money," an ABC insider said.
Meanwhile, the icy anchor's cachet has diminished significantly with Hillary Clinton's failure to win the White House and his cadre of Democratic friends on the outs in Washington with the end of the Obama administration.
Rival NBC reportedly pays Savannah Guthrie and Hoda Kotb about $7 million per year apiece, considerably less than Stephanopoulos and his "GMA" co-host, Robin Roberts, who like Stephanopoulos is also believed to make about $15 million to $18 million a year.
ABC is already coming under fire for agreeing to pay Clinton activist Katy Perry $25 million to be a judge on just one season of a revamped "American Idol." The network is also shelling out eight figures to pay Ryan Seacrest to host "Live" and "American Idol," and is believed to be paying Seacrest's "Live" co-host Kelly Ripa more than $20 million a year.
Stephanopoulos was initially valuable to ABC because he brought unprecedented access to the Clintons and to the Obama White House. During the beginning of the Obama administration, sources say he regularly would speak to Emmanuel -- a fast friend -- from the "GMA" studio right before the show would go on air – but that relationship no longer has value.
Stephanopoulos was a longtime Clinton operative and prominent Democrat, which became a source of embarrassment to ABC during the presidential campaign when he was caught secretly giving money to the Clinton Foundation. He had to recuse himself from hosting any presidential debates. President Trump has denounced Stephanopoulos for liberal bias, deriding him as "little George."