Chicago mayor predicts 'evolution' for Northam, likens embattled Virginia governor to Obama, Lincoln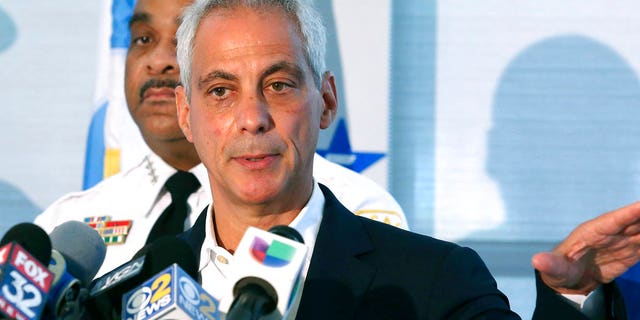 During an appearance on HBO's "Real Time with Bill Maher" on Friday, Chicago Mayor Rahm Emanuel did not join the choir of his fellow Democrats who have called on Virginia Gov. Ralph Northam to resign amid a blackface-Ku Klux Klan photo controversy.
When Maher asked Emanuel what Northam should do to resolve the situation, Emanuel struggled to articulate a response.
"You seem nervous," Maher reacted.
CHICAGO MAYOR RAHM EMANUEL: LEGALIZE POT, OPEN CASINO TO PAY DOWN CITY'S $28B PENSION DEBT
The term-limited mayor began by telling Maher that he thought Northam was one of two people appearing in racist attire in the photo. But then Emanuel defended Northam's efforts to remain in office despite calls for his resignation.
He then compared Northam's potential for redemption to President Barack Obama's evolution on gay marriage and to President Abraham Lincoln's emergence as "the Great Emancipator" despite not having set out to end slavery.
"Part of civil rights, part of any change, is maturity and evolution. He is now going to be the greatest fighter for civil rights because he has something to prove," Emanuel said. "The notion that you disagree with somebody, the answer is 'You're fired.' The fact is he has evolved. … If you want somebody, there's nothing like a convert. He is gonna have a zealotry to prove something because he has the campaign of his reputation."
"This notion, 'Virginia, escape history.' No, you learn from history. You don't escape history, and then it teaches you what to do right in the future," the Chicago mayor added.
CLICK HERE TO GET THE FOX NEWS APP
Northam has faced intense backlash after a copy of his 1984 medical school yearbook page surfaced, showing two people --- one dressed in blackface and the other in Ku Klux Klan attire. After initially confirming he was in the photo and apologizing, Northam reversed course and insisted he wasn't in the photo at all, but did own up to dressing up in blackface when entering a dance contest dressed as Michael Jackson.
Meanwhile, Virginia Lt. Gov Justin Fairfax is pushing back against multiple sexual assault allegations and Virginia Attorney General Mark Herring also admitted to wearing blackface.