Cheech & Chong Blame 'Right Wing' for Turning People Against Legalization of Pot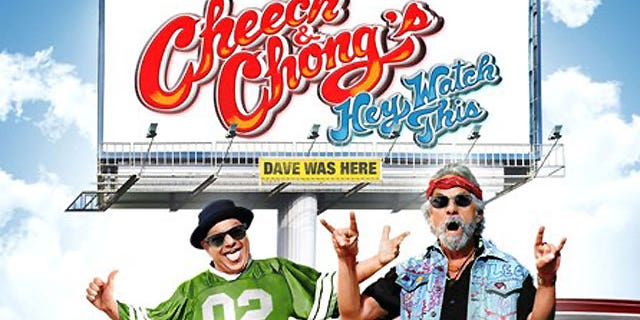 NEWYou can now listen to Fox News articles!
LOS ANGELES – Decades ago comedy partners Richard "Cheech" Marin and Tommy Chong got audiences high on laughter with their stoner-inspired stand-ups, so it's no surprise that the pot-stirring duo are particularly buzzed these days about getting the drug legalized.
"It is going to be legalized, I'm going to be conservative here and say it will be legalized nationally in the next three years," Cheech assured Pop Tarts. "The writing is on the wall."
His counterpart is predicting four years for legalization to come into play across the entire USA and blames the "right wing media" and "propaganda" for making people fearful of the controversial cannabis plant.
"People are scared of legalizing it because the right-wing press demonizes anything like pot and the whole experience," Chong explained. "Pot helped me cure my prostate problems and helps people with cancer. It really is a medicine and has been for centuries, since the beginning of time. Our culture is finally now coming around to realize that."
Chong also believes that the Internet has played a prominent role in allowing people to Google and learn about the "positive" aspects of pot.
"No one has ever died from pot," Chong continued. "I was on an airplane coming back from our last gig and this neurosurgeon knelt down by my chair and said 'I deal with patients in alcohol-related car crashes all the time and I've been doing it for 20 years. And not once has marijuana caused the accident.'"
And whether it has anything to do with the pot or not, it is hard to believe that the Canadian-born pop culture comedian is ready to turn 72.
"He has the body of a 7-year-old!" Cheech exclaimed.
And according to Chong, his wife (Shelby Fiddis) can't stop telling him how "awesome" he looks.
"She also keeps telling me we need to finalize the will," he added.
After 25 years apart, Cheech & Chong recently reunited for a tour across America and are now showcasing their antics as a DVD feature film entitled "Hey Watch This."
And it seems the side-splitting double act has a new source of motivation.
"We're lifestyle type comedians, like Martha Stewart," Cheech said. "Only difference is we're all about pot. One of us even went to jail like Martha did."
Chong was sentenced to nine months in a federal prison in 2003 after pleading guilty to one count of conspiracy to distribute drug paraphernalia, a mistake he won't make again.
"I keep getting invited to a pot festival in Australia every year but haven't gone yet," he said. "I really want to, but there is a chance I could be arrested."