Charlie Sheen, Naya Rivera tapped for new comedy movie on Crackle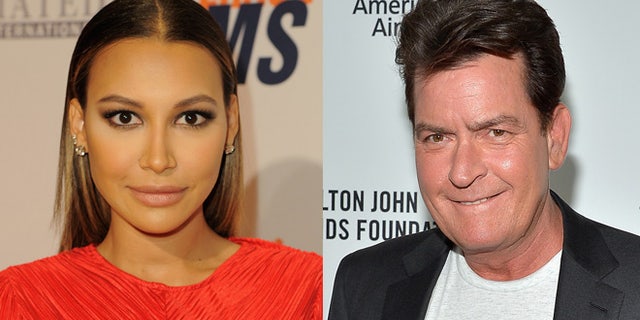 NEWYou can now listen to Fox News articles!
Ten months after his startling revelation that he is HIV positive, Charlie Sheen is heading back to the set for a web movie he will co-star with "Glee" alum Naya Rivera.
"Mad Families," a comedy, is headlining Sony's streaming service Crackle.
For Rivera, the film marks the first project since releasing her highly publicized memoir "Sorry Not Sorry: Dreams, Mistakes and Growing Up."
Written by actor-comedian David Spade and co-produced by Sheen himself, "Mad Science" revolves around three families – one Hispanic, one African-American and one Caucasian – who find themselves sharing the same camping space on the Fourth of July weekend.
In it, Sheen is "a loveable man-child with a heart of gold and a unique way of looking at the world," according to Variety.
"Mad Families" also features Leah Remini – as Sheen's step-mother Cheyenne – as well as Clint Howard, Juan Gabriel Pareja, Efren Ramirez and Danny Mora.
Production, under the direction of Fred Wolf, began last week in Los Angeles. No premiere date has been set.
Sheen is also set to star alongside Whoopi Goldberg in the indie action film "Nine Eleven" about five people trapped in an elevator in the World Trade Center on Sept. 11, 2011.
"It's great to be back in business with Fred, and to have Charlie on board. The combination of Fred's unique comedic voice and Charlie's sharp wit and gift for physical humor is sure to be 'winning," said Eric Berger, EVP of digital networks at Sony Pictures Television and General Manager at Crackle in a statement.
"Original movies are a key component of our ongoing programming strategy and 'Mad Families' is a great fit for our viewers," he added.
The rest of the cast is rounded out by Charlotte McKinney ("Joe Dirt 2: Beautiful Loser"), Chris Mulkey ("Whiplash"), Chanel Iman ("Dope"), Barry Shabaka Henley ("Better Call Saul"), Lil Rel Howery ("The Carmichael Show,"), and Tiffany Haddish ("The Carmichael Show").