Céline Dion shares video tribute to husband René Angélil on first anniversary of his death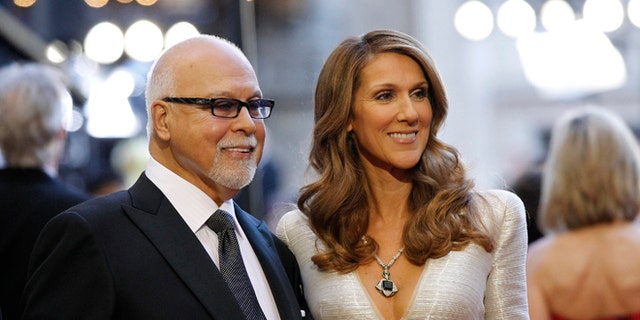 René Angélil may be gone, but never forgotten.
On the one-year anniversary of his death, Céline Dion took to Facebook to pay tribute to her late husband with a lovely video montage.
WATCH: Celine Dion Opens Up About 'Bittersweet' First Christmas Without Rene Angelil
The footage features a trip down memory lane, showcasing Angélil's beautiful life -- photos from his childhood, a video of him playing hockey, snapshots of precious moments with his family, his and Dion's wedding day and more.
"Today, January 14th, it's been a year since René left us," Dion, 48, captioned it. "He will always be in our hearts. -Team Céline."
Last month, Dion opened up about spending her first Christmas without Angélil to Page Six. She spent the holiday in Montana with her and her late husband's three children, Rene-Charles, 15, and twins Eddy and Nelson, 6, in order to keep the family tradition alive and be at peace over the "bittersweet" holiday season.
"I cannot just live on like, 'I lost my husband; my children have no father,'" she said. "I have to stand tall and strong because this is my way of living: Stand tall, be positive, pick your battles, do the best you can and to live for today, not for tomorrow, for today, and know nothing is perfect, not everything you want will happen."
"[Rene] put something magic into that snow, into those mountains, and every time we go down, I go down with him," she added. "My children go down thinking about him. Every time I take the lift to go up, I feel closer to him."
As ET previously reported, Angélil died on Jan. 14, 2015, at the age of 73 after a long battle with throat cancer. Back in May, Dion described her somber final moment with her husband of 21 years in her first television interview since his death.
WATCH: Celine Dion Shares Her Heartbreaking Final Moments With René Angélil
"[I told him], 'You were worrying for my career. You were worrying for the children. You were worrying for everything. It's enough. Do you trust me?'" Dion shared with ABC News. "'Please do. Trust me. The kids are fine. I'm fine. I promise you we're gonna be OK. Please leave in peace. I don't want you to worry.'"