Celebrity chef in legal dispute with Donald Trump among White House medal recipients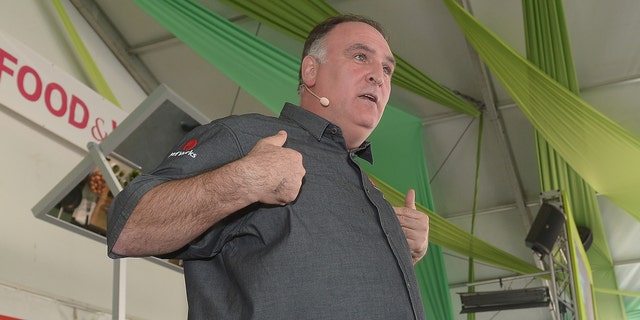 A celebrity chef in a legal dispute with presidential candidate Donald Trump is among a handful of White House honorees for the National Medal of Arts and National Humanities.
As the presidential election heats up, the White House will honor Spanish Chef Jose Andres, who is in a legal feud with Trump after backing out of a deal to open a restaurant at a new Trump hotel in Washington, D.C. Andres pulled out of his contract with Trump after the mogul's controversial statements on immigration. The two are now suing each other.
The White House released a statement on Thursday saying it was honoring Andres "for cultivating our palates and shaping our culture."
"He has introduced new and vibrant ingredients to our nation, whether through his innovative techniques in the kitchen, his work on clean cooking technology and access to education, or the inspiration he provides to new Americans," the statement said.
Famous Mexican-American author Sandra Cisneros will receive the National Medal of Arts award along with actors Mel Brooks and Morgan Freeman, actress and singer Audra McDonald, musician Santiago Jimenez Jr. and playwrights Moises Kaufman and Luis Valdez.
The White House said Cisneros is being honored for "enriching the American narrative" through her novels, short stories and poetry.
"She explores issues of race, class, and gender through the lives of ordinary people straddling multiple cultures. As an educator, she has deepened our understanding of American identity," the White House said in a statement.
Jimenez will be honored for his "conjunto" music and "lending the sounds and cultures of south Texas and Mexico."
"His lively melodies performed on the two-button accordion have captivated audiences around the world," the statement continued.
The White House said Valdez was honored for highlighting Chicago culture in his work.
"He illuminates the human spirit in the face of social injustice through award-winning stage, film, and television productions," the White House said in the statement.
The artists and other leading creative figures have been invited to receive the medal at a White House ceremony on Sept. 22. President Barack Obama and First lady Michelle Obama are planning to attend.
Among the National Humanities Medal recipients are jazz legend Wynton Marsalis, public radio host Terry Gross and author James McBride.
Others receiving the National Medal of Arts:
— Record producer and songwriter Berry Gordy
— Dancer and choreographer Ralph Lemon
— Painter Jack Whitten
— The Eugene O'Neill Theater Center
Others receiving the National Humanities Medal:
— Author Rudolfo Anaya
— Author Louis Menand
— Author Ron Chernow
— Prison University Project, Higher Education Program
— Physician and author Abraham Verghese
— Historian and author Elaine Pagels
— Journalist and author Isabel Wilkerson
— Poet Louise Gluck
The Associated Press contributed to this report.
Like us on Facebook
Follow us on Twitter & Instagram