CBS criticized for holding Trump clip demanding an end to any violence in his name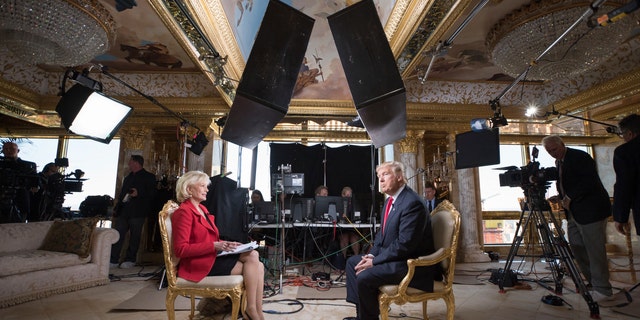 On Friday, CBS' Lesley Stahl sat down with President-elect Donald Trump for a wide-ranging interview that covered myriad topics following his historic election win. The "60 Minutes" interview aired on Sunday, and clips promoting the exclusive were shared by CBS ahead of the program.
Some viewers, however, are questioning why CBS did not immediately post a clip in which Trump told any of his supporters who are reportedly harassing minorities to "stop it!"
Stahl told Trump some of his supporters are allegedly "harassing Latinos, Muslims." Trump replied, "I am so saddened to hear that and I say stop it. If it helps, I will say this, and I will say right to the camera: stop it!"
Trump tells supporters responsible for violence to 'stop it' and CBS releases various other bits of footage but holds that for two days.

— Archie Bland (@archiebland) November 14, 2016
I wonder why @CBS sat for two days on a Trump interview in which he asks his followers, finally, to stop committing acts of violence.

— Andy Jones (@andyojones) November 14, 2016
CBS gets Trump to say stop it (PRESIDENTIAL!) to his crazy followers and SITS ON IT FOR 48 HOURS. CBS deserves whatever punishment he doles.

— Mark Waid (@MarkWaid) November 14, 2016
Some CBS viewers wondered why the network didn't air the clip sooner as reports have claimed some Trump supporters have attacked members of minority groups following his election win.
Mini conspiracy theory bubbling that CBS sat on Trump's quote condemning violence. This is so dumb. Trump was free to comment at any time!!

— Choostas (@Choostas) November 14, 2016
The way I see it - CBS has documented proof Trump knew about the attacks since at least Friday, but has still not said anything else.

— Brad Brisco (@BradBrisco) November 14, 2016
Some voices in the Twitterverse, however, defended the network, saying Trump could have spoken out about the issue at any point.
Ahead of Sunday's "60 Minutes" episode, the network shared a clip that focused on Trump's comments about ObamaCare, formally known as the Affordable Care Act.

CBS told FOX411 regarding the criticism: "This interview was full of newsworthy material and we released a quote on the issue that affects millions of Americans and that was his statement on ObamaCare."
"60 Minutes" also tweeted at least two other clips ahead of Sunday's airing. The clips, which were shared on Twitter, focused on Trump's conversations with Hillary and Bill Clinton after the election.