Carol Alt reflects on her decades-long career, the aftermath of being named 'the most beautiful woman in the world'
In 1980, brunette beauty Carol Alt was hailed as "The Next Million Dollar Face" by Life Magazine and soon after, Playboy came calling, crowning her "The Most Beautiful Woman in the World." Still, the statuesque supermodel was looking to make a difference beyond her looks.
Since then, the 57-year-old has kicked off a completely unique career — that of being an advocate for the raw food movement, which aims to boost good health by savoring unprocessed foods. Alt insisted it has been her secret to helping her combat the private woes she endured behind the camera.
But several books later, Alt is ready to embark on the next chapter of her life. Alt, who hosted "A Healthy You & Carol Alt" on Fox News, currently serves as the creative marketing director for luxury interchangeable shoe line Cat Perkins and even teased the idea of possibly creating a collection of her own in the New Year.
Fox News spoke with Alt about landing the cover of Sports Illustrated and the moment that changed everything.
Fox News: Looking back, what were some of the challenges you faced as a model?
Carol Alt: Crazy enough when I started back in the day, brown hair was exotic… It was blonde hair and blue eyes that made all the covers… The agency said to me, "Don't get your heart set on doing that many covers. You have brown hair." And then by 1986, it became normal to see a brown haired girl on the cover... Even though today, that doesn't look like diversity, but back in the day it was.
Fox News: How did being called "The Most Beautiful Woman in the World" impact you over the years?
Alt: Ultimately at the outset, it's super flattering and of course, when you are a young model and you need the publicity to create an image, a career, it was very, very nice to be able to hear that.
Hugh Hefner was the one who called me "the most beautiful woman in the world." I just thought, out of all the women he's worked with! He hadn't even worked with me at that point… And of course, as you get older, it becomes even more flattering when somebody says that in the moment. I'm 57 so it's nice to hear that.
Fox News: Describe that moment when you saw your 1982 Sports Illustrated Swimsuit cover for the first time.
Alt: I was in Paris shooting for Lancome. I had to be in London right after that. But the agency called me and said, "You need to come back to New York." Of course, the first thing my brain goes to is "What disaster happened?" "Is my family ok?"
But then they said, "Everything is fine, you just have to appear on 'Good Morning America.'" I thought, "Really? You're going to fly me from Paris to do 'Good Morning America' and then you're going to fly me back out that afternoon to London and push a whole shoot?" But they wouldn't tell me why.
Fox News: And then what happened?
Alt: When I arrived back in New York, that's when they told me as I was getting dressed to do "Good Morning America"… I was too tired to register the fact that I somehow made the cover. But when they unveiled that photo, I thought, "I kind of look like a little boy." And that was the last shot of the last day. I couldn't even get the brush to my hair. It was the one shot where I said, "Oh, they'll never use this."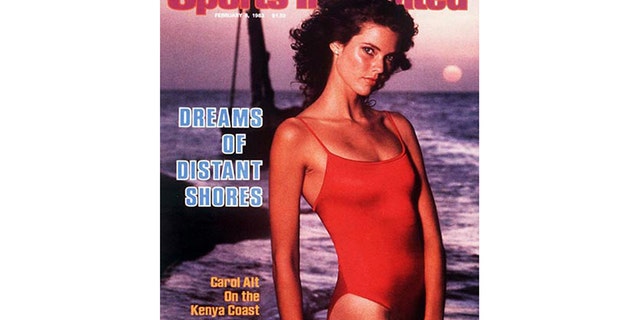 I learned that up until two days before, they had Kim Alexis on the cover laying on a stone wall. But at the last minute they changed their mind. And oddly enough, Christie Brinkley… did Life Magazine and the cover was of her in the same bathing suit. I thought, "This is awful because she looks better in it than I do!" I will always see myself as the daughter of a fireman, a geeky, overweight teenager with curly hair.
Fox News: After your success, what made you want to embark on a healthier lifestyle?
Alt: I have to say it started out as a vanity thing. I was on a shoot, I was 34-35 years old. There was a 22-year-old model. I didn't think she was particularly pretty. She was ok-looking, but oh so attractive. The whole set just gravitated towards her because she had this energy and exuberance for life. She was jumping around and having a good time.
I was kind of tired and even though I was the name of the project… she put me to shame. She really did. I just watched her in fascination. I wasn't angry or jealous of her… But I was thinking, "How did I go from that… to feeling so tired, bloated and ugly? I'm hiding behind rocks and I don't want to be here. What happened?" I started researching and I started praying because I realized there was something that was happening.
Fox News: What did you do?
Alt: I tried everything. I tried the Beverly Hills diet, but I was throwing up frozen blueberries because it was disgusting… It was horrible. I tried not eating – all not good for me… I [ultimately] called a doctor a friend of mine suggested… everything he said made so much sense that I knew it was the truth.
All those things that ailed me, I didn't think about anymore. Like heartburn, headaches, sinuses, infection – I've never been bothered by them again. It was almost an immediate relief from those issues. We're not been told all of these are related to food. We're just told, "Buy a pill." Changing my diet was all I needed to do.
Fox News: How do tackle the pressures of the fashion industry?
Alt: Everybody expects you to look perfect. It's so much pressure that women are getting their faces pulled and tucked and injected to achieve a certain anti-aging affect when most of that can be dealt with diet. And then, a little touch here and there will give you a greater effect. I'm not against that stuff at all. I'm just against over-using it. Or doing it to the point where it drastically changes how you appear.
The first thing that makes a woman look old to me is the work that she's had done on her face. It also tells me how insecure she is. That is very unattractive to me. If it was a guy doing that, signaling how insecure they're feeling? Why would I date a guy like that? What attracts me is someone who has passion and confidence. That's a calling card.
Fox News: You're now the creative marketing director for Cat Perkins.
Alt: They created an incredible base, a technology that nobody else has. That's why I got involved. I cold-called a year ago and said, "I want to help." We launched a website in December and we sold out so fast.
Once somebody gets this shoe on their foot, they order it immediately. It's luxurious and stylish, but the hidden secret is it's got a sports insole so it's like walking in sneakers…. What I want to do now is create a line of red carpet shoes for women. Who doesn't love shoes?