Can Anyone Fill the 50 Nights Michael Jackson Was to Have Packed the O2 Arena?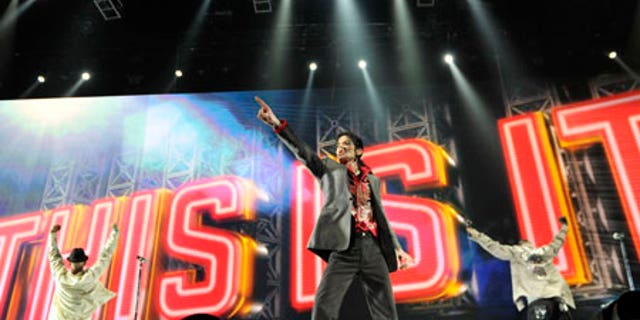 An all-star Michael Jackson tribute show?
A Jackson family concert, minus Michael?
An ABBA reunion?
The death of the King of Pop has left 50 empty nights at London's 23,000-seat O2 Arena -- and a heady mixture of business hope, hype and wishful thinking is already filling the gap. One week after his demise, however, there is still no firm plan for how to fill one of London's biggest and most important music venues.
PHOTOS: Click for shots of Michael Jackson's final live performance.
"At the moment we're just waiting for the funeral to be out of the way and we'll let people know in due course," Lucy Ellison, a spokeswoman for O2 operator AEG Europe, said Thursday. "We're thinking about Michael Jackson now. We're just a very small part in this very tragic story."
In the absence of firm facts, rumors are swirling about what will fill the dates Jackson was set to perform, starting this month, taking up most of the summer, and even stretching into 2010.
The Sun newspaper reported Thursday that AEG was talking to 1970s supergroup ABBA about reuniting to play the O2.
FULL COVERAGE: Click for FOXNews.com's full coverage of Michael Jackson.
That seems likely to remain a pop fan's dream. AEG said the Sun's story was without foundation, and songwriters Bjorn Ulvaeus and Benny Andersson have long said the Swedish foursome, who still sell millions of records a year a quarter century after they split up, will never perform together again.
But, music fans from around the world were full of other suggestions about whom they'd like to see take Jackson's place onstage.
Maria Mertzani, 37, a bank teller from Athens, Greece, suggested Whitney Houston, "because they suffer the same pain and deal with the same demons: drugs."
Chloe Ego, 22, a T-shirt sales assistant from Milan, Italy, wanted to see Elton John, because "he'd adapt Michael Jackson's songs to his kind of music."
"I'd say Marilyn Manson because he's really good on covers," said Novella Ciceri, 22, a leather goods trader, also from Milan.
The most tenacious report is of a star-studded tribute concert featuring Jackson's siblings and other music stars.
Randy Phillips, chief executive of promoter AEG Live, told Britain's Sky News on Tuesday that such a show was in the works, likely featuring members of Jackson's family and other stars and using dance routines, sets and costumes created for the singer's O2 shows.
No details have been announced, but industry experts say it would be logistically impossible for a tribute show to play more than a few nights at the venue.
"Fifty nights is absolutely out of the question," said music writer John Aizlewood. "Nobody in the Jackson family is capable of selling out the O2 for even one night, not even Janet.
"Bands who are capable of selling out the O2 have a huge turning circle -- they have to be booked well in advance."
The O2 opened as a concert venue two years ago with a performance by Bon Jovi. In a previous incarnation, the big white tent beside the River Thames was the Millennium Dome, an unloved and unlamented tourist attraction. As a concert venue, it has been a roaring success.
Prince played 21 dates there in the summer of 2007, a stint that helped inspire Jackson's marathon run of shows. In December 2007, Led Zeppelin reunited for a one-off gig at the O2, the group's first concert in more than 25 years.
Britney Spears, Bob Dylan and Bruce Springsteen have all played the arena, and Madonna is due to open the final leg of her Sticky and Sweet tour at the O2 on Saturday.
Even without the Jackson shows, the venue will be full for 170 nights in 2009, up from 150 last year.
"I think for autumn there are artists out there that AEG can find," said Chris Cooke, editor of British music-business bulletin CMU Daily. "I can't believe they won't fill those spaces from September onwards.
"But it leaves it pretty empty between now and then. For one of the country's biggest venues, that's obviously not ideal. ... It's obviously a lost opportunity to have a space that big sit empty for three months."