Brits In Tizzy Over Botched Kate Middleton, Prince William Coin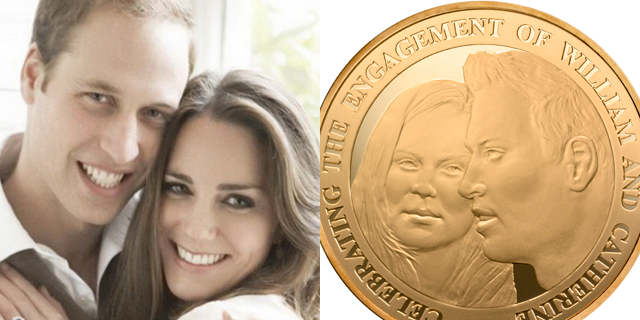 That's Kate Middleton? Are you sure its not supposed to be her mom?
Britain's Royal Mint on Thursday released a commemorative coin featuring portraits of Prince William and his bride-to-be, but critics said the results were far from lifelike.
Images of the couple on the memento bear little resemblance to either the prince or his 28-year-old betrothed. Middleton appears plump in the face and lips and has bags under her eyes, while some critics suggested William looks more like former U.S. Vice President Al Gore.
Available in silver or gold, the 5-pound ($7.70) coin -- which costs 9.99 pounds ($15.40) to buy -- marks the April 29 wedding of the second-in-line to the British throne.
"This coin is of historical importance, to get it so wrong seems ridiculous," Ingrid Seward of Majesty magazine told Britain's Sky News.
The Royal Mint said the coin was designed by its in-house engraving team and insisted the portraits had gone though "a rigorous approval process." Both the Queen and Prince William had given their consent to the design and staff had used photos of the couple to produce the images, the mint said in a statement.
"The inspiration for the design came from photographs of the couple at a sporting event," the mint said.
Dickie Arbiter, a former royal spokesman, said it is often difficult to produce accurate images on a coin.
Engravers managed a better likeness of William's father and mother, Prince Charles and Diana, the Princess of Wales, in an official coin released to mark their 1981 wedding. In 2008, the mint released another coin to commemorate Charles' 60th birthday.
"The Royal Mint has been recording historical events for over 1,100 years," said Dave Knight, of the Royal Mint.
The coin is the latest official merchandise to celebrate the royal wedding. William's office has also already approved a souvenir tankard, plate and pill box that feature the couple's entwined initials, the prince's coronet emblem and the date of the wedding.