Britney Spears Not Concerned With Child Abuse Charges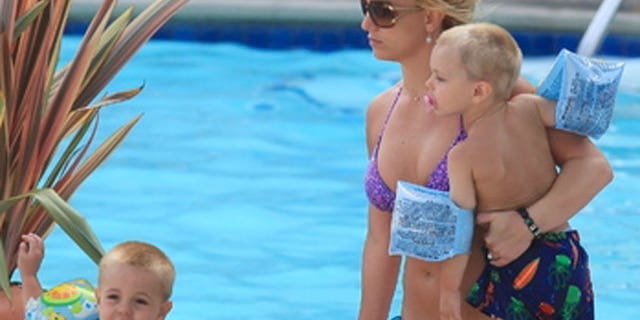 LOS ANGELES – Britney Spears is reportedly the subject of a new investigation pertaining to allegations that she abused her two sons, Sean Preston and Jayden James. However, inside sources have said that the troubled pop princess and her management are not concerned over the claims, apparently made by her former bodyguard, Fernando Flores.
According to the British paper The Sun, Flores approached investigators with the allegations that Spears beat one of her young sons with a belt, and fed them both food they were allergic to which in turn made them violently ill. He also claimed he had no choice but to resign from the job as a result of Spears' "erratic" behavior.
"(Flores' claims) are simply not true. There are always people around Britney, nannies and such, so she is never alone with the boys, and would never even have the opportunity to do something like that. She's very loving of the kids," a source close to the Spears camp told Pop Tarts, adding that the former guard was perhaps retaliating as a result of being fired from his position, and that neither Spears nor her manager, Larry Rudolph, were concerned about the allegations because they were simply "unfounded."
Another source, who previously worked with the starlet, agreed that she is the target of a bitter former employee upset by the loss of his job.
SLIDESHOW: The Lovely and Talented Britney Spears
"Britney may have been a little out of control herself sometimes, but never would harm her babies, never in a million years would she hurt them," said the insider.
Following a period of bizarre behavior and a seemingly reckless lifestyle, Spears lost custody of her sons in October 2007. She has since regained more visitation rights, wherein her boys reside both with her and their dad, Kevin Federline.
Although the Department of Children and Family Services (DCFS) were regulars at Britney's home during the time when her mental stability came under intense scrutiny, we're told that she is now "totally clean" with the department. According to a report from Radar Online, social workers made a visit to the Spears home and will not pursue any charges against her.
SLIDESHOW: Britney Spears' Highs and Lows
A rep for Kevin Federline declined to comment on the allegations, and a rep for Spears did not return our calls or e-mails.
Nonetheless, if Flores' allegations are proven by authorities to be accurate, the potential outcome for the pop princess is pretty dire.
" 'Beating' them could be classified as domestic violence under the domestic violence family code and the domestic violence prevention act. If it was found to be domestic violence, then there could be some severe problems such as restraining orders," Newport Beach-based Family Law Attorney, Paul Nelson, explained. "If the issue did not rise to that level, and was instead considered negligent parenting and physical abuse, Spears could be ordered to take parenting classes, and visitation rights could cease. The courts may make her undergo a 730 evaluation under the evidence code where you have a psychiatrist analyze and make recommendations as the court appointed expert."
Unfortunately, this isn't the first time Spears's parenting skills have become a source of speculation.
In March, the songstress was spotted arriving at her office with mother Lynne Spears, while her kids popped their heads out of the car. Last year, the sons were boating with mama Britney in Miami – sans life jackets, and back in 2007, Spears was caught behind-the-wheel with her cell phone in front of her face, taking an evening drive as her sons slept in the backseat.
In 2006, she caused quite a commotion after being pap-snapped driving with her infant son on her lap, and according to the New York Post, in 2008 Spears not only smoked in front of the then 2-year-old Sean Preston, exposing his young lungs to the danger of second-hand smoke, but allowed him to play with her lighter and packet of Marlboros.
Additional reporting by Deidre Behar.