British Reality TV Star Jade Goody Dies of Cancer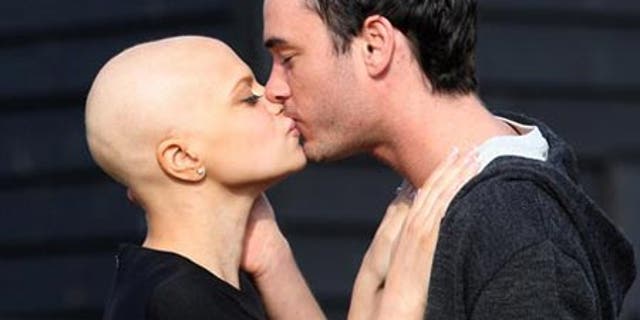 LONDON – Jade Goody, a dental assistant turned reality-TV star whose whirlwind journey from poverty to celebrity to tragedy became a national soap opera in Britain, died of cervical cancer Sunday at the age of 27.
Goody gained fame at 21 in 2002 when she joined the reality television show "Big Brother," in which contestants live together for weeks and are constantly filmed. Loud and brash, she became a highly divisive star — initially mocked as an ignorant slob, then celebrated as a forthright everywoman by a hungry tabloid press.
It was a pattern of praise and condemnation that followed Goody for the rest of her life. She became a national touchstone who sparked debate about race, class and celebrity.
During filming of a celebrity version of "Big Brother," in the summer of 2008, Goody received a diagnosis of cervical cancer by telephone from a doctor in Britain. The camera captured the deeply personal moment, which was shown repeatedly on TV.
The progress of her illness was chronicled in detail in the tabloid press and weekly magazines, to the unease of many. She underwent surgery and chemotherapy in the public eye — filming part of the experience for another television series
Bald and frail, Goody married fiancee Jack Tweed last month in an elaborate event staged at an elegant countryside hotel outside London. Good, who reportedly sold the photos for more than $1 million, defended being paid for interviews and photo shoots.
"People will say I'm doing this for money," she said. "And they're right, I am. But not to buy flash cars or big houses — it's for my sons' future if I'm not here. I don't want my kids to have the same miserable, drug-blighted, poverty-stricken childhood I did."
Goody's publicist said last month that the cancer had spread to her liver, bowel and groin.
Prime Minister Gordon Brown said Sunday that Goody used her fame to help her two young sons and many women she did not know.
"She was a courageous woman both in life and death and the whole country have admired her determination to provide a bright future for her children," Brown. "She will be remembered fondly by all who knew her and her family can be extremely proud of the work she has done to raise awareness of cervical cancer."
Though many praised Goody in recent months for the way in which she handled her illness, she was mocked in the press during her stint on "Big Brother" for her weight, her big mouth and her apparent lack of general knowledge. She branded the English region of East Anglia "East Angular," and asked whether it was abroad.
She didn't win the show, but she earned millions through television and magazine appearances, an autobiography, a perfume and a series of exercise videos.
Goody was labeled a racist bully for her treatment of another contestant, Bollywood actress Shilpa Shetty, while filming "Celebrity Big Brother." Goody bad-mouthed Shetty's cooking of Indian food, mocked her accent and referred to her as "Shilpa Poppadom." While complaints against the show skyrocketed, so did ratings.
Goody's treatment of Shetty sparked anger in India and Britain — even becoming the topic of debate during a House of Commons question-and-answer session with then Prime Minister Tony Blair. A major sponsor suspended its advertising deal with "Celebrity Big Brother," and a chain of perfume shops pulled a Goody-endorsed fragrance, ironically named "Shh..."
After television viewers voted to evict Goody from the show, Goody — herself of mixed race — insisted she wasn't a racist. "I argue like that with everybody. It wasn't just because of the color of her skin that I was that aggressive," she said during an interview on Britain's GMTV.
After the eviction, the Indian Tourism Office invited Goody to travel to the country. She did, visiting charity projects and later agreeing to appear on an Indian version of the show.
"The people of India have only seen a small part of me and I'd like to show them that there is more to me," Goody said. "I'm a mother of two, a businesswoman. I can't be all that bad."
Goody had an unhappy childhood in a poor south London neighborhood. Her father was a heroin addict who served jail time for robbery and died in 2005, her mother a former crack addict who lost the use of an arm in a motorcycle accident.
She worked as a dental nurse before her rise to fame.
Goody is survived by Tweed and her two sons Bobby and Freddie, with an ex-boyfriend, television presenter Jeff Brazier. She also is survived by her mother, Jackiey Budden.
Budden told reporters Sunday: "Family and friends would like privacy at last."
Click here for more on this story from Sky News.