Bribes Alleged in 'Girls Gone Wild' Founder's Jail Stint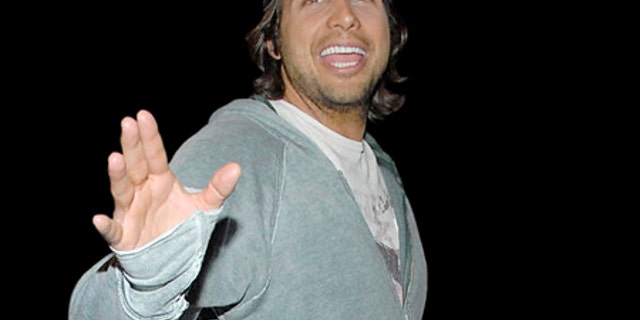 RENO, Nev. – Prosecutors say a Hollywood executive bribed sheriff's officials and a jail worker with money and gifts that included a Cartier watch and Oakland Raiders tickets in exchange for preferential treatment for "Girls Gone Wild" founder Joe Francis while he was locked up last year.
Aaron Weinstein, a Hollywood video and marketing executive who is listed as an executive producer on some of Francis' projects, was charged with three bribery counts in a grand jury indictment made public in Reno on Friday.
He is accused of bribing two former Washoe County sheriff's officials and a jail worker with more than $12,000 and gifts — including Oakland Raiders tickets — in exchange for the favorable treatment of Francis while at the jail in 2007.
Weinstein, 45, of Woodland Hills, California, was arrested in Los Angeles on Friday.
The sheriff's officials and jail worker also are facing charges for allegedly accepting the bribes.
The U.S. attorney's office referred to Francis in a statement announcing the indictment only as a "federal pretrial detainee who was an associate of Weinstein." But a federal law enforcement official, who was speaking on condition of anonymity because he was not authorized to make it public, confirmed for The Associated Press that it was Francis.
David Houston, a Reno lawyer representing Francis in a pending tax evasion case in California, denied that any bribes were made.
The indictment charges former Washoe County sheriff's Sgt. Michon Mills with two counts of accepting a bribe. He was arrested in Reno on Friday.
The same charges were filed under seal last month against former sheriff's deputy Ralph Hawkins, 41, who now lives in North Fort, Florida, and former inmate classification specialist Mary Boxx, 54, of Sparks, authorities said on Friday.
The indictment alleges Weinstein provided Hawkins with multiple gifts, including $3,200 in cash and four tickets to an Oakland Raiders football game in exchange for bringing food into the jail.
It accuses him of providing Boxx with a television, a home entertainment system, and an airline ticket in return for Boxx bringing unauthorized items into the jail.
The indictment also accuses him of providing Mills with a Cartier watch valued at approximately $4,500 and a $5,000 Saks Fifth Avenue department store gift card. It said that in return, Mills helped provide special benefits for the inmate — Francis — including protecting him and making sure he had "almost unrestrained access to telephones."
Hawkins pleaded guilty July 17 and is scheduled to be sentenced Oct. 21. Boxx is scheduled for a court appearance Aug. 24.
The charges against all four in the case carry a maximum penalty of up to two years in prison and a $250,000 fine for each count.
Francis began his video empire and drew the legal wrath of authorities in Panama City, Florida, when he filmed underage girls baring their breasts and in other sexually provocative poses during spring break in 2003.
The FBI led the bribery investigation that began at the end of 2007 while Francis was jailed in Reno awaiting trial on federal tax evasion charges, a case that since has been moved and is pending in federal court in Los Angeles.
Greg Brower, the U.S. attorney for Nevada, said Washoe County Sheriff Mike Haley was instrumental in assisting the FBI.