Bradley Cooper gushes about Lady Gaga, says he 'fell in love' with her 'face and eyes' on film set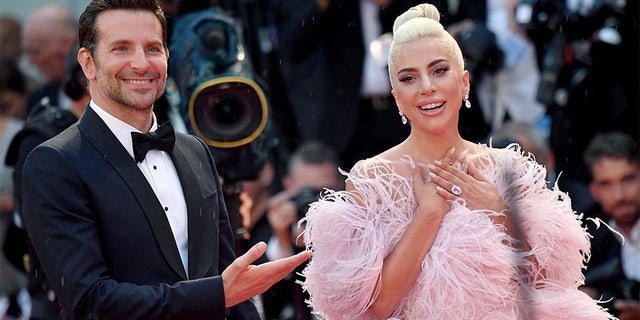 Bradley Cooper and Lady Gaga took their on-screen love in the new film "A Star Is Born" to the Venice Film Festival red carpet, where the first-time director admitted that while filming with the singer he "fell in love with her face and eyes."
Cooper opened up about his bond with the Grammy Award-winning singer to Variety and said, "I remember when we first met, after 10 minutes we were eating homemade food that she cooked – I love to eat – and that was actually a huge bond that we both came from East Coast Italian-American families. So we had a real synchronicity on that level from our upbringing."
Gaga also revealed that during their first day of shooting, she had a difficult time trying to tap into the introverted character of Ally in the film and said that Cooper helped her access her vulnerable side by wiping off her makeup.
"When I started out, I was not the most beautiful girl in the room," the singer recalled her early days in the industry and the similarities between her and her film character. "[Producers] wanted to take my songs and give [them] to other singers but … I held on to them. They made suggestions about how I should look. I didn't want to be viewed like other women, be sexy like other women. I wanted to have my own vision."
Gaga continued, "It's a story about love and about what Bradley refers to as the human plight of addiction. It was a remarkable experience for me."
And while Cooper and the "American Horror Story" actress may share an unbreakable bond with one another, both are very much involved in their own separate romantic relationships.
Gaga recently announced her engagement to talent agent Christian Carino while Cooper just welcomed his first daughter with his supermodel girlfriend, Irina Shayk.
"They are very much in love," a source told Us Weekly, referring to Gaga and Carino. "They haven't set a wedding date yet. Christian isn't in a rush, and Gaga is finishing her next album. Christian has children from his previous marriage, and he wants to make sure they're comfortable with anything that happens."