Brad Paisley and LL Cool J's 'Accidental Racist' ignites controversy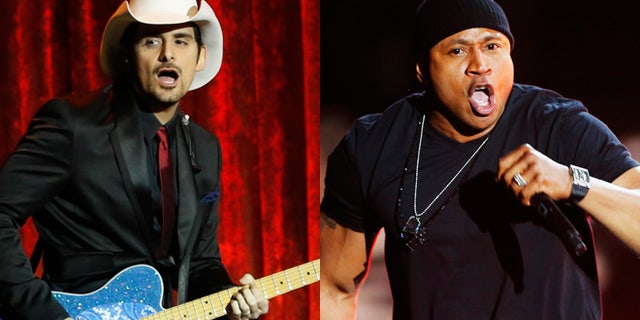 LOS ANGELES – Just hours after Brad Paisley and LL Cool J's new song "Accidental Racist" hit the web on Monday, it was greeted by a barrage of backlash.
The song opens with the country crooner walking into a Starbucks donning a confederate flag t-shirt, hoping others understand that he only did it because he's "a Skynyrd fan."
"I'm proud of where I've come from, but not everything we've done. It ain't like you and me can re-write history," Paisley sings. "Our generation didn't start this nation, and we're still picking up the pieces, walking on eggshells, fighting over yesterday. Caught between southern pride and southern blame… Cause I'm a white man, living in the South land."
Rapper LL Cool J then chimes in, which comes across as something of a public apology or conversation on racism within America.
"Dear Mr. White Man, I wish you understood what the world is really like when you're living in the hood. Just because my pants are sagging doesn't mean I'm up to no good. You should try to get to know me; I really wish you would… If you don't judge my do-rag, I won't judge your red flag."
Other lyrics include Paisley's singing "I try to put myself in your shoes and that's a good place to begin," while the rapper adds lines like "Now my chains are gold but I'm still misunderstood," "I want you to get paid but be a slave I never could," and "I'd love to buy you a beer, conversate and clear the air but I see that red flag and I think you wish I wasn't here."
And though the song has gotten plenty of attention, Paisley insists it's about more than that.
"I think that [the song] comes from an honest place in both cases, and that's why it's on there and why I'm so proud of it. This isn't a stunt. This isn't something that I just came up with just to be sort of shocking or anything like that. I knew it would be, but I'm sort of doing it in spite of that, really," the prominent country music artist told Enterainment Weekly. "I'm with my audience 100 percent in the Southern pride thing, in the same way that a Yankees fan is very proud of where he's from — that's LL. We've got pictures of him in a New York Yankees cap doing his vocal, which is so appropriate. But, you know, it's such a complicated issue — I'm reading up on it now, [since] I felt I needed to be well-armed for any discussion – and here he is in a Yankees cap, and you think to yourself, 'Well here is the antithesis of what was the problem.' It's not."
Paisley went on to say that "New York City was all for slavery."
"They actually voted 60 percent against — or maybe 70 against — Abraham Lincoln because they didn't like the idea of slavery going away because there goes cotton, and there goes the tobacco trade, you know what I mean? It's very hypocritical to feel like it's just the South's fault," he continued.
Yet the song's attempt to address racism isn't sitting well with many music pros.
"A lot of the knee-jerk offense at this track is just because they acknowledge some rather uncomfortable realities, but it doesn't feel ill-intended," music composer and founder of Beta Fish Music, Jed Smith told FOX411's Pop Tarts column. "It feels like so many other songs that deal with complex issues with simple, literal, guileless language: cheesy. There is no art to the songwriting, no metaphor, no depth, and so it comes across as a superficial assessment of certain aspects of race relations, with an ostensibly positive message about moving on together that just isn't very cleverly presented."
Fellow country music recording artist, Beau Davidson, concurred.
"In spite of good intentions, the song doesn't accomplish artistically or musically what it attempts to spiritually," he said. "I don't know if we should expect the next Lil Wayne album to feature Alan Jackson, but this is a slippery slope. I don't think is going to impress either Brad's country fans or LL's rap fans. And it's just as unlikely to make either artist's fans start buying each other's. The feelings, although palpable, come across a little forced."
Twitter fans too have been quick to give the collaboration a collective thumbs down.
"I'm pretty sure Brad Paisley just set the south back three months," tweeted one, another wrote that "it'd be terrible and insulting if it were just Paisley but then LL shows up & it suddenly becomes an episode of the British Office" while others referred to it with such descriptions as a "monstrosity," "mess" and quite simply "bad."
Others were more cynical.
"Shout out to Brad Paisley and LL Cool J for solving racism in America," tweeted another.
And YouTube listeners were no more enthusiastic.
"I am sick of the stereotype that I hate blacks just because I have an accent," commented one, while another likened it to the remake of Michael Jackson's "We Are the World" a few years ago.
"Remember when they tried remaking it with Lil Wayne & everyone? Remember how cartoon-ish it felt? It's like that," the listener continued.
One pop culture/media critic even suggested it may be something of a publicity stunt to get mass attention.
"The song is more simplistic and desperate than offensive. Both artists are cleverly making an attempt to appeal to middle America while causing a buzz around their new song by touching on a subject they both knew would be controversial," Jenn Hoffman told us. "This seems more like a publicity stunt than a heartfelt attempt at bridging the gap between races. It's their job to sell records not solve social issues through basic pop music."
And while "Accidental Racist" has attracted plenty of condemnation, at the same time at least a few fans have expressed appreciation and admiration for tackling a tough subject matter.
"This song is about trying to forgive and move forward and not let less be in an issue in every political debate we have," argued one fan on social media, while others suggested that the controversy may have a lot to do with many American's unease at being confronted with the subject matter.
"They're just trying to heal racial tension in a song," added one observer. "Why y'all so judgmental?"
Reps for Paisley and LL Cool J did not respond to a request for comment.