Boston Herald publishes fake Tom Brady story after being duped by prankster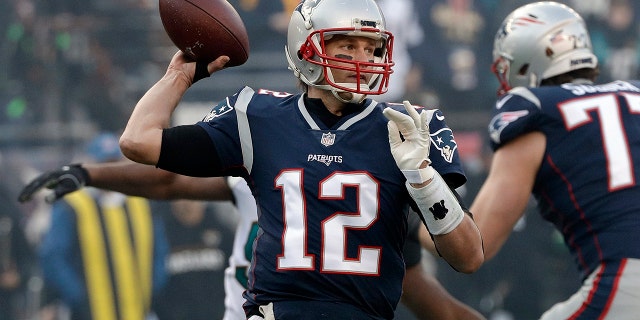 A Boston Herald sports columnist fell for a Tom Brady head fake late Thursday, but this time the future Hall of Famer had nothing to do with it.
Ron Borges thought he had a major scoop when he heard the quarterback was so miffed that his former understudy had become the highest-paid player in NFL history that he was threatening to sideline himself if the Patriots didn't give him a matching deal.
It was true enough that Jimmy Garoppolo, who the Patriots traded to San Francisco midway through last season, signed a blockbuster, $137.5 million contract. But any idea that Brady was so peeved he threatened to sit out offseason training was fake news.
According Boston sports radio WEEI stars "Kirk & Callahan," a listener known as "Nick in Boston" duped Borges by pretending he was Brady's agent Don Yee.
"Nick in Boston" reportedly texted the Boston Herald columnist "Hello Ron, this is Don Yee… Brady is prepared to sit out all offseason team activity unless he gets a new deal with up-front money similar to what Jimmy got."
Borges fired back, "Sounds like I need to write a column today."
He did.
Citing unnamed "sources close to" Brady, Borges reported the quarterback was prepared to sit out unless and until the Pats ponied up. The now-deleted story was immediately questioned by several local reporters and it now
The verified Twitter account of "Kirk & Callahan" tweeted screen grabs of the alleged conversation and the shock jocks mocked Borges on their radio show on Friday morning. The WEEI hosts said on air that the prankster has been "working" Borges, pretending to be Brady's agent since Jan. 20 and only had the Herald columnist's phone number because he put it on Twitter.
The story was removed from the Herald website and links to the bogus article now direct readers to the paper's homepage.
According to the screen grab, the fake Yee referenced in the text exchange that ESPN's star NFL reporter Adam Schefter would "probably have it by next week" before Borges asked, "Do I have it right now?"
The prankster responded, "You have it now."
Borges then told the prankster that he would immediately write something on the scoop.
The paper has issued the following statement: "A column by Ron Borges in today's Herald regarding Patriot Tom Brady's salary discussions was based on information which proved to be false. The Herald apologizes to Brady, his agent Don Yee and the Patriots, and to our readers for this erroneous report. Borges' column has been suspended pending further review."
Brady has been applauded throughout his career for signing contracts below his market value so that the franchise can afford to surround him with top talent. Garoppolo was believed to be Brady's eventual successor, but he was traded to the San Francisco 49ers last season amid reports that Brady didn't plan on retiring any time soon.
Garoppolo was an instant success with the 49ers and was rewarded on Thursday with a five-year contract reportedly worth $137.5 million -- the largest in NFL history on an average-per-year basis.
Brady has two years and $41 million remaining on his contract, according to NESN.
"That was all it took for Borges to run with the story. A text from a sports talk listener claiming to be somebody. No follow up. No confirming he was who he said he was. If you call to order a pizza, they'll make note of your number in case you're just pranking them into making a pizza they can't sell," Barstool Sports' Jerry Thornton wrote. "Welcome to the state of capital-J Journalism in 2018."
NFL reporter Dov Kleiman tweeted that Borges "got faked out so easily and now the reputation of Tom Brady, who never cared about being the top paid QB over an 18-year career, suffers the consequences because some people will think the story is true no matter what."