Blood and broken bottles everywhere after Chris Brown/Drake club melee over Rihanna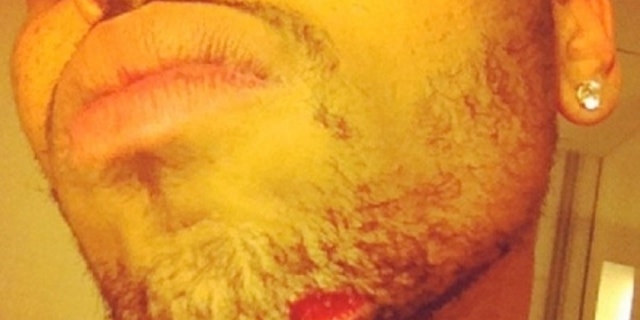 Hotheaded hip-hop stars Drake and Chris Brown turned a SoHo nightclub into a blood-soaked battlefield yesterday as they — and their entourages — fought with fists and bottles over the affections of Rihanna, sources and witnesses said.
"I am f**king the love of your life," read a note sent from Drake's table to Brown at about 4 a.m. after Brown ordered his rival's table a bottle of pricey Armand de Brignac Champagne — commonly known as Ace of Spades, a witness said.
"I saw him tell the waitress to send a bottle to Drake's table. I then saw a waitress come back with a piece of paper and gave it to Chris," Ingrid Gutierrez, 21, a model who was sitting at Brown's table, told The Post.
"He looked upset and just threw it on the floor."
Go to The Post for photos of the carnage.
Drake and a posse that included rapper Meek Mill and all their bodyguards then walked over to the table where a shirtless Brown was seated.
"They were giving him [Brown] the middle finger. They got into each other's faces and were shouting at each other," Gutierrez said.
"Chris told Drake to f--k off, and the next thing I could hear is the sound smashed glass and mayhem started.
"Somebody in Drake's group — I don't think it was Drake — swung at Chris, but missed.
"Chris didn't swing back, he just tried to brush them off. He told us, 'Let's go,' but there were bottles flying at us. I saw one bottle was thrown, it looked like a vodka bottle, and hit Chris on the face," she said.
"The anger from Drake's entourage was terrifying."
The bloodshed touched off a full-scale brawl in the basement club — where at least five bystanders were injured by flying bottles .
W.i.P., connected to the much-larger Greenhouse club, was jammed at the time with a slew of celebrities — including Mary J. Blige, Trey Songz, Wale, Ne-Yo and NBA star Tony Parker — and their hangers-on.
Brown, 23 — on probation for assaulting Rihanna three years ago — suffered a deep gash on his face.
"There was blood gushing out of Chris' chin," Gutierrez said.

W.i.P.'s floor was left a wasteland of broken glass, spilled booze and blood after the capacity crowd emptied out onto Van Dam and Varick streets.
NYPD detectives yesterday took copies of surveillance video that captured the brawl. There were at least two police reports filed as cops investigated.
Brown's rep, Raymond, said, "Chris, Karreuche and his friends were victims of a brutal attack last night at W.i.P. They sustained several injuries. Chris and his party are cooperating with New York authorities, who are pursuing the incident further."
Go to The Post for photos of the carnage.