'Blair Witch' Star Heather Donahue Chronicles Second Career - Growing Pot - in New Book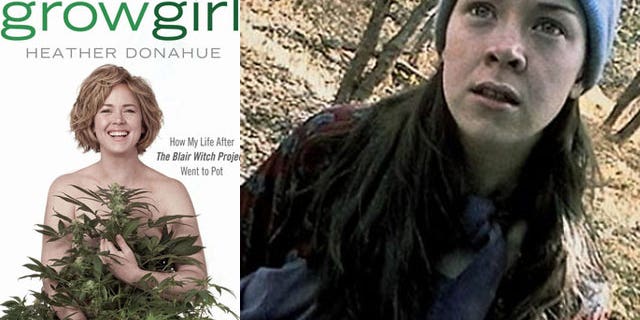 NEWYou can now listen to Fox News articles!
Seven years after the low budget horror film "The Blair Witch Project" became a global phenomenon, the movie's star, Heather Donahue, decided she had enough of acting and the Hollywood hamster wheel.
Her near-decade spent in a "Blair Witch" haze led her through a myriad of sci-fi and horror film casting that left her disillusioned with the way the movie industry works.
"I was doing a movie called 'The Morgue' and laying on the asphalt with rubber tubing across my face and I had the epiphany I did not want to be an actress anymore," Donahue told Fox411.com. "I wasn't getting to do projects I was proud of."
So she took all her head shots and sexy Hollywood clothes into the desert and burned them in a bonfire. Then she began a second career — growing pot.
Donahue's life as a pot grower in Northern California is chronicled in her new book "GrowGirl: How My Life After 'The Blair Witch Project' Went to Pot," which hits shelves Jan. 5. It tells her tale of moving to a small town, living on a commune and growing medicinal marijuana. And as the end of her relationship with Hollywood did, her relationship with marijuana began with mixed emotions.
"I dated a stoner for 10 years and I had a pretty ambivalent relationship to pot because of that. But then I realized that it wasn't the plant that wasn't working, it was him," said Donahue, who had previously only used marijuana to relieve menstrual cramps. "Once I got into it I became so impressed with growing these plants. They're amazingly strong plants."
Her family from suburban Pennsylvania took longer to fall in love with the idea of their daughter growing marijuana.
"They were not very excited about it at first," Donahue said. "I think for the safety reasons more than anything else. Plus they raised us with the classic American ethic of working hard, dreaming big and being successful, but that changed when my dad lost his job and they started to realize that for my generation, being American was very different, and we were going to have to find a different way."
Donahue describes her life in the backwoods of California as idyllic and slow-paced. Absolutely nothing like the drama imagined on the Showtime show "Weeds," which follows a pot-growing and dealing family.
"My life was so much simpler than the show 'Weeds'. It was much more wholesome country living. But I think that is difficult for some people to grasp," Donahue said. "But it was really just growing a plant. It isn't that much different from growing radishes or kale. I definitely didn't have that level of drama in my life."
Still, most marijuana growers are men, which presented its own challenges.
"I had to figure out how to negotiate as a woman in a man's world," Donahue says.
So now that she has written a book and is back in the public eye, will Donahue return to the rat race she left behind?
"Absolutely not," Donahue said. "Being an actress was hard enough in my twenties. I am 38 years old now and wild horses couldn't drag me back there. I keep thinking it might be nice to write for television. Don't those people get paid really well?"