Bing Crosby's son Nathaniel: Dad never said 'I love you'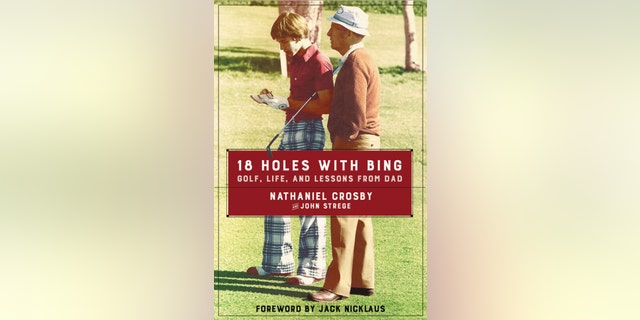 Bing Crosby's youngest son Nathaniel has penned a book about his famous dad. Called "18 Holes with Bing: Golf, Life and Lessons From Dad," it's an affectionate portrait of his legendary father through the prism of golf, a sport that both of them adored. Crosby, 54, spoke to FOX411 about his crooner dad and the lessons he imparted.
FOX411: Your dad really was a golf nut.
Nathaniel Crosby: We like to say in the family, he was a golfer that sang for a living. He would find a way to play 18 holes of golf about 360 days a year despite his hectic schedule and that included when he was on movie sets. He'd be on the golf course at six in the morning and be on the set at nine.
FOX411: He did do a lot to popularize golf.
Crosby: Golf was kind of reserved for the Carnegie-Mellons and the Vanderbilts. He got addicted to it, caddying while growing up and when he became a hit in Hollywood with his music and then his acting, he popularized golf with the movie star icons of the day. Whether it be Cary Grant or Laurel and Hardy or Jimmy Durante. It all became a fashion which made golf go mainstream. And then later in the 1950s when television became popular, the Bing Crosby Pebble Beach Pro Am had higher TV ratings than the major golf championships. All because of the combination of putting dad's movie star friends and golf professional friends in a single format.
FOX411: What type of father was he?
Crosby: Dad gave me and my brother and sister an incredible amount of one-on-one time. He used golf as a vehicle for my brother and I. He used sports as a vehicle with me. We had season tickets, just the two of us, for the San Francisco 49ers. He was a 25% owner of the Pittsburgh Pirates so we went to eight games a year when the Pirates were in San Francisco.
He took my brother duck hunting on the Sacramento Delta fifteen times a year. He took my sister on African safaris and was involved in her music lessons so he found a way to spend recreational time with all of us. We loved being with him. He was never confrontational as a parent with me. If we didn't do the right thing he would go quiet or sulk and boy did you feel bad as a kid. That was worse than any time out chair or any corporal punishment that might occur in other families. Very interesting father to dedicate that much time to his children. Collectively and one-on-one.
FOX411: Your dad wasn't one to lavish praise on you.
Crosby: He didn't like to lavish praise. He didn't verbally say, "I love you" to any of his kids. But with me he would come up and squeeze my shoulders and tell me how my shoulder muscles were getting stronger. You just knew he loved you in so many different ways with so many different gestures. It was very important to him that we weren't egomaniacs or narcissists, that we knew how to earn our own way and earn our own self-esteem.
FOX411: You briefly write about your half-brother Gary Crosby's book about your dad.
Crosby: Well the four half brothers have been deceased for quite a while. I don't want to be rebutting a book that my half-brother wrote 35 years ago but the book that Gary Crosby wrote about my dad gave a little controversy to an otherwise legendary figure who had no negative publicity in a 50 year entertainment career.
If one were to read my half-brother's book it was more of a self-critique, a lot about his alcoholism. The focus of the controversy about dad was on corporal punishment which every single parent from every single upstanding family from the 1930s all through the 1970s. It wasn't until the 1980s that corporal punishment started to get restricted or reduced. To this day it's still emphasized in the Catholic church as a reasonable way of raising children. In that time when those boys were growing up, corporal punishment was in the mainstream.
Gary was there when dad was sick. We got more time with Gary. And when Gary wrote the book in 1981 or 82 it was only two or three years after Joan Crawford's daughter wrote "Mommie Dearest," so let's say it became a successful business model to knock your parent in a book and you could get an audience. I chalk it up to that.
Dad was an incredible parent. It really burned a bridge in Gary's relationship with the other three boys after that book was written. They were crushed that Gary wrote that book.
FOX411: You're still very involved in golf.
Crosby: I played professional golf after my amateur golf successes. I only played three years on the European tour. I retired at the age of 26.