Bill Nye assures fans his presence at the State of the Union address is not an endorsement of the Trump administration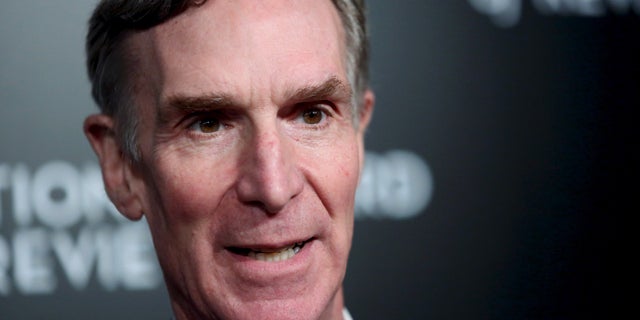 NEWYou can now listen to Fox News articles!
On Monday, Bill Nye "The Science Guy" was announced as one of the guests that will attend Donald Trump's highly anticipated State of the Union address. Nye, an outspoken critic of both climate-change deniers and the president, took to Twitter to explain to fans why he's showing up alongside a republican congressman.
Nye will attend the event as a guest of Rep. Jim Bridenstine of Oklahoma, Trump's nominee for NASA administrator. While once a denier of human-being's role in climate change, Bridenstine has recently reversed his position on the matter noting that he won't let politics interfere with his role in the scientific organization.
Nye has previously spoken out against climate-change deniers and this presidential administration. However, he'll attend the event, as he explains, as part of his role as CEO of The Planetary Society.
"Tomorrow night I will attend the State of the Union as a guest of Congressman Jim Bridenstine - nominee for NASA Administrator - who extended me an invitation in my role as CEO of The Planetary Society," he wrote in a Twitter thread Monday. "The Society is the world's largest and most influential non-governmental nonpartisan space organization, co-founded by Carl Sagan. While the Congressman and I disagree on a great many issues - we share a deep respect for NASA and its achievements… and a strong interest in the future of space exploration."
The star went on to reassure his fans that his presence at the event does not mean he's making a shift in his political philosophies.
"My attendance tomorrow should not be interpreted as an endorsement of this administration, or of Congressman Bridenstein's nomination, or seen as an acceptance of the recent attacks on science and the scientific community. The U.S. Space Program has long been a source of American technical achievement, a symbol of our innovative spirit, and a source of national pride. There are extraordinary opportunities for our country, and for all humanity, in the continued exploration of space."
Nye capped off his explanation with a message of hope for Americans that only outer space can provide.
"Historically, the Space Program has brought Americans together, and during his address, I hope to hear the President's plans to continue exploring the space frontier."