Bill Maher's mockery of 'My Parents Open Carry' book spurs sales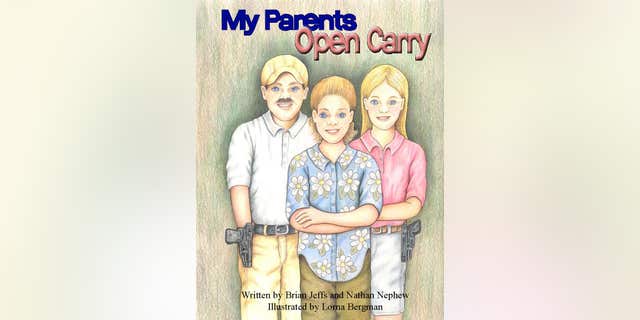 LOS ANGELES – Thanks to some on-air mocking by Bill Maher and Stephen Colbert, a children's book promoting the right to bear arms is experiencing a massive boost in sales.
"My Parents Open Carry," an illustrated book about a family "standing up for the second amendment" and seeking to "bring gun ownership out of the closet and into the mainstream," was released just over two years ago with little fanfare -- and few sales. However, since Maher made fun of it on his HBO program on August 1, sales have since soared.
"The book came out as limited product in 2012, and it was only in February this year we put it on Amazon. Sales were very, very slow – we sold about one book per month," Skip Coryell, founder of the book's publisher White Feather Press, told FOX411. "But over the six-day period since Bill [Maher] talked about it on his show, we have sold over 2,000 copies, and it's still selling very well. I have to say, I now love Bill Maher."
Although no official sales figures have yet been made available by Amazon or Nielsen BookScan, Coryell said that before Maher's mocking, the book had just three pages of reviews on Amazon, but in the last few days that has jumped to 33.
The sudden surge in attention has even sparked a sequel.
"The authors are now preparing to write a second follow-up book, which I will promptly publish," Coryell enthused.
The book was written by Brian Jeffs and Nathan Nephew, co-founders of Michigan Open Carry, Inc., a nonprofit organization which educates Americans on the legalities of the open carry practice. The issue has also been a hot topic among state legislators in recent times.
In April, Georgia passed a law allowing gun owners to openly carry in public places like churches and schools.
"We will have to send Bill and Stephen thank you cards," Jeffs said. "Their remarks have… brought our book to the attention of the international media."
During the August 1 "New Rules" segment on his program, Maher referred to the book cover and asked: "If mom and dad are both safe because they're packing, why are they using their daughter as a human shield?"
Stephen Colbert also followed suit, bashing the book last Tuesday on his Comedy Central show. He told the audience about the heartwarming story of a teen whose parents tell her bedtime stories about how "the world is filled with maniacs who want to hurt you, and the police can't help you."
Reps for Maher and Colbert did not respond to FOX411's requests for comment.
However, gun industry experts are hardly surprised that the typically TV personalities have – somewhat ironically – helped to sell a pro-gun book.
"Very few folks knew this book existed, so millions found out about it through Colbert and Maher," said conservative columnist and founder of Clash Daily, Doug Giles.
The book has also received plenty of backlash with many calling on Amazon to "get on the right side and pull this piece of trash" from its purchasing lineup.
"While we strongly support providing children with information that will protect them from gun violence, this book crosses the lines from information into the realm of indoctrination. We welcome material that makes children safer from gun violence, but this book isn't it," Parents Against Gun Violence said in a statement last week.
Jeffs noted that he has received some death threats from strangers which he is taking very seriously, and Coryell concurred that he too has received a small amount of "hate mail" since the book attracted global attention.
"I just read those emails and smile," he added. "And then laugh all the way to the bank."