Bill Cosby's wife Camille subject of compassion, anger regarding husband's sex abuse scandal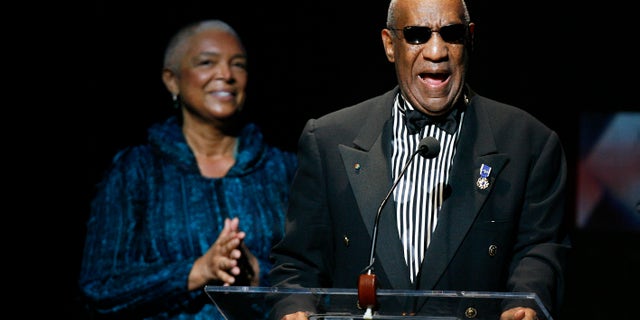 NEWYou can now listen to Fox News articles!
Bill Cosby's wife Dr. Camille Olivia Hanks Cosby has had to endure her share of hardships and tragedies. In January of 1997, her son Ennis was murdered, and in July of that same year— as she was trying to cope with losing a child— it became public that her comedian husband had an affair in the '70s and possibly fathered a child with another woman. The famous funnyman admitted the affair but denied fathering the child.
Now, Camille Cosby is dealing with an even bigger scandal concerning her husband. Nine women have accused Bill Cosby of sexually assaulting them, and so far, she has loyally stood beside her husband of 50 years, even as the media and court of public opinion have turned against him, and his image as a wholesome family man has largely faded away.
"I just don't like dishonesty," Camille Cosby once told Oprah Winfrey in an interview in 2000. "I don't like a lack of integrity. I think integrity should permeate every aspect of your life. And if you don't have it, I'm going to feel it, and that's the end of it."
The word integrity has come up regarding Bill Cosby a lot over the past few days.
On Wednesday, the Associated Press released a clip from an interview a reporter conducted with the Cosbys on Nov. 6. During the sit-down, Bill Cosby was questioned about the sexual abuse allegations and he refused to comment. Later, once the interview had concluded, but while cameras still rolled, the "Fat Albert" star brought up the question of integrity with the reporter and asked that the rape questions be cut from any coverage.
During the interview, Camille Cosby sat next to her husband, and she thanked the interviewer after their chat with a smile on her face.
"Can I get something from you? That none of that will be shown?" Bill Cosby asked the interviewer regarding the sexual abuse allegations questions.
Camille Cosby awkwardly smiled during his request. She nodded and grinned as her husband lectured the reporter about his own integrity and that of the AP. She then smartly removed her microphone as the interview ended and remained silent.
Thoughts about Camille Cosby on the Twitterverse have been mixed. Some users have referred to her as another victim of her husband's alleged awful behavior. Others have expressed outrage at her for seemingly staying silent as a scandal unfolds around her.
Winfrey, who has been referred to as the most powerful woman in the world, called Camille Cosby her Sheba in the May/June 2000 issue of O.
At the time of that article, Camille Cosby said her honesty was one of her best qualities.
"When I look in the mirror, I know I'm looking at an honest person. I know I'm looking at myself, and I'm not looking at someone else I project to the world. What you see here is what you see everywhere I go...."
She added that she does not let dishonest people into her home.
"I'm beginning to look at people's auras or lack of. My antennas go way up. I'm very selective about who comes into our home now."
Camille Cosby has not commented on the allegations against her husband. Bill Cosby has never been charged in relation to any of the sexual abuse allegations, and has also refused to comment on them. His lawyers have denied the allegations and called the women making them liars and opportunists, and the resulting media scrutiny a "feeding frenzy."