Batkid picks up some celeb fans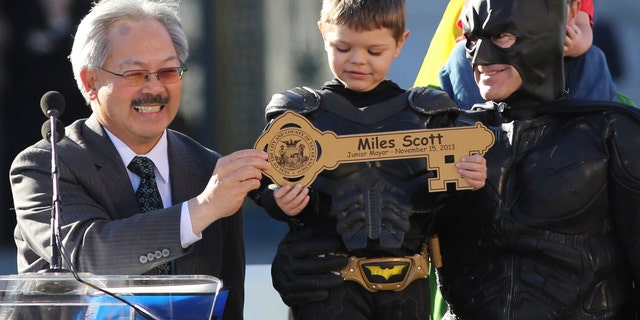 Batkid has won the hearts of millions including a few who have played the Caped Crusader on the big screen.
The pint sized super hero, Miles Scott, a 5-year-old in remission after being diagnosed with leukemia at 18 months had his dream come true when the Make-A-Wish Foundation transformed San Francisco into Gotham City for a day.
A former Dark Knight, Christian Bale, told New York Magazine that he thought it was "fantastic." The British actor heard about Miles while flying into Los Angeles for a press junket and said, "I saw this headline and thought, 'What's that?' I looked on the news and I saw all the pictures of him running around and saving people. It's so touching."
"This little kid - what a wonderful day for the little fella!" he marveled. "It's just fantastic seeing all those people who were out there to support it."
Bale wasn't the only Batman impressed by Miles. Others cheered on the littlest super hero. Ben Affleck who has just been signed to play the World's Greatest Detective in the Man of Steel sequel tweeted that Batkid is "the best Batman ever."
Adam West who portrayed the Masked super hero on the small screen also tweeted his admiration, "What a wonderful thing. Relieved that Gotham is safe again thanks to Miles."
And Michael Keaton who played Batman in 1989 told TMZ that, "it was the cutest thing in the world."
To read more about it go to
http://www.vulture.com/2013/11/christian-bale-on-batkid-its-so-touching.html