Backstreet Boys: Lou Pearlman's death leaves unanswered questions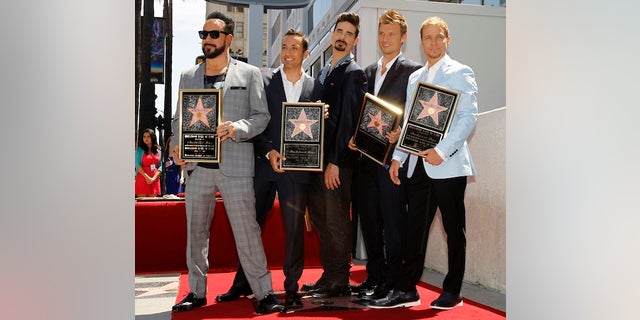 NEWYou can now listen to Fox News articles!
Backstreet's back.
The boy band is back in the studio. Nick Carter, Kevin Richardson and A.J. McLean spoke with FOX411 about their success, and they reflected on the recent death of former manager Lou Pearlman. Pearlman died on August 19th in prison. The 62-year-old was serving a 25-year-sentence for a ponzi scheme.
"Obviously on one side we are extremely grateful," McLean told FOX411. "We would not have had any of the opportunities at the beginning of our career if it had not been for Lou."
The band sued Pearlman back in 1998 to get out of their contract and then again in 2005 claiming the manager misused their money.

"Sadly, things turned out the way they did and it was unfortunate circumstance, but I think there is still a little bit of confliction with certain members," McLean said. "I think if we ever had an opportunity given to us before his passing, I think we probably would have asked 'why?' but sadly that won't ever happen."
The boys are currently recording their 10th album, and Richardson said they are in the early stages.
"We are experimenting. We are feeling it out. We are just getting cooking in the kitchen. We are excited!"
Carter said the band has become "very good friends" with Florida Georgia Line after collaborating on a song for the country band's album as well. McLean added that ever since Richardson rejoined the Backstreet Boys after taking a short hiatus in 2006, the band has been running smoothly.
"I truly felt the five of us had a chance to really be hands on and yay or nay anything about the record along with our management as well and really allow ourselves the freedom to be as creative as possible and that just opened the floodgates to now and where we are today."
And as McLean and his wife Michelle get ready to welcome their second baby, Carter revealed that having his son has made him more stable.
"I love it. He's just starting to giggle now. It's just amazing to see a human being, a life, and see him grow every single day. I think it's definitely made me I think more stable and more committed to being the best father and Backstreet Boy and best example that I can be."
The band is currently partnering with Chex Mix as they created Snackstreet — a fictional band.
Richardson explained, "Just like our fans growing up with us had their favorite Backstreet Boy, I think everyone kind of has their favorite Chex piece."