AT&T silent after Trump calls for telecom giant to fire CNN boss Jeff Zucker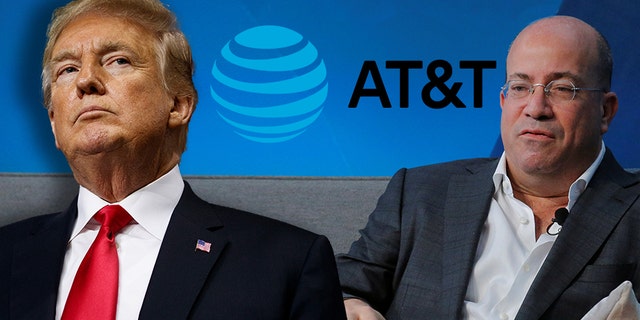 President Trump called for AT&T to cut ties with CNN's Jeff Zucker Thursday, after the first family and the cable news network got caught up in a public feud on Twitter – but it doesn't appear that the telecom giant is ready to weigh in on its news subsidiary's boss.
"The hatred and extreme bias of me by @CNN has clouded their thinking and made them unable to function. But actually, as I have always said, this has been going on for a long time," Trump tweeted. "Little Jeff Z has done a terrible job, his ratings suck, & AT&T should fire him to save credibility!"
A federal judge approved AT&T's $85 billion acquisition of CNN's parent, Time Warner, earlier this year. As a result, CNN now falls under the control of AT&T chairman and CEO Randall Stephenson – whose business is highly regulated by the federal government.
Fox News reached out to AT&T with a series of questions, including whether or not the company stands by Zucker after the president called for his job.
"No comment from AT&T," a spokesperson replied via email.
On Wednesday night, CNN's public relations department tweeted an unprecedented attack on Trump that led to the president calling for Zucker's job. The statement from CNN came after the president mocked Watergate legend Carl Bernstein, who co-wrote the widely disputed report that Trump's former lawyer was prepared to give damning information about the president to Special Counsel Robert Mueller.
"Make no mistake, Mr. President, CNN does not lie. We report the news. And we report when people in power tell lies. CNN stands by our reporting and our reporters. There may be many fools in this story but @carlbernstein is not one of them," CNN's public relations department sent.
AT&T declined to make Stephenson available for interview when reached by Fox News.
Stephenson has stood by Zucker in the past and was adamant that CNN wouldn't be sold off when AT&T acquired Time Warner – even if spinning off the network would have helped the deal get approved. Since the merger, AT&T has allowed CNN to operate as its own company and hasn't gotten involved with the network's operations or public relations strategy.
Reporter-turned-investment banker Porter Bibb told Fox News that it's "never smart to taunt POTUS in any way, shape or form," as he "owns the bully pulpit" and will always have the last word. Bibb doesn't think Trump can do much to hurt AT&T from a regulatory perspective but said his "animosity will impact AT&T's stock" if things continue to play out in public.
"Jeff Zucker may be in a very precarious position regardless, since AT&T's management is not generally pleased with his management of CNN and his failure to insure the network research and reporting is 1000% accurate and supportable."
"Jeff Zucker may be in a very precarious position regardless, since AT&T's management is not generally pleased with his management of CNN and his failure to ensure the network research and reporting is 1,000 percent accurate and supportable," Bibb said.
Zucker – who is generally supported by CNN staffers – was scheduled to take a six-week medical leave beginning last month to address a decade-old heart condition. CNN did not immediately respond when asked if he was back at work.
Some insiders feel that Zucker is in an awkward situation because correcting the story would be the second major gaffe on a story involving President Trump – with whom he is known to have a combative relationship. Trump regularly mocks CNN as "fake news," and Zucker's network was forced to apologize in 2017 after retracting a story that linked then-Trump confidant Anthony Scaramucci to a Russian investment fund.
The two have a history that predates Zucker's time at CNN. As head of NBC Entertainment, Zucker greenlit "The Apprentice," starring Trump. That smash hit led to the even more popular Trump show, "Celebrity Apprentice," all of which helped Zucker rise to eventually head the entire NBC network.
The latest issue is the result of CNN standing by a report on the infamous 2016 Trump Tower meeting, despite ex-Clinton aide Lanny Davis admitting he was an anonymous source and recanting key details he provided CNN for the story.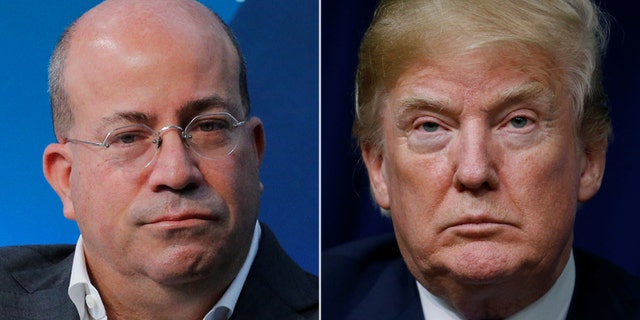 Davis, the high-powered attorney of Trump's longtime "fixer"-turned-foe Michael Cohen, admitted Monday he was an anonymous source after The Washington Post outed him as a source for its own version of the story.
Jim Sciutto, Marshall Cohen and Bernstein wrote CNN's story that particularly was damaging to the president, and resulted in countless cable news segments that provided ammunition for anti-Trump pundits. The CNN story, which cited multiple "sources," claimed Cohen said Trump knew in advance about the Trump Tower sit-down.
However, Trump repeatedly has denied any advance knowledge of the meeting, and CNN has stood by its reporting amid widespread criticism. CNN published a new report on Tuesday that acknowledged the changing stories of Davis but it didn't retract the original report.
"CNN is being torn apart from within based on their being caught in a major lie and refusing to admit the mistake," Trump tweeted on Wednesday.