Asia Argento slams NBC News for shutting down Harvey Weinstein story: 'I was raped by this monster'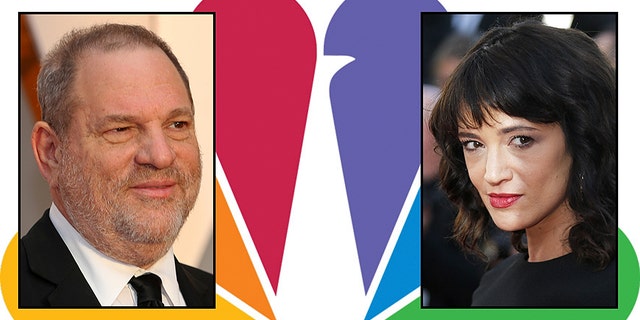 NEWYou can now listen to Fox News articles!
Actress Asia Argento condemned NBC News for shutting down Ronan Farrow's reporting on Harvey Weinstein despite "overwhelming evidence" that the Peacock Network could have outed the now-disgraced Hollywood mogul months before he was eventually exposed.
NBC has claimed that Farrow's reporting, as presented to them, was not up to snuff but the celebrity scion's work ultimately appeared in the New Yorker and won the coveted Pulitzer Prize while helping launch the #MeToo movement.
Farrow has said he will finally tell his side of the story in an upcoming book but Argento, who has accused Weinstein of rape, thinks NBC should look conduct its own probe.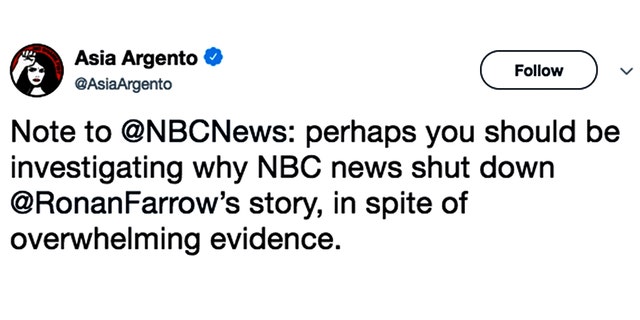 "Note to @NBCNews: perhaps you should be investigating why NBC news shut down @RonanFarrow's story, in spite of overwhelming evidence," Argento wrote Monday.
The actress recently delivered an emotional speech at the Cannes Film Festival in which she opened up about her allegations – but NBC News managed to upset Argento when covering her powerful moment.
"In 1997, I was raped by Harvey Weinstein here at Cannes. I was 21 years old," Argento said at the close of the annual festival. "This festival was his hunting ground… He will live in disgrace, shunned by a film community that once embraced him and covered up for his crimes."
NBC News published a story on its website about Argento's speech and included a comment from Weinstein's attorney, who called the relationship "consensual" and said it occurred before she worked on the film "B. Monkey" with Weinstein, so the actress took to Twitter to express her displeasure.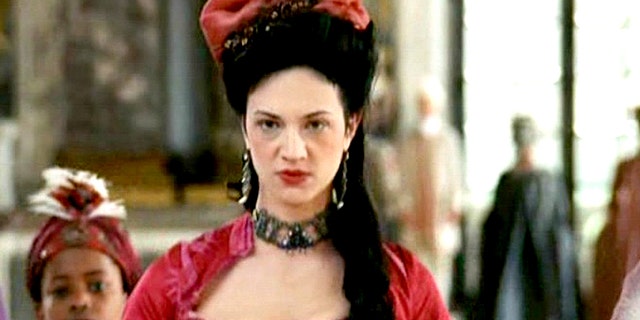 "Note to media: stop asking Spa Boy or his representatives for 'comment' every time you write an article about me or my fellow survivors. Rape and sexual assault is the only violent crime where the media plays this stupid charade," she tweeted with a screen shot of the NBC story.
Argento continued with a follow-up tweet: "You don't ask a sociopath to comment, because the sociopath will lie. Consensual relationship, my ass. I was raped by this monster, dammit. AFTER I had shot B. Monkey. Stalked and sexually-harassed for years. Enough! #BelieveWomen."
NBC News has been engulfed in a series of public relations debacles related to various forms of sexual misconduct. Top level executives reportedly are embarrassed by the way NBC News Chairman Andy Lack has handled the scandals and are looking to replace him as a result.
The tipping point appears to be the negative public reaction to the internal report released last week that declared NBC News management was completely oblivious to former "Today" star Matt Lauer's sexual misconduct.
The Lauer review was headed by NBCUniversal General Counsel Kim Harris, as opposed to a white-shoe law firm, despite numerous calls for an outside investigation – which has of late been de rigueur for other news organizations dealing with sex harassment.
In addition to the Lauer scandal and the network passing on Farrow's Weinstein expose, NBC News was also criticized for sitting on the "Access Hollywood" tape of Donald Trump making lewd comments about women.
Earlier this month, Lack's leadership at NBC was subjected to a devastatingly harsh column in the Washington Post by former New York Times ombudsman Margaret Sullivan.
"Something is wrong at NBC, and by the traditional standard that the person at the top sets the tone and bears ultimate responsibility, it's hard to absolve NBC Chairman Andy Lack," Sullivan wrote. "The network's credibility is on the line."
NBC News did not immediately respond when asked for comment on Argento's remarks.