As NFL offers measured response to Nike's Kaepernick ad, other reactions range from support to outrage
Nike's polarizing decision to put Colin Kaepernick at the center of its latest ad campaign has aggravated NFL employees, infuriated fans and even affected the sneaker giant's stock. But publicly, at least, the league is playing nice with its corporate partner.
"The National Football League believes in dialogue, understanding and unity. We embrace the role and responsibility of everyone involved with this game to promote meaningful, positive change in our communities," NFL Executive Vice President Jocelyn Moore said in a statement. "The social justice issues that Colin and other professional athletes have raised deserve our attention and action."
While the NFL issued a gentle statement, some league office staffers have expressed annoyance that a corporate partner would throw the national anthem controversy back into the news cycle only four days before the season's start.
The Daily Caller reported that President Trump said in an interview Tuesday, "I think it's a terrible message." However, the president continued, "It is what this country is all about, that you have certain freedoms to do things that other people think you shouldn't do, but I personally am on a different side of it."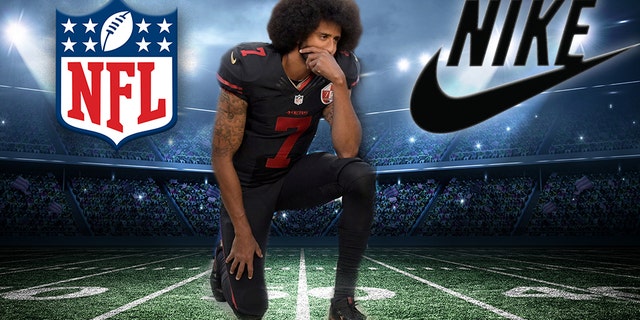 Nike and the NFL have a deal in place that runs through 2028, with the company supplying game-day uniforms and sideline apparel to all 32 franchises. Indeed, Nike's iconic swoosh logo is a prominent part of all NFL events.
"Pretty much want to burn my shoes," one current NFL employee told Fox News.
The 2018 season begins on Thursday night when the Atlanta Falcons visit the Super Bowl champion Philadelphia Eagles. The week leading up to the season's first weekend is usually filled with fantasy drafts, bold predictions and anticipation. However, Nike announced on Monday that the jobless quarterback, known for his role in starting players' anthem protests, would be the face of a new ad campaign to celebrate the 30th anniversary of the "Just Do It" slogan.
Conservative strategist Chris Barron told Fox News that Nike's decision to ruffle the feathers of a partner is "a truly baffling move" at a time when the NFL is "desperately trying" to move on from the anthem issue and focus on football.
"Nike chooses to pour gasoline on the smoldering fire. And let's be completely honest here: Nike isn't 'honoring' Kaepernick, they are intentionally stoking the embers of a divisive issue to try to sell shoes," Barron said. "The losers here are the NFL and its fans."
Kaepernick began kneeling during the national anthem during a 2016 pre-season game when he was a member of the San Francisco 49ers to protest racial injustices and police brutality. The protest has enraged many veterans who feel it is disrespectful to the flag, and Trump has criticized the NFL for not being hard enough on participants.
"I think this is likely to be the single most disastrous marketing decision in the history of sports."
Kaepernick opted out of his contract with the 49ers at the conclusion of the 2016 season and has not been signed by another team. He is now heading to court, claiming that team owners conspired to keep him out because of the anthem protests.
"Believe in something, even if it means sacrificing everything. #JustDoIt," Kaepernick posted on Twitter.
Disgruntled fans immediately took to social media to post images of Nike merchandise being set on fire. The National Association of Police Organizations has condemned the company.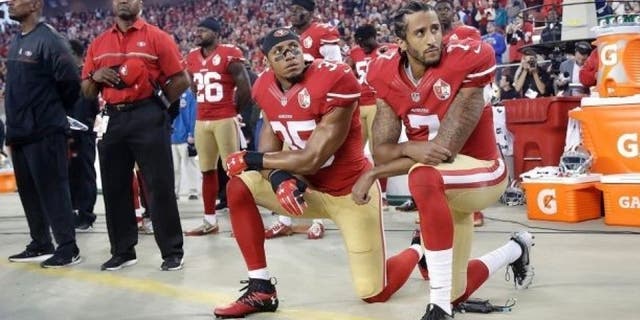 "The inclusion of Mr. Kaepernick in Nike's 'Just Do It' ad campaign also perpetuates the falsehood that police are racist and aiming to use force against African-Americans and persons of color," NAPO President Michael McHale wrote in a letter to Nike's chairman.
Nike stock fell more than 2 percent in early trading on Tuesday and "#NikeBoycott" was trending on Twitter.
In an ironic twist, , sports talk radio host Clay Travis has an upcoming book titled "Republicans Buy Sneakers, Too: How the Left Is Ruining Sports With Politics." The book's cover features an illustration of Trump dunking a basketball on Kaepernick.
"Kaepernick has also led to a mass exodus of viewership from the NFL as fans like myself do not want to see politics injected into sports."
Travis called Nike's decision "disastrous" and "pathetic," and reiterated his theory that politics is bad for sports.
"I think this is likely to be the single most disastrous marketing decision in the history of sports. I think it will end up costing Nike billions of dollars in sales," Travis wrote. " I don't want to think about politics when I buy shoes or jerseys for my kids. I don't want every purchasing decision in my household to be a referendum on whether I agree or disagree with a company's politics. But that's what Nike is forcing me to do."
Several players have kneeled during the anthem since Kaepernick started the trend, and the league attempted to implement a new policy forcing players to stand – but it is currently on hold as the players' association negotiates details with owners.
Tyler Merritt is the CEO of Nine Line Apparel, which bills itself as a "patriotic lifestyle brand" that is owned and operated by veterans. Merritt -- himself is a former Apache helicopter pilot and Special Operations air mission commander – thinks it's absurd for Nike to make waves when football season is about to start.
"Kaepernick has also led to a mass exodus of viewership from the NFL, as fans like myself do not want to see politics injected into sports," he said. "It is ludicrous for Nike, a partner of the NFL, to support a man that has actively sought to bring down the league."
Not everyone agrees with Travis and Merritt that Nike should have stayed away from the controversy surrounding Kaepernick. Investment banker Porter Bibb told Fox News that it could turn out to be a good business decision.
"Nike feels it has more to gain from consumers empathetic with both Nike and Kaepernick than it does from partners like the NFL, which is struggling these days with its own non-Kaepernick problems," Bibb said, pointing to rising concern over player concussions and declining TV ratings.
"I think Nike did the right thing, and you will see iconic stars like Serena [Williams] backing Colin and Nike in this situation," Bibb said.
The NFL's TV audience dropped 10 percent last season, according to Forbes. Many watchdogs blame Kaepernick and players protesting during the anthem for the dip.
While some fans might stop purchasing Nike sneakers, TheWrap TV editor and ratings guru Tony Maglio doesn't think the brand bringing attention to the anthem controversy will cause ratings to slip further.
"Anyone who was already boycotting NFL games because of the ongoing national anthem controversy will be doing so anyway on Thursday, Sunday and Monday," Maglio told Fox News.
"While news of Kaepernick's new role at Nike has re-energized those passionately for and against Colin's protest," he said, "the non-NFL-related ad campaign is unlikely to influence new people to ignore Kickoff Weekend."
Fox News' Ryan Gaydos and Paulina Dedaj contributed to this report.