Arnold Schwarzenegger and Sylvester Stallone in same hospital for shoulder surgeries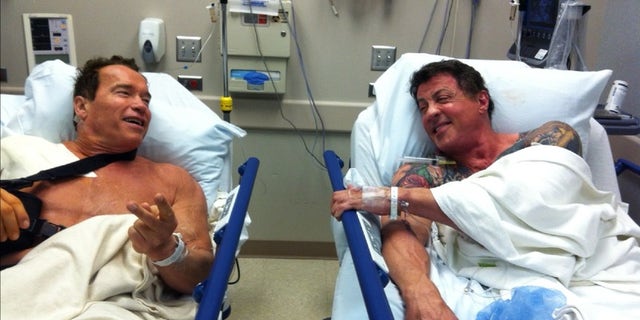 It might be time for Arnold Schwarzenegger and Sylvester Stallone to pass the action star torch.
Schwarzenegger, 64, who recently announced he'd be starring in The Tomb alongside Stallone, 65, posted a picture of the duo Wednesday on the website WhoSay — laying side by side in hospital beds.
Check out photos of Sylvester Stallone
"After all the action, stunts & physical abuse shooting The Expendables 2 and The Last Stand, it was time for a little tune up on my shoulder. Look who was coincidentally waiting in line behind me for his shoulder surgery. Now we're ready for another round of great times and action when we shoot The Tomb. #greattobeback"
Arnold Schwarzenegger doesn't want to pay spousal support
The jury's still out as to whether the former California governor is serious, or if it's just a publicity stunt to promote the movie.
Schwarzenegger and Stallone last appeared together in The Expendables, which was released in 2010. The Tomb, directed by Swedish filmmaker Mikael Hafstrom, is set to begin filming in Louisiana this spring.
Other Links From TVGuide.com