Anti-Trump lawyer Michael Avenatti hobnobs with CNN stars in rare free time between appearances on network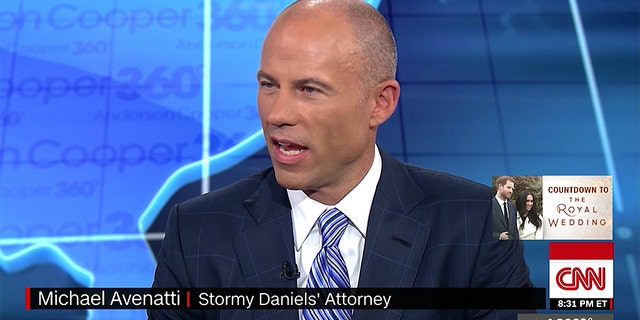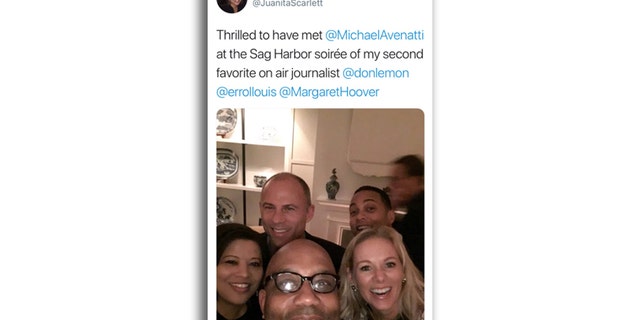 When Michael Avenatti, the lawyer to porn star Stormy Daniels, has a rare free moment in between CNN and MSNBC appearances and threatening non-friendly news organizations with lawsuits, he apparently spends his time partying in the prestigious Hamptons area east of New York City, where the city's wealthiest residents have multi-million dollar weekend homes.
A former aide to Andrew Cuomo, the Democratic Governor of New York and brother of anti-Trump CNN star Chris Cuomo, recently tweeted -- and then deleted – a photo of herself with Avenatti and another CNN star, Dom Lemon, who apparently hosted a bash at his Hamptons weekend home.
Chris Cuomo's wife, Cristina Greeven Cuomo, is a prominent Hamptons socialite and the couple's lavish summer residence has been featured in design magazines. The younger of the anti-Trump Cuomo siblings, who will soon move to primetime alongside Lemon, has posed for multiple shirtless fishing photos of himself in the Hamptons and is also a regular attendee of area's social gatherings.
The former Andrew Cuomo aide, Juanita Scarlett revealed on Wednesday night via twitter that she was at "the Sag Harbor soiree" of her "second favorite on air journalist," with a photo that included her husband, New York Daily News columnist Errol Louis, and CNN contributor Margaret Hoover (the great granddaughter of President Hoover) and in addition to the porn lawyer and Lemon.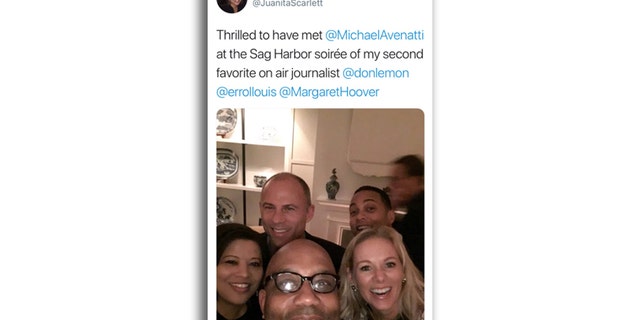 It's unclear how many other CNN personalities were at Lemon's "Sag Harbor soiree."
The network did not respond to a request for comment.
It shouldn't surprise media watchdogs that Avenatti is attending posh events with CNN stars, as Lemon's boyfriend shockingly admitted they all run in the same circle during an impromptu conversation with one of the reporters that the lawyer threatened earlier in the week.
Tim Malone, a media ad sales executive, engaged in a Twitter direct message conversation with acclaimed Daily Caller reporter Joe Simonson after Lemon, the "CNN Tonight" host, failed to press Avenatti about why he made the threats. In the Twitter exchange that followed the interview, Simonson asked Malone if he thought Lemon erred by not pressing Avenatti.
"You don't think Avenatti is smart enough to try and befriend the liberal media?" he said, according to Simonson, implying that Lemon and the attorney are friends.
There have been questions regarding who is paying the outspoken attorney for representing Daniels, and it should be noted that he's been spending his free time in the playground of New York's rich and famous. Avenatti is emerging as a Sag Harbor socialite with his newfound fame, as he was also seen "cozying up to" super-model Christie Brinkley in the ritzy area of Long Island on Saturday night, according to Page Six.
Avenatti is currently estranged from his wife of seven years, who is desperate to divorce him.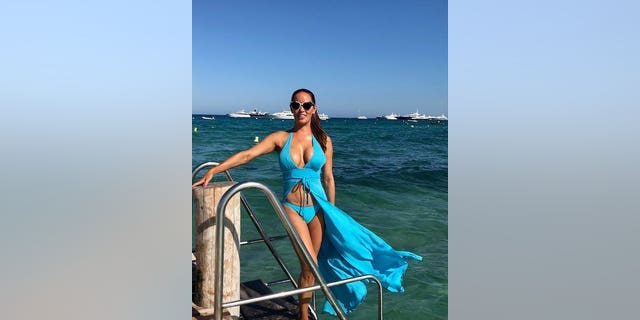 Back in 1998 the attorney representing Monica Lewinsky, William Ginsburg, appeared on the Sunday public affairs programs of five different networks on the same day. The impressive feat was dubbed the "Full Ginsburg."
While he hasn't yet accomplished the "Full Ginsburg," Avenatti's 15 minutes of fame could one day have a nickname of its own, as he continues to pop up on liberal networks at an unprecedented rate while apparently making pals in the process.
Avenatti has appeared on broadcast and cable news shows a whopping 147 times and counting over the past 10 weeks, according to the Media Research Center. The study indicates that 74 of the appearances were on CNN "which almost certainly makes Avenatti the most ubiquitous guest in the network's history." CNN's hefty staff of reporters around the world, have been largely unable to appear on the network due to Avenatti's constant presence. A CNN insider told Fox News that CNN "might as well lay off its whole reporting staff and save millions of dollars" due to Avenatti's "takeover" of the cable network.
The Hollywood Reporter, The Daily Caller and Dan Abrams' Law & Crime have all reported that Avenatti threatened to take legal action over unfavorable coverage. Avenatti has also bullied journalists on Twitter and reportedly called one an "a—hole."
CNN's Brian Stelter, the left wing media critic, didn't mention Avenatti threatening journalists in his "Reliable Sources" newsletter on Wednesday or Thursday night. The newsletter, which typically defends the First Amendment, mentioned the threat to the Daily Caller earlier in the week but has ignored it since Malone contacted Simonson. The newsletter also failed to mention Avenatti's attendance at Lemon's home.
The New York Times reported on Thursday that television agent Jay Sures has pitched a debate program with CNN and MSNBC executives where Avenatti would battle former White House communications director Anthony Scaramucci on a nightly basis.
"I have no interest in television right now. I'll leave that to the experts," Avenatti ironically tweeted regarding the Times report.
It's unclear when Avenatti decided he didn't have an interest in being on TV, but the decision was presumably made after his 147th appearance since bursting onto the scene.
CNN did not respond when asked a series of questions about the situation including why whether or not Avenatti's relationship with CNN impacts the way the network's media team covers him.
Avenatti has said that all legal bills are being paid for by Daniels herself and a crowdfunding campaign that has raised nearly $500,000.