Anti-Trump ESPN writer Jemele Hill says president uses 'racial pornography' to 'stoke his base'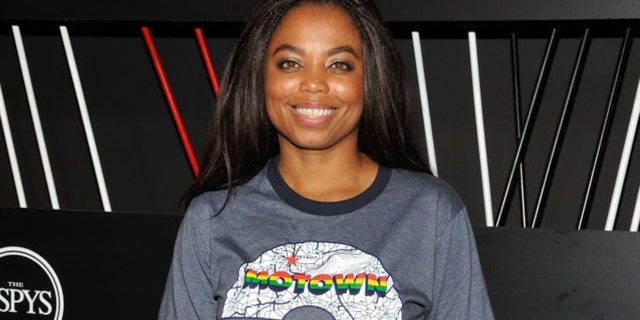 NEWYou can now listen to Fox News articles!
ESPN writer Jemele Hill took another shot at President Trump Sunday, accusing him of using "racial pornography" to rally his voting base.
Hill made the comments in an appearance on MSNBC's "Politics Nation with Al Sharpton" in response to a question about Trump's State of the Union address.
In his speech to Congress Tuesday, Trump appeared to take a jab at players protesting during the national anthem. While acknowledging a young boy who had organized a campaign to put flags on veterans' graves, Trump said his actions were "why we proudly stand for the national anthem."
TRUMP TACKLES THE NFL AND THE NATIONAL ANTHEM: A TIMELINE
"I think this is going to be probably a constant theme for the president," Hill said, "because it's a very easy dog whistle, it's low-hanging fruit, it's what I like to call racial pornography because it's a way to stoke his base."
Hill added she thought Trump to be "weirdly brilliant because he has been able to hijack the entire conversation and to make this about patriotism and really, if anybody knew even the smallest bit of American history, they would understand that what the players have chosen to do is the most patriotic thing that you could."
Hill, who has been at ESPN for more than a decade, sparked controversy this past September by calling Trump a "white supremacist" on Twitter, a move for which she was not suspended. A month later, Hill was benched for two weeks after calling on fans to boycott Dallas Cowboys advertisers in response to owner Jerry Jones' comment that players who did not stand for the national anthem would not play.
"I think because there's a lot of misinformation, a lot of people, frankly, just aren't interested enough or care enough about the things that are important to ... the players protesting," Hill added, "it's been easy for them to latch on to ceremony as opposed to understanding what this cause is really about.
JEMELE HILL WILL NO LONGER HOST 'SPORTSCENTER'
Last month, Hill was re-assigned from her highly-touted role as co-host of ESPN's 6 p.m. "SportsCenter" program, which the network had re-branded "SC6." She is currently a senior columnist at The Undefeated, an ESPN site that focuses on sports and race.
Hill told Sharpton that the move was "definitely, 100 percent my choice."
"I approached my superiors about making a change because ... [moving to The Undefeated] was just really an opportunity for me to do great journalism," she said. "I had a great year doing [SportsCenter], but it was not a fit for me because ultimately I had a lot of things that I really wanted to say and wanted to express."