Anthony Scaramucci, wife 'managed to work it out' after marital trouble detailed in tabloids
Ex-White House Director of Communications Anthony Scaramucci and his once-estranged wife, Deidre Ball, are now doing just fine, thank you, and hope they can make politics civil again with a new podcast that aims to show people can love each other despite their political differences.
Deidre Scaramucci famously filed for divorce when she was nine months pregnant back in 2017, partially because her husband went to work for President Trump. She gave birth while her husband was out of town attending a Boy Scouts event with Trump and tabloids pounced on the couple's marital issues.
Once Scaramucci's short-lived political career abruptly ended, the couple worked things out, and now they have launched a podcast available onthe Radio.com app, "Mooch and the Mrs.," that allows them to put their notoriety to good use.
"The President, for better or worse, has made Deidre and I famous," Scaramucci told Fox News before his wife interrupted, "More like infamous."
Ball – who is not a fan of Trump – initially didn't want their marital woes to be public information but didn't have a choice once it became national gossip.
"Unfortunately, our entire lives were splashed across the front page," she said. "After that, what do you do? Do you deny it or… try to relate to people and explain what happened."
The salacious details were often nasty, but the couple decided on transparency and said it has actually been "cathartic and healing" to open up about the reconciliation. Ball is proud to show people that "there is always hope" when times are tough.
'If we can help people relax and start conversations about important things… I'm happy to do it'
"I don't know what else could have happened in our relationship and we managed to work it out," she said.
In addition to their marriage being back on track, the Scaramuccis now work together, but co-hosting a podcast was never part of the plan.
Ball was snacking on tea cakes in the green room of a Los Angeles radio station waiting for her husband to finish up an appearance when a producer – who was under the impression their marriage was still on the fritz – took notice of her presence and asked her to jump on the air and partake in the interview. She nervously agreed and radio executives found their playful political banter refreshing in an environment in which politics can tear families apart.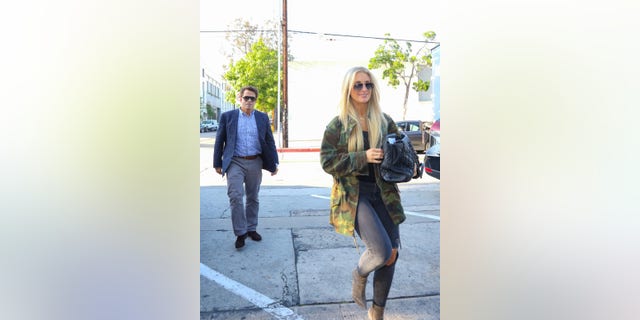 Unlike her husband -- who has been on a full-blown media blitz as of late while promoting a new book-- Ball didn't have any experience speaking in public, but she impressed the right people and was offered a podcast on the Radio.com app, and the couple jumped at the opportunity.
"I like to have fun with it. I think we all need to lighten up a little bit," she said. "If we can help people relax and start conversations about important things… I'm happy to do it."
Scaramucci feels the country is very much divided but "Mooch and the Mrs." offers a chance for two people who are ideologically different but "genuinely love each other" to have a political discussion that doesn't lead to hatred and family infighting.
"We like to joke around a lot and we have some differing opinions," Ball said. "It's very natural… but we have open minds."
Scaramucci's 11-day tenure at the White House came crashing to an end when CNN contributor Ryan Lizza – who he once considered a friend -- recorded and published a phone call in which "Mooch" used profane language to mock several of his then-White House colleagues. Scaramucci hasn't spoken to Lizza since the incident and has no plans to rekindle the relationship.
"He tried to reach out to me but there is no need for me to speak to him," Scaramucci said. "He's a very, very transactional lowlife."