'Ant-Man' star Michael Douglas opens up about working on the set, learning how to act with a green screen
LOS ANGELES, Calif. – Michael Douglas will be the first to tell you he has had an illustrious career acting in Hollywood, but that doesn't mean he didn't learn a thing or two on the set of "Ant-Man and the Wasp."
The two-time Academy Award-winner spoke to reporters Monday night at the "Ant-Man and the Wasp" world premiere and raved about working with the likes of Paul Rudd and Evangeline Lilly in the action flick. He plays Dr. Hank Pym.
"I had a great, great time," the 73-year-old "Wall Street" actor said emphatically. "But, also I'm more of a supporting actor role, and part of the reason why it was such a great time is when I was there I was working, and when I wasn't there I was gone. It wasn't one of those sets where I'd be hanging around all the time."
Though he wasn't there around the clock, his time on the "Ant-Man" set brought back intense memories of growing up as a comic book fan.
"It's all the child-like stuff that you love about acting that makes you feel so good. And, beyond that they have a really nice family," he said in a comfortable tone, speaking to the group of reporters as if he'd known them for years. "And, this was the sequel, so I felt a little more confident than I did the first time with all of the green screen stuff. I really dig that for some guy who has done 50 movies, I've never done this stuff before."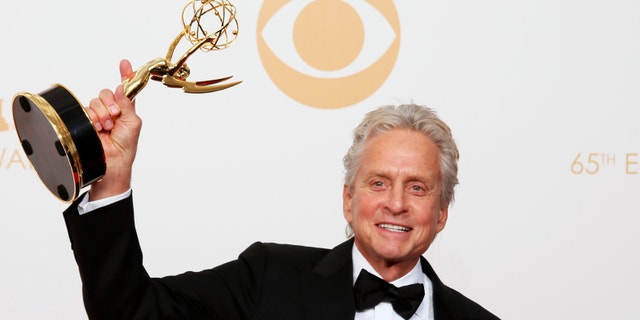 The Hollywood staple was amazed at the immense technology that goes into creating and producing a film of the magnitude of "Ant-Man."
"Evangeline and Paul, they were all cool, they had their suits on and it's all make-believe," he said. "I said, there's nothing here, man, there's nothing here. What are we looking at? And, so you learn all of the tricks of the trade and how to be focused."
Douglas continued, "When we were in our space shuttle rocket, I said 'I think they saved the budget on this one, man. They must have spent it on the big stuff because there's nothing here, you know.'"
"And, I'm faking the buttons," he noted, simulating pressing buttons with his hands and voicing mechanical sounds. "So, they're a great group and we'll see how it goes. I'm hearing good words about this, and we'll meet back here in a couple years."