Angela Bassett Makes Her Directorial Debut With Lifetime Biopic 'Whitney'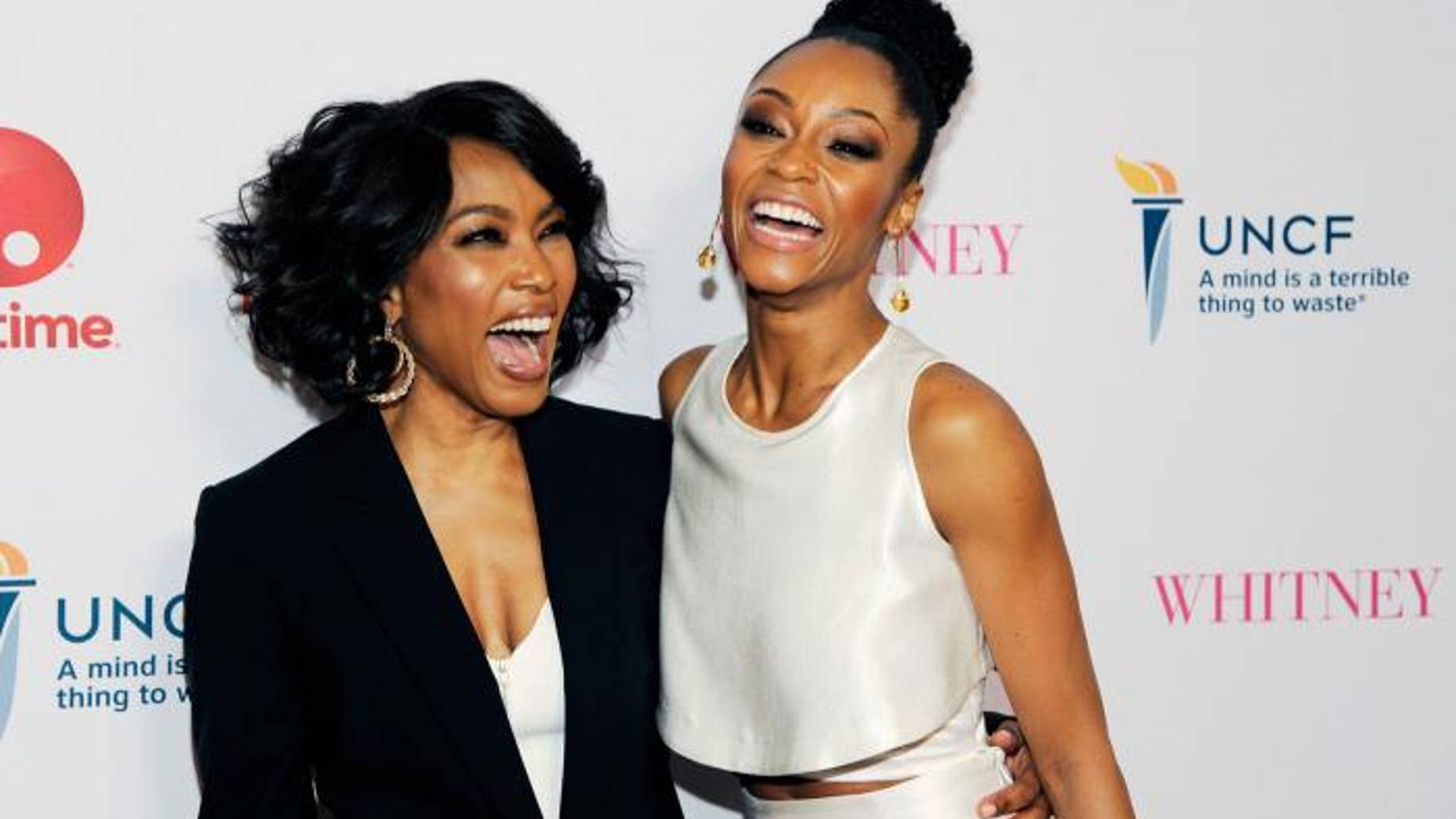 Katherine Jackson. Rosa Parks. Betty Shabazz.
Those are just a few of the most memorable roles that Angela Bassett had the opportunity of portraying on the small and big screens. And perhaps most notably, Bassett earned a Golden Globe award in 1994 for Best Actress in a Motion Picture and an Academy Award nomination for Best Actress as the legendary songstress Tina Turner in 1993's "What's Love Got to Do With It."
In short, Bassett has proven time and time again that she can take on the pressures of playing iconic roles. But now, things are different: For her latest project, Bassett stepped behind the camera to make her directorial debut in the Lifetime biopic "Whitney," about late singer Whitney Houston.
"I've been toying with the idea for about five years," Bassett says of deciding to direct. "When I read this script and was asked out of the blue, I wasn't thinking about directing, per se, at the time. It sort of came up organically and launched one day," she laughed. "I remember saying 'Ava DuVernay would be great!' Then I got the call days later."
Being an actress, Bassett had to learn more about the behind-the-scenes aspects from a director's point of view. "It was difficult because I never did it before. I had to learn about camera angles, lens sizes, costuming and set pieces, and location scouting. There are so many questions that need to be answered. But it was easy because I was so passionate about telling Whitney's story and protecting her story."
Bassett, who co-starred with Houston in 1995's "Waiting to Exhale," isn't the only one protecting Whitney's story. The movie has not received support from the Houston family, while others question whether Whitney's legacy is more suitable for a full feature-length film. And because the production wasn't allowed to use any of Houston's songs, singer Deborah Cox provided her vocals to popular tracks such as "I'm Your Baby Tonight," and "I Will Always Love You."
But according to Bassett, and from the looks of the A-Listers who attended the "Whitney" premiere at the Paley Center for Media in Beverly Hills, it was a great turnout. "Berry Gordy was in awe. He was so excited, pixelated and exuberant about the story. Shelia E.'s eyes were red from crying. That love that they possessed for Whitney — they felt happy and joyous in this moment," she reminisced. "And Kathryn Bigelow was there, and she said, 'You hit it out the park!'"
The film follows the starlet at the beginning of her blossoming career in the early '90s, and goes on to detail the love story between her and R&B singer Bobby Brown of the group New Edition. Of course, Bassett felt it necessary to capture these most pivotal moments.
She also had the task of finding the right actress to portray Houston. YaYa DaCosta, who some may have been introduced to as a contestant on Cycle 3 of "America's Next Top Model" and "Lee Daniels' The Butler," eventually won the role. "It's not going to be about trying to sound like Whitney," Bassett stated. "I think if you have a sound-alike or lookalike, it won't matter if there's no chemistry. [Yaya] did her research on Whitney and her mannerisms. What will matter most is if the actors are connecting and honest. That is what will be most intriguing to the audience."
And as for Bobby Brown, who is played by Arlen Escarpeta, don't expect to see that infamous gap between his teeth. "A gap for Bobby wasn't possible," Bassett joked. "[Arlen Escarpeta] came back [from makeup] and it was an unattractive gap. It looked like a little black sharpie. It was too distracting. I think the audience will forgive the gap if they fall in love with the characters."
Bassett even shared her all-time favorite Whitney Houston song. "I always say it's 'I'm Every Woman' because it's a powerful female anthem," she said as she began singing the lyrics. "I get a little feisty when I sing [this song] and just start having fun."