Andrea Bocelli Reveals His Love for Cinematic Music and His Go-To Songs for Singing in the Shower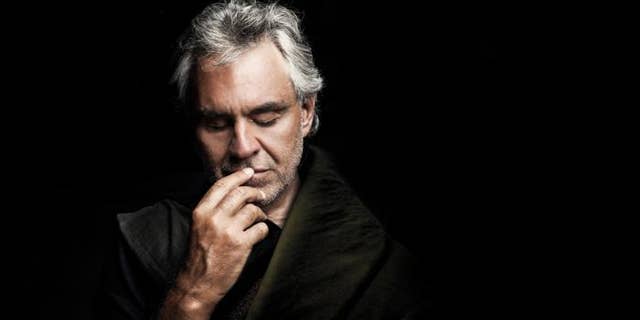 NEWYou can now listen to Fox News articles!
Andrea Bocelli has no time to say goodbye.
Ever since the Italian tenor performed his beloved song "Con Te Partirò" back in 1996 alongside British soprano Sarah Brightman, he's sold over 80 million albums worldwide, earned a massive fan-base that includes three U.S. presidents and three popes, and received a star on the Hollywood Walk of Fame. So while the 58-year-old could easily sit back and enjoy the fruits of his musical labor, he'd rather show audiences a new side of himself on stage — his adoration for films.
One of Boccelli's musical offerings, titled "Cinema," is a passionate love letter to his many favorite songs from iconic movies such as "West Side Story," "The Godfather" and "Gladiator," to name just a few. The collection of 13 tracks not only highlights Bocelli's symphonic salutes to the silver screen in three languages (Spanish, English, and his native Italian), but it also features a duet with pop superstar Ariana Grande, which prompted younger, curious listeners to take a listen. And as a surprise to no one, "Cinema" debuted at the No. 1 spot on Billboard's Classical Album charts back in the fall of 2015.
Now, Bocelli is on the U.S. leg of his tour, where audiences will get to experience many of his favorite compositions and iconic hits in person.
But what does Bocelli himself think of just one of his many musical masterpieces? FOX News Magazine spoke exclusively with Bocelli about "Cinema," as well as his upcoming biopic "The Music of Silence" and his favorite songs to sing in the shower:
FNM: What was the process like when selecting songs from classic films for "Cinema"?
AB: I have listened and evaluated hundreds of songs, drawing on a vast repertoire, with no limits of time and place. In the end, I tried to skim, to decide which were the songs that excited me the most. I tried to define my ideal selection among the great soundtracks of all times … music that has overcome all generational barriers … I think it is right to pay a tribute, thanks to new orchestrations and the most advanced recording techniques, which make listening incredibly clearer and more captivating.
FNM: Growing up, who was your favorite actor or actress?
AB: As a boy I loved Frank Sinatra, but also Mario Lanza movies, and musicals with Fred Astaire. As a university student, I started playing in piano bars to pay for my singing lessons, so I began approaching the classics of pop music to build myself a repertoire, starting from the songs that those great artists, just mentioned, had brought to success.
FNM: You've had the opportunity to collaborate with many artists. Who would you next love to sing a duet with, and why?
AB: It is difficult to say a name, because there are dozens of artists with whom I have shared the limelight with excitement and satisfaction to sing together, both in opera and in pop. It's a very gratifying and intense experience. For about 20 years, I have been singing duets with my colleagues throughout the world, and curiosity has never abandoned me. Among the partnerships for 2017, I am pleased to mention the one with Sir Elton John, on the occasion of the concert scheduled for September 8th in the heart of Rome, at the Colosseum, for the culminating evening of the philanthropic event "Celebrity Fight Night."
FNM: You've performed with pop star Ariana Grande, who is one of your kids' favorites. Did they inspire you to contact her for a duet?
AB: Artistic collaborations are often the result of many coincidences that are intertwined, of reports from friends, or from the record company … It was my team that told me about Ariana. And for me, this was a beautiful discovery: She is a serious and prepared artist, and I have had the opportunity to appreciate her professionalism and skill … and a harmony that, I believe, can be easily perceived in the song, in the final result.
FNM: What's your relationship like with fans?
AB: It is definitely a great privilege for me to be followed everywhere so kindly. The gestures of affection I receive [come] every day, and they have the power to fill my heart with joy … I remember in Belo Horizonte [in Brazil]. Thousands of people had camped with their tents 48 hours before my performance. Myself and my wife wanted to go through all those people, through those makeshift camps!
FNM: Luciano Pavarotti was a great admirer of your voice. What's your favorite memory of Pavarotti?
AB: I remember that he often called me "Ciccio," or "The Tenor," with fatherly bonhomie, with that voice that seemed to sing even when he was speaking … Singing seemed to be speaking, such was his nonchalance. I remember our last meeting in his penthouse overlooking Manhattan. He was in bed, hopelessly tried by his illness. But when he spoke of music, his eyes started to shine once again, and so did his voice, to the point that he exemplified the concept by singing it. Those were the last notes I heard from him. A person who was taking care of him could not hold back tears. I was told later that nobody had heard him sing for a long time. The great Luciano had said goodbye to me in his own way, giving me a little piece of music.
FNM: We can't imagine you not performing, but what does Andrea Bocelli enjoy doing when he's not on stage or rehearsing?
AB: I love riding, boating, I love swimming; I am a football fan and a fan of boxing, too. I am also an avid reader. I love chatting, listening to others, [and having] opportunities to laugh and joke. I am a wine connoisseur and admirer … My father loved his land and for his own pleasure produced wine, a tradition that my brother and I still bring forward for passion.
FNM: There's no doubt that your music has served as the soundtrack for many romantic occasions. What advice can you give for creating the perfect romantic night?
AB: I think it is useful to smile at life, to be always grateful for the marvelous adventure that is our existence. It is a good practice to live it poetically, to nourish it with as much love as possible, constantly looking for beauty and goodness. I believe that we all have to learn to express feelings, overcome embarrassment or reluctance, and know how to thank people we love, at every opportunity, expressing them our affection and our gratitude.
FNM: How does it feel to be recognized as one of the greatest singing talents in the world?
AB: Success can smile at you today and abandon you tomorrow. Believing that it is an established fact, a stable fact, and therefore let it go to the head, is a tragedy that to date I have been able to avoid. I am deeply grateful to those who appreciate my voice. For my part, I try to tackle my work with seriousness and honesty. What is sure is that with every acknowledgement received, [there are] increased expectations and therefore [increased] responsibilities I perceive every time I step on stage.
FNM: Opera can be very intimidating. What advice would you give to someone who is eager to start listening, but doesn't know where to begin?
AB: It is just sufficient to overcome the understandable fear of what is unknown, and open with confidence to such an old novelty which is able to express the inexpressible and educate us to beauty … It is sufficient to be willing to reason, not giving heed to certain prejudices that are creeping among young generations to verify how opera is a form of art. [It offers] primary emotions with such intensity as to easily break whatever cultural or generational barrier. There is no need for any specific competence to appreciate such a field of wonders!
FNM: What are some of your go-to songs to sing in the shower?
AB: Most of the times, even in the shower, I sing opera pieces: all Puccini, much Verdi and Mascagni.
FNM: And finally, I understand a biopic based on your life is currently in the works. What do you hope fans will ultimately learn about your life and legacy?
AB: Just like in the book that I wrote many years ago, and from which the screenplay is taken from, it does contain a message that I cherish and that I hope may be of some use for young people. But rather than explaining it in words, I like the idea that spectators themselves, if willing to, can find it out.