Amid Strahan drama, Kelly Ripa decides to skip work to celebrate wedding anniversary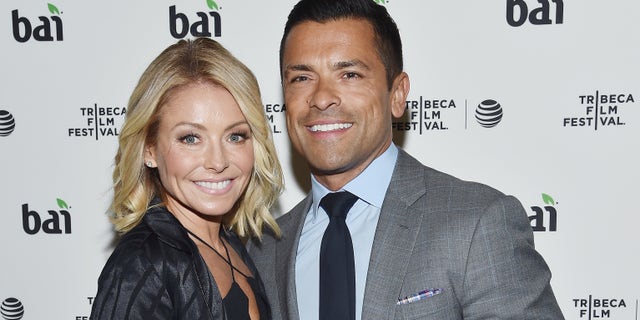 NEWYou can now listen to Fox News articles!
Kelly Ripa is taking a break from her hosting duties just days after her "Live with Kelly and Michael" co-host Michael Strahan announced on Tuesday that he is leaving the show for "Good Morning America."
However, it looks like the timing of Strahan's news coincided with an already planned getaway with husband Mark Consuelos.
"This was Kelly and Mark's 20th anniversary," a source told Us Weekly. "And it was planned for months."
The couple eloped on May 1, 1996 and, according to E! News, they are headed to Turks and Caicos for a family vacation.
A rep for the show confirmed to E! News on Wednesday that Ripa, 45, had already planned on taking a break well before Strahan's announcement on Tuesday.
"On tomorrow's 'Live! with Kelly and Michael,' Erin Andrews will guest co-host with Michael Strahan. Friday's show—which already was scheduled to pre-tape on Thursday—also will be co-hosted by Andrews," the statement read.
"Kelly Ripa will be out on Friday and Monday for a previously-scheduled vacation. On Monday's show, Michael will be joined by 'Pretty Little Liars' star Shay Mitchell."
Ripa did not appear on Wednesday's taping and was replaced by former "Saturday Night Live" actress Ana Gasteyer.
She was spotted leaving her New York City townhouse on Thursday with Consuelos and their three children, Michael, Lola and Joaquin. Ripa was all smiles after several reports that she was "pissed" and "blindsided" by Strahan's announcement.
A source told ET that Ripa even threatened to not return to the show until Strahan leaves in September.
"She put her neck out for Michael to be a part of the show four years ago," the source said. "She is actually miserable with the show, has been for a while now...They have not [been] getting along that well recently, but this [takes] the cake."
Despite the drama, Strahan had nothing but positive things to say about Ripa on Wednesday's "Live!"
"I didn't want to say it earlier, but I really want to thank, of course, Kelly Ripa, because Kelly welcomed me here and I've learned so much from her," Strahan said on-air. "She's just been an amazing influence on me, and this has truly changed my life to be here with her."