'America's Got Talent' recap: Kid comic kills with Caitlyn Jenner jokes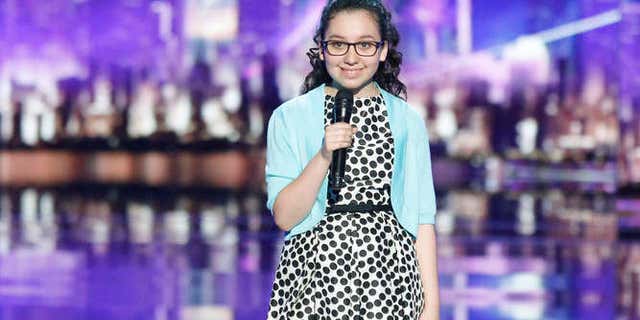 NEWYou can now listen to Fox News articles!
Caitlyn Jenner was the butt of the joke Tuesday night on "America's Got Talent."
The friendly ribbing came from 13 year-old comic Lori Mae Hernandez, who began writing jokes to cheer up her father three years ago during a bout with Bells Palsy.
"It's tough being a tween," Lori opined during the first "Judges Cuts" round.
"That's why I started training. Apparently it's so difficult to become a woman that you have to train to wear a bra. And if you don't believe me, ask Caitlyn Jenner."
The eighth grader from Lancaster, Calif. then took another playful jab at the transgender Olympian and father of reality stars Kendall and Kylie Jenner.
"I think it is great what she is doing — a dad that would go to that length to teach her daughters how to dress right," she joked.
Judge Mel B. vowed to fight for the young comic when it came time to select who would advance.
Simon Cowell praised: "You are funny, full stop. You have this great timing. You have great confidence about you. A lot of people will relate to you."
Hernandez — who ripped presidential candidate Donald Trump in her first audition — was one of just seven acts to advance to the live show, which begin July 26.
She will be joined by Philadelphia Eagles long snapper and aspiring magician Jon Dorenbos.
The NFL star shared his touching story of growing up in foster care before performing a mind-blowing illusion with a pad of paper and an oversized deck of playing cards.
He earned a golden buzzer from guest judge Ne-Yo.
"Just looking at it someone might say, 'It is just card tricks,' but I see the potential," the rapper explained. "I see what it could be."
Also moving on: 62 year-old singer Ronee Martin, comedy and juggling duo The Passing Zone, beat boxing group Linkin' Bridge, magician Hara and family band Edgar.
Seven more acts will advance Wednesday night.